6 candidate sourcing strategies to find your next talent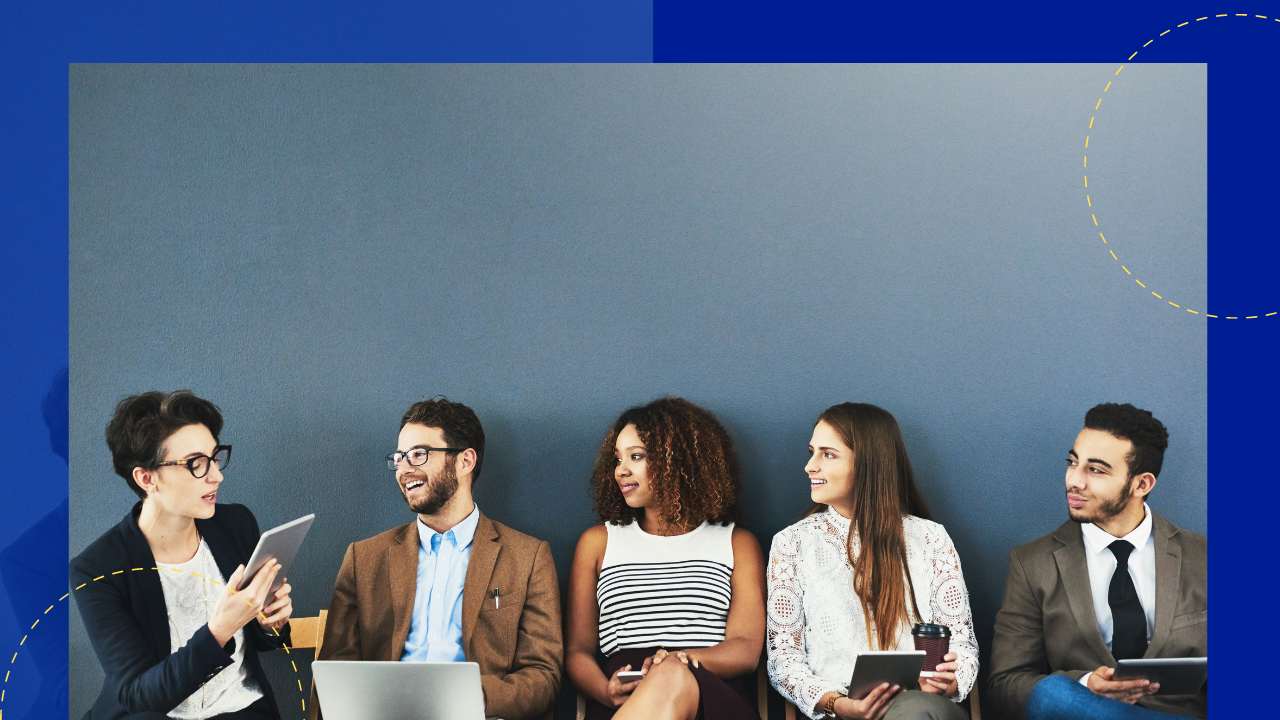 Finding the right talent can be daunting. You may find yourself competing with startups and established brands for limited talent and skill sets. The increasing talent gap can even be a tougher challenge you could face with it.
With the right candidate sourcing strategies, however, you can ensure that you are able to find the best candidates for your open roles.
ConnectOS tackles the candidate sourcing strategies you can use to find your next talent.
Candidate sourcing defined
Candidate sourcing, also known as talent sourcing, refers to the process of actively looking for qualified candidates for a specific position. 
It seeks active and passive candidates matching your required skills, interests, and education and recruits them for the role you need to fill.
Candidate sourcing involves various methods and strategies for acquiring applicants to move through the talent pipeline. This includes posting through job boards and utilizing social media sites for headhunting.
This process is one of the most effective ways of hiring. Per SaaS company Lever, only 36% of workers actively seek new opportunities, while around 90% want to learn more about them.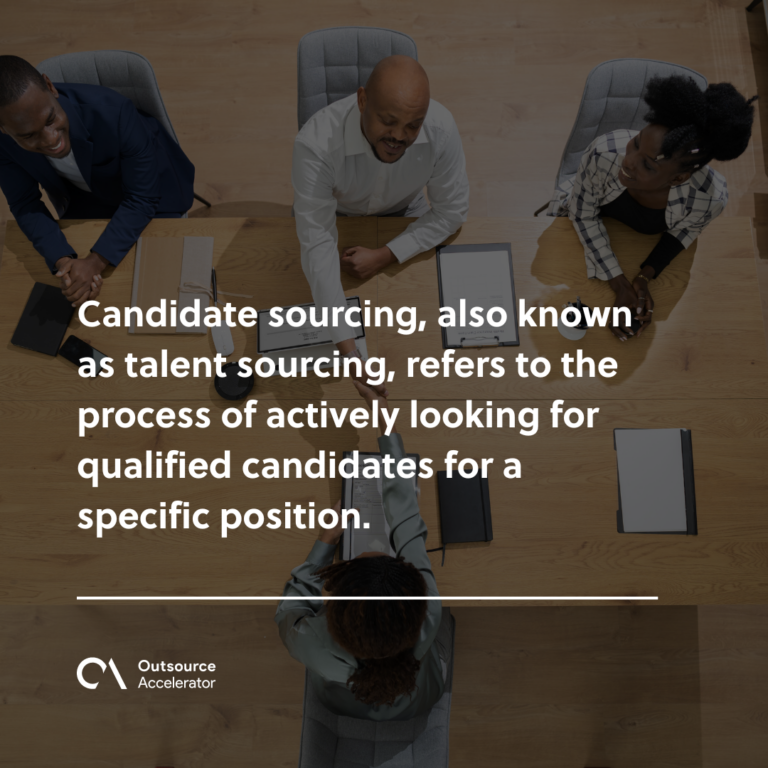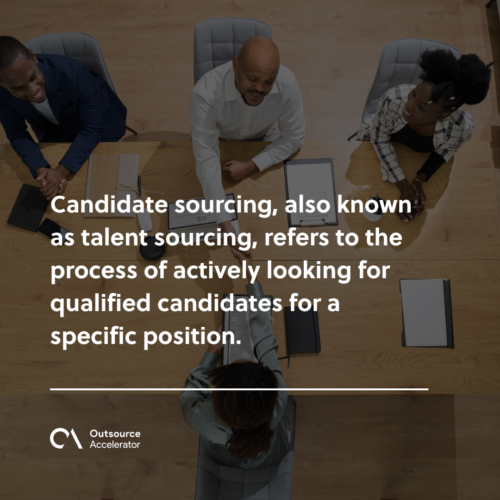 Through candidate sourcing, you can maximize your recruitment efforts through the following:
Quality hires

. You actively seek candidates to understand what your company looks for in an employee. This helps you filter and hire better talents.

Diversity

. Candidate sourcing helps you create a diverse pool of talents to hire. 
How candidate sourcing is measured
You can measure your candidate sourcing efforts through the following metrics:
Time to hire by source.

This metric helps you analyze the time it takes to hire an applicant from a given source.

Cost per hire.

It gives you insights into your

return on investment (ROI)

from your sourcing efforts. Its result can be affected by the sourcing tools and sites you used. 

Effort per conversion.

Effort per conversion measures the number of interviews conducted before an applicant is hired.

Reasons for declining.

This metric state the reasons a top candidate has for rejecting an offer. 
6 Candidate sourcing strategies to find your next talent
The following candidate sourcing strategies can help you find your next quality talent:
1. Build a candidate persona
Firstly, it's best to create a persona with your ideal candidate in mind. List its qualities, from skills to characteristics in interacting with your workplace.
Your candidate persona can be used as a reference when sourcing candidates, making it easier to locate and include them in your talent pipeline.
2. Maximize social media
Consider creating job listings outside the usual job sites. As social recruitment becomes in demand, it's unsurprising that most companies find quality hires through social media.
You can maximize social media sites such as LinkedIn and Facebook to source your talents. Aside from job listings, you can source talents through existing connections and contact them directly to gain their interest.
3. Participate in in-person fairs
The Internet is not the only medium you can maximize for sourcing talent.
In-person events such as job fairs are still there to help employers and potential hires interact in an actual setting. Make it a point to attend these events at least a few times and see what it can get you.
4. Create an employee referral program
Your employees' connections can be a great source of talent, especially with their experience working within the same industry.
Build an employee referral program to reward them for recommending candidates. It is an efficient way to reduce the time to hire by almost half and can bring lower turnover rates.
5. Invest in applicant tracking tools (ATS)
Sourcing and recruiting candidates can be complicated especially when you're stuck with basic tools.
Now is the best time to invest in applicant tracking tools and other automation systems for your sourcing efforts. This can help you streamline your tasks and automate the repetitive ones so you can focus on qualifying candidates.
6. Get a talent acquisition specialist
Nothing beats a successful sourcing strategy with the help of a talent acquisition specialist. They can help you pick the best remote and local talent for your team.
Talent sourcing and recruitment teams from ConnectOS are experts in sourcing and screening talents for various roles. This includes staff specializing in marketing, engineering, and design fields.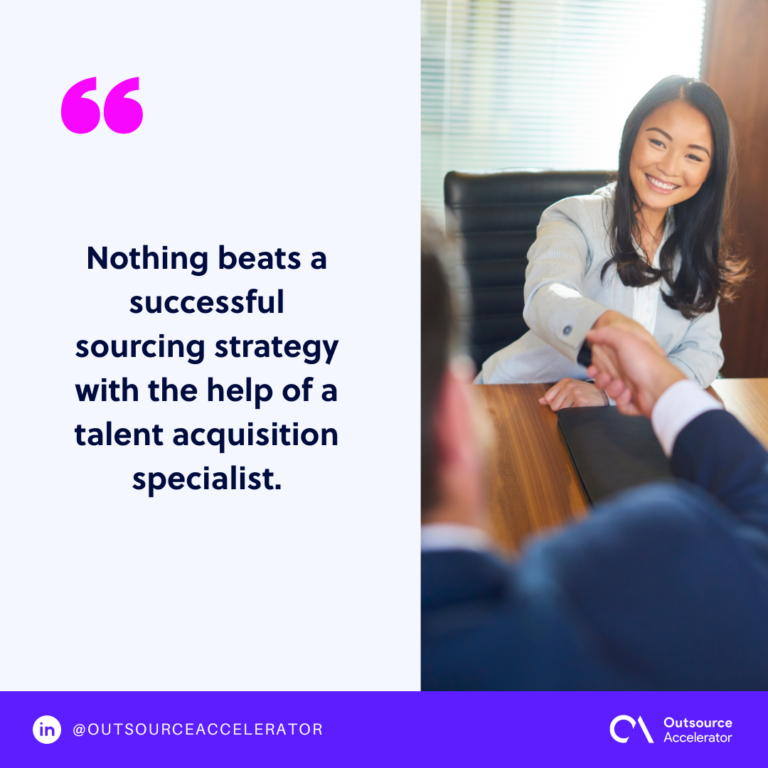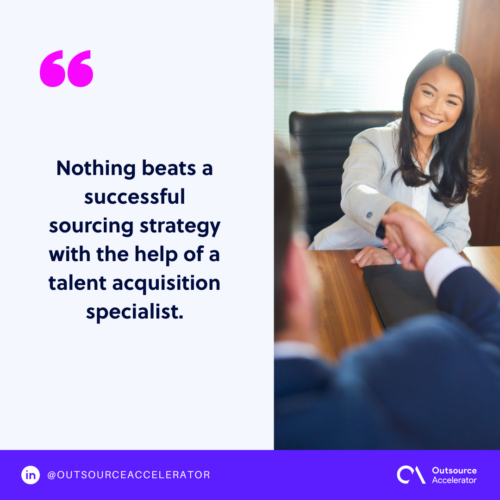 Candidate sourcing tools
The most suitable candidate sourcing tool gives you a headstart finding talent that fits your business needs. 
Here are some sourcing tools you can try today:
As a free and reliable sourcing tool, Recruit'em allows you to search for candidates through social media, including LinkedIn and Twitter.
AngelList is primarily used by startups worldwide. While it is not geared toward hiring passive applicants, the platform helps you find candidates interested in working with startups.

Hired connects employers and candidates in one place. Compared to other platforms, it guarantees a 95% response from candidates contacted from there.
Lastly, Smart Recruiters makes hiring and sourcing easier through its integrated applicant tracking, recruiting, and CRM functions.