Here's what you should know about call recording compliance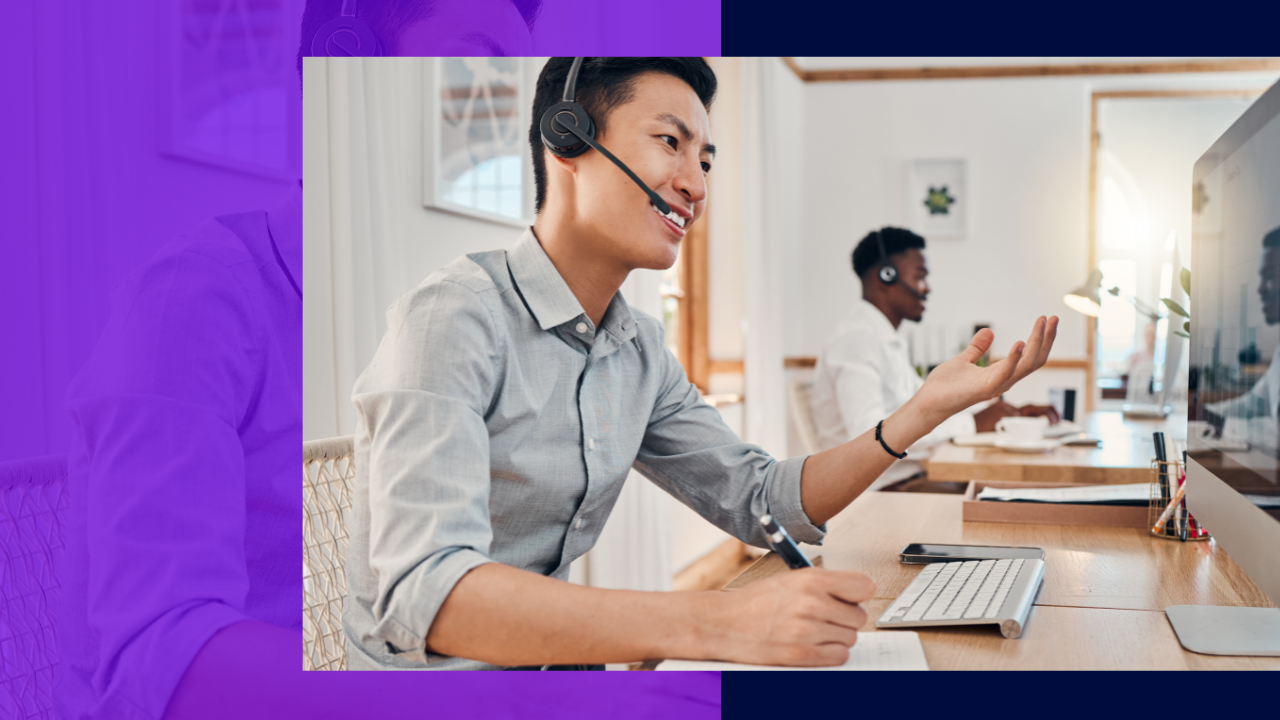 With the growing emphasis on data privacy, businesses must balance handling call recordings and respecting their customers' rights.
Call recording compliance is vital for businesses that record customer calls. The last thing they want to encounter when recording calls is violating regulations in handling sensitive information on their part.
This article explores the key aspects of call recording compliance, including its definition, legal frameworks, and important considerations.
Understanding call recording compliance
Call recording compliance is the adherence of businesses to the legal and regulatory requirements surrounding the recording of customer calls.
It encompasses a set of guidelines that ensure recorded calls meet the necessary standards while safeguarding a client's digital privacy.
Legal and regulatory frameworks in call recording compliance
Call recording compliance covers various legal and regulatory frameworks set by institutions and the state where they conduct their calls. Understanding these frameworks is crucial for maintaining compliance and protecting customer privacy.
Let's explore the key aspects of the legal and regulatory landscape in call recording compliance.
Data protection laws
Data protection laws are vital in call recording compliance. These laws outline guidelines for collecting, storing, and processing personal data.
Per UNCTAD, 137 out of 194 countries have set data privacy and protection laws to secure their citizens' data protection. Here are some of the existing laws in different locations.
General Data Protection Regulation (GDPR)
One prominent example is the GDPR in the European Union.
The GDPR requires businesses to obtain explicit consent from individuals before recording their calls. It also mandates that organizations implement robust security measures to protect recorded data from unauthorized access or breaches.
Privacy Act 1988
Australia's Privacy Act 1988 governs the handling of personal information by different organizations. This covers information shared in call recordings.
Under the Privacy Act, businesses must obtain consent from individuals before recording their calls, as call recordings may contain personal information. They must also inform individuals how the call recordings will be used and processed.
At the same time, companies must inform their customers of any data breaches within 30 days of their discovery.
California Consumer Privacy Act (CCPA)
The CCPA in the United States grants consumers certain rights regarding their personal information. This includes the right to know what data is collected and the right to opt out of the sale of their data.
Organizations recording calls within California must comply with these regulations to ensure data privacy and avoid legal consequences.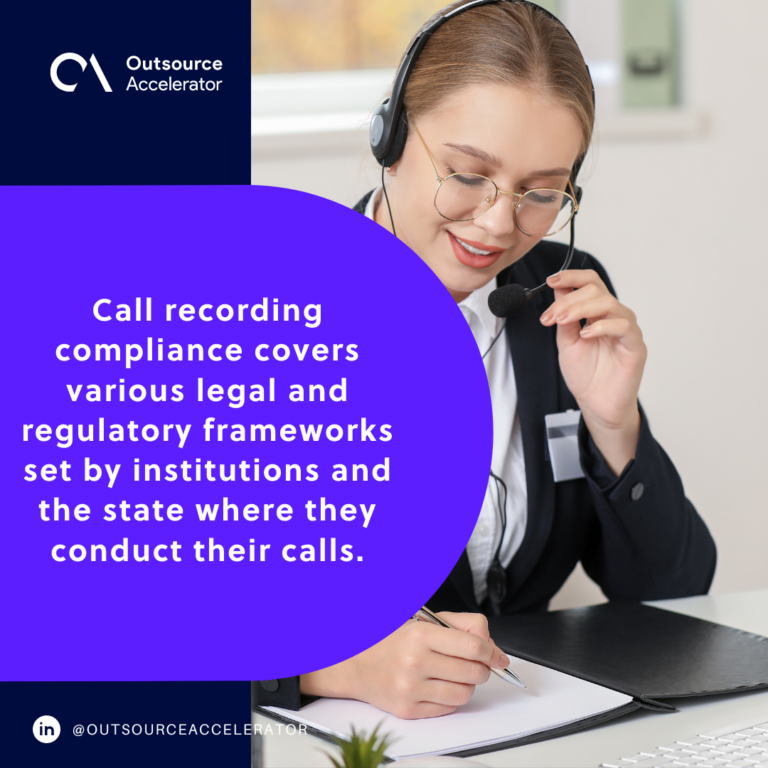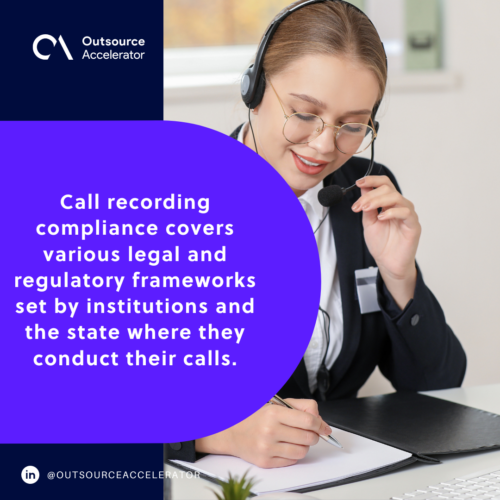 Telecommunication laws
Telecommunication laws often contain call recording provisions, particularly in the finance and healthcare industries.
These laws specify the conditions under which calls can be recorded and the requirements for obtaining consent. 
Most legislations differ on how their telecommunication laws are applied and their consequences for non-compliance. However, similar procedures, such as the following, apply in getting consent for call recording.
Establishing caller identity

. The caller must indicate their name and the entity they represent in calling.

Asking for consent to record

. Agents can record their calls as long as one party agrees with them.

Disclosing the call's purpose

. Callers must disclose the purpose of the call and how their data and recording will be used.
Country-specific regulations
Call recording compliance requirements can vary from country to country. Businesses need to understand and adhere to the specific regulations in their jurisdictions.
Examples of these country-specific regulations are the following.
India
There is no law in India constituting that recording calls are illegal as long as consent is given by one party.
However, tapping telephone lines is a violation of the right to privacy and is considered a breach.
Canada
Institutions covered by the Personal Information Protection and Electronic Documents Act (PIPEDA) in Canada are required to comply with the legislation in call recording.
Specifically, callers must inform their customers that their calls are being recorded. Once the party does not agree to record, the caller can provide alternatives for transacting.
This includes the following.
Visiting their physical store

Writing a letter to the business

Transacting online
United Kingdom
In the UK, the Regulation of Investigatory Powers Act 2000 prohibits call recording by a third party. Though, the exception applies to government agencies.
While call recording of one party without notification is allowed, the caller can only use it for personal purposes.
Industry regulations
Certain industries have industry-specific regulations that govern call recording compliance. Here are some examples.
HIPAA
Healthcare institutions and service providers must adhere to HIPAA standards in the United States.
HIPAA sets stringent standards for protecting patient confidentiality and requires organizations to implement measures to secure recorded calls containing sensitive health information.
Dodd-Frank Act and PCI DSS
Similarly, the financial industry must comply with the Dodd-Frank Act. This act imposes specific requirements on financial institutions regarding call recording to enhance transparency and protect consumers.
Meanwhile, PCI DSS regulations may apply when it comes to processing payment information. It specifically states that businesses cannot use any form of audio recording when processing payments over the phone.
Do not call (DNC)
While more about telemarketing, the do-not-call (DNC) list still applies to companies transacting with countries with this regulation.
On the other hand, this strongly applies to firms dealing with and recording outbound calls.
Callers must be careful in checking whether the person they are calling is in the DNC list of their location. Calls from non-profits and charities or political calls are the only exceptions in the registry.
Key considerations for call recording compliance
Businesses must consider several factors to ensure call recording compliance. These considerations help protect customer privacy and maintain data integrity throughout the call recording process.
Understanding data privacy and protection
Data privacy and protection are crucial aspects of call recording compliance.
Organizations must implement measures to safeguard sensitive customer information. This includes encryption of stored recordings, restricted access to recordings, and regular security audits.
Notifying customers about recording calls
As mentioned, businesses are required to inform customers that their calls are being recorded in most locations.
Providing clear and concise notification, whether live or recorded, ensures transparency and compliance with legal requirements.
Organizations must inform customers at the beginning of the call and offer them the option to opt-out if they do not wish to be recorded.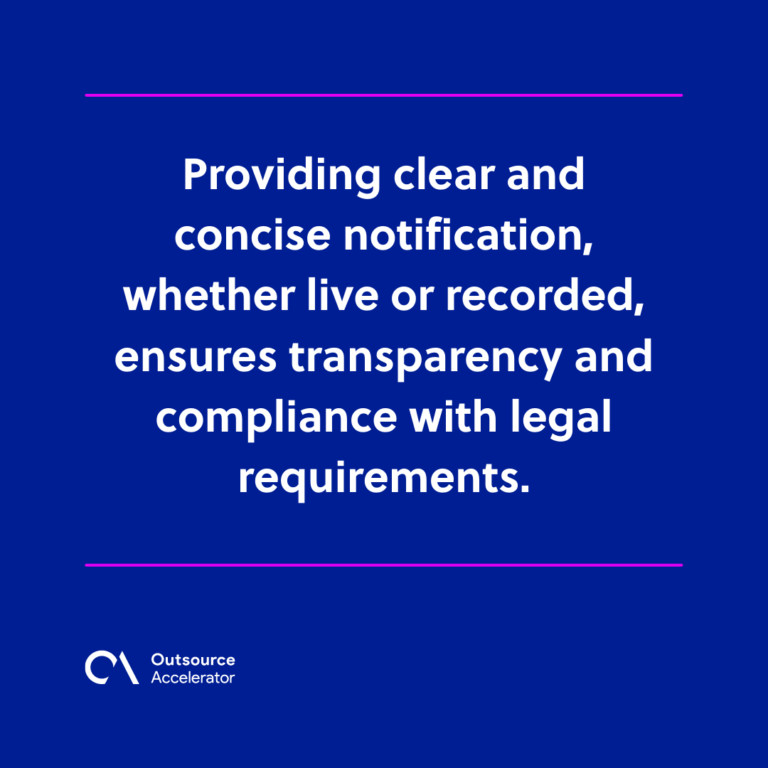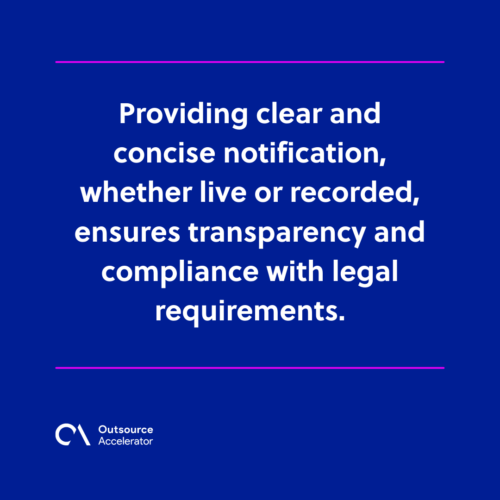 Call recording retention period
Institutions should establish a predetermined retention period for recorded calls.
Retention periods may vary based on legal requirements and industry-specific regulations. It is essential to retain recordings for the necessary duration and securely dispose of them once the retention period expires.
Accessing recorded calls
Call recording compliance involves defining who can access recorded calls within an organization. Access should be limited to authorized personnel with a legitimate need to review the recordings.
Implementing strong access controls and monitoring mechanisms helps prevent unauthorized access and misuse of recorded data.
Call quality control
Maintaining call quality is an important aspect of call recording compliance. Businesses should regularly review recorded calls to meet quality standards and adhere to internal policies.
Quality assurance processes help identify any issues or discrepancies during customer interactions.
Industry-related considerations
Different industries may have specific compliance requirements for call recording.
The examples given above are some of the most common industry regulations to consider for call recording compliance. Other measures, such as consumer protection acts in various states, may still apply.
How you can ensure call recording compliance
Ensuring call recording compliance requires a proactive approach and effective implementation of best practices. Here are six essential steps to help businesses achieve and maintain compliance:
Understand applicable regulations
Stay updated on the legal and regulatory frameworks relevant to your industry and geographical location. Familiarize yourself with the specific requirements and obligations for call recording compliance.
Implement robust data protection measures
Adopt strong data protection measures. As much as possible, implement encryption, access controls, and secure storage solutions to protect every customer transaction, including calls.
Regularly review and enhance your security protocols to mitigate potential risks and ensure customer data remains safe.
At the same time, share security awareness tips with your teams and customers to help them get protected.
Obtain explicit customer consent
Before recording any calls, inform customers of the recording and seek their explicit consent. Make sure to provide clear instructions on how they can opt-out if they do not wish to be recorded.
Establish a call recording retention policy
Define a retention period for recorded calls based on legal requirements and industry standards.
Develop a clear policy outlining the duration for which calls will be retained and the procedures for securely disposing of recordings.
Ideally, some regulations allow storing recordings for six or 12 months before disposal. At maximum, you can store them for five years.
Train employees on compliance procedures
Educate your employees about call recording compliance and provide training on the proper handling of recorded calls.
Ensure they understand the legal requirements, privacy considerations, and their role in maintaining compliance.
Regularly audit and monitor call recordings
Conduct regular audits to assess compliance with call recording policies and procedures. Monitor recorded calls to identify any quality issues or potential breaches. Further, promptly address any concerns and take corrective actions when necessary.