Top 10 call center quality assurance software in 2024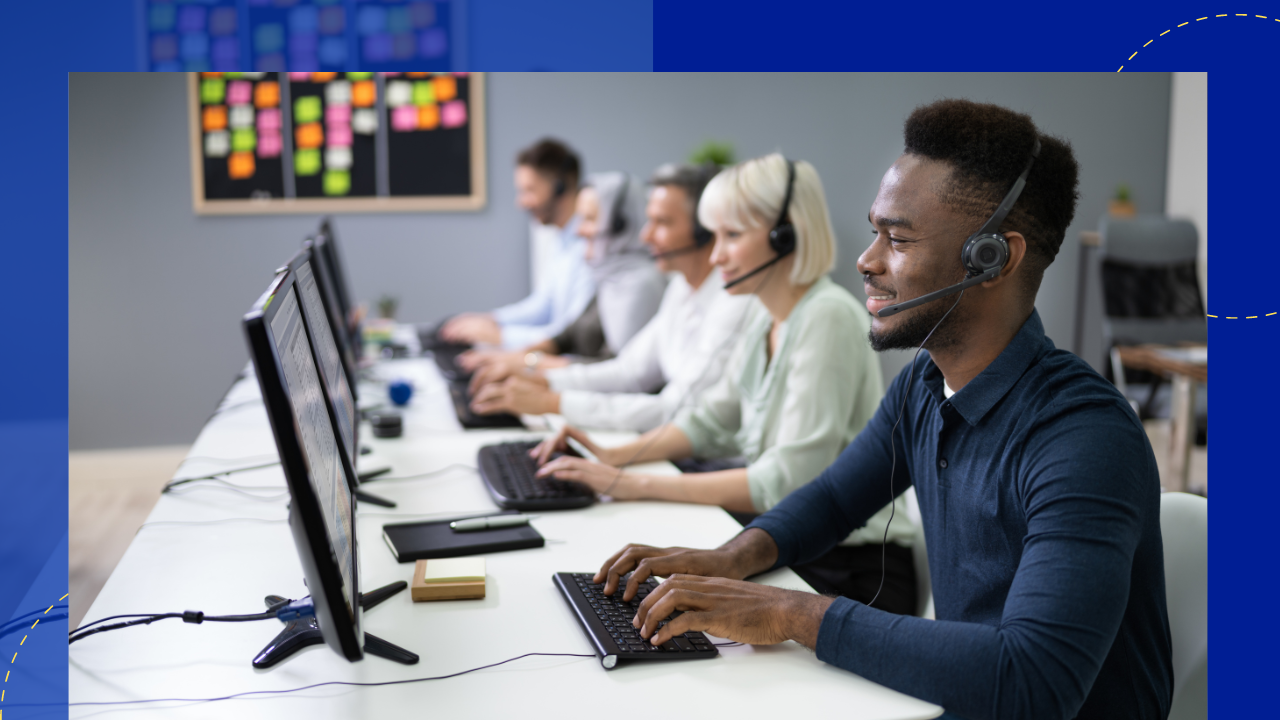 10 notable call center quality assurance software
In the realm of customer service, call centers are pivotal in ensuring excellent client experiences. These days, call centers rely on robust quality assurance (QA) software to maintain high service standards. 
As per a recent Salesforce report, 88% of customers claim the experience a business provides is as important as its products or services.
With the help of call center quality assurance software, you can enhance and optimize your operations. This means you can provide top-notch services leading to better customer experiences.
Let's delve into the world of call center quality assurance software and explore the top ten solutions making waves in 2024.

What is call center quality assurance software?
Call center quality assurance software (often called QA software) is a suite of tools that monitor, evaluate, and improve the quality of customer interactions. 
This software is instrumental in ensuring that agents adhere to company standards, compliance regulations, and deliver outstanding customer service.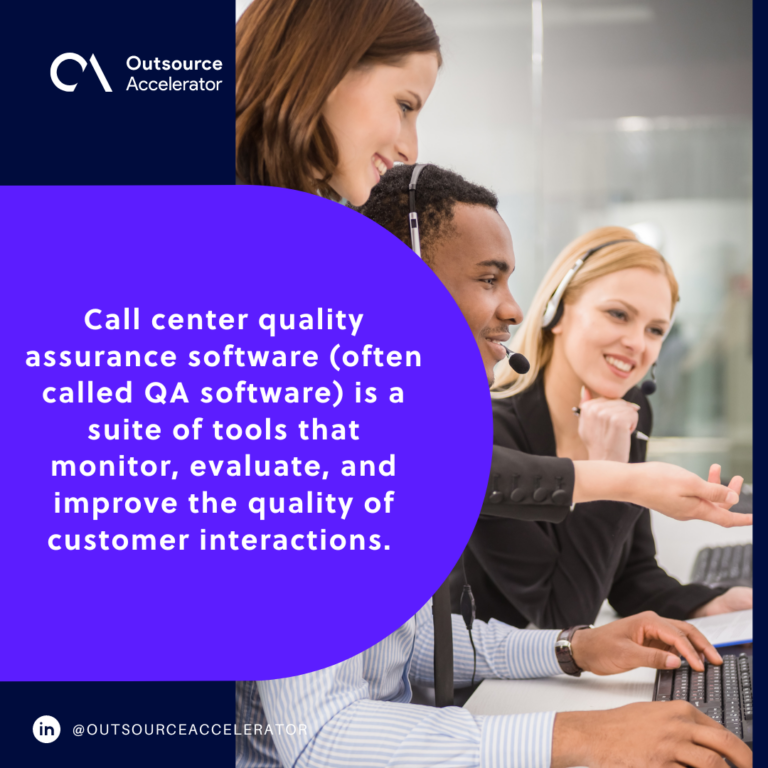 Features to look for in a call center quality assurance software
When choosing call center quality assurance software, prioritize features that match your business needs.
Let's explore the essential features to consider:
Call recording and live monitoring

. Both features enable the system to record calls automatically or in real time. It helps managers provide valuable insights and coaching to agents.

Evaluation and scorecards

. These functionalities measure the agent's call-handling performance using scorecards. They also allows supervisors to provide feedback and coaching.

Speech analytics

. This feature analyzes recorded calls using natural language processing and voice recognition technology. It helps with understanding customer needs.

Quality calibration and performance benchmarking

. These two help managers keep agent evaluation scores consistent. Both ensure a fair assessment of a call center agent's performance.

Reporting and analytics

. As for reporting and analytics, they provide an overview of all interactions across channels in reports and dashboards. These can be customized to the organization's requirements.

Workflow automation and task management

. Both functions help identify the tasks required for the customer service system to succeed.

Compliance monitoring

. This feature keeps track of compliance requirements, like specific scripts, prompts, or disclosures.

Coaching and training tools

. These elements provide coaching to agents to improve customer service skills.

Integration with CRM and call center systems

. It enables data sharing between the call center QA software and

CRM systems

. This allows for seamless tasks and experience transitions.

Scalability and flexibility

. Companies can scale the call center quality assurance software to cater to their growth and changing needs.
10 top call center quality assurance software
Several outstanding solutions have emerged for call center quality assurance software. Here are the top ten options shaping the industry:

Scorebuddy is an all-inclusive call center quality assurance software targeted at medium to large businesses. It allows you to create custom scorecards for evaluating agent performance. 
Scorebuddy offers features like:

Real-time scoring

Learning management system for coaching and upskilling

AI-powered analytics
Playvox provides a holistic platform for agent coaching, QA, and performance management. Playvox has features such as:

Agent self-evaluations

Evaluations by supervisors and peers

Coaching workflows

Gamification to drive agent engagement and improvement
Klaus stands out with its call center quality assurance software specialized for support teams. 
Its AI-powered analytics provide in-depth customer sentiment analysis, leading to improved agent-customer interactions.
Klaus has various services, including its:

QA Suite

AI Suite

Survey Suite

Coaching Suite
CallMiner's speech analytics capabilities let contact centers extract valuable information from customer conversations. The software's advanced AI identifies trends and areas for improvement across omnichannel interactions.
CallMiner helps call centers with:

QA automation

Real-time guidance

Agent coaching

Compliance

KPIs and metrics

Sales effectiveness
CloudTalk is a cloud-based call center software with call recording, live monitoring, and QA features. 
CloudTalk includes tools and services such as:

A smart interactive voice response (IVR) for call routing

Call activity, service level, and customer sentiment tracking

Seamless CRM integration
Talkdesk offers a scalable cloud-based solution for contact centers of all sizes. It provides real-time insights and automation to enhance agent productivity and customer satisfaction.
Talkdesk is an omnichannel call center platform that offers:

AI-powered call quality analysis

Agent feedback

Coaching

Performance metric measurement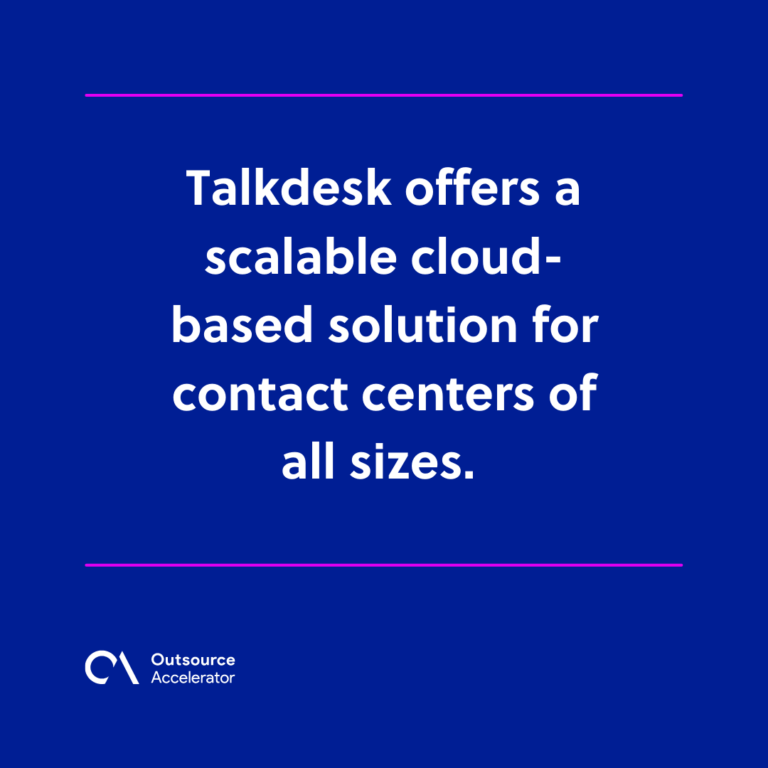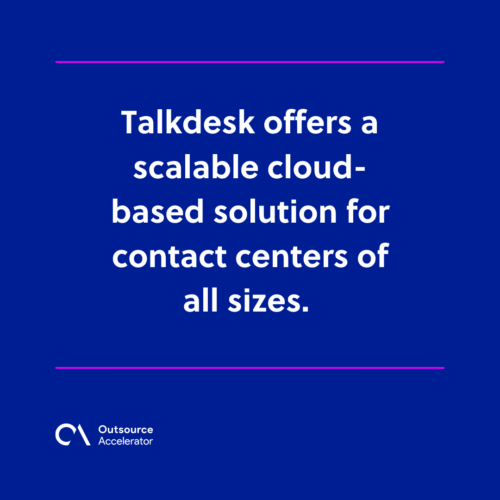 NICE CXone is a comprehensive cloud-based call center solution that combines QA, AI, and automation. NICE CXone offers tools for:

Call recordings

Smart omnichannel routing

Evaluations and analytics

Workforce optimization

Customer experience management

Open cloud foundation
Five9's CCaaS platform excels in monitoring and evaluating customer-agent interactions. Its QA software helps businesses improve agent performance, customer satisfaction, and operational efficiency.
Five9 accomplishes these with features like:

Speech analysis

Customer sentiment analysis

Customizable reporting and analytics
Qualtrics CustomerXM enables businesses to measure customer satisfaction and customer loyalty. It does so through comprehensive surveys and feedback mechanisms. 
Qualtrics CustomerXM has services and tools like:
iQ, its predictive intelligence engine

Automated actions and insights

Drag-and-drop integrations

Business value realization

Ultimate listening
Genesys Cloud CX is a powerful cloud-based platform with top-notch QA features. 
It helps contact centers streamline customer service operations. This software also ensures consistent quality across multiple communication channels.
Genesys Cloud CX's call center quality assurance software features:

IVR and self-service

Automatic call distribution (ACD)

Inbound and outbound call capabilities

Predictive dialing

Workforce engagement management (WEM)