Offshore staffing is an incredibly powerful tool.  It can triple a company's headcount for no extra cost, or put another way, it can extend their burn rate runway by 3x.
One common misconception about outsourcing is that only big businesses have access to the mysterious world of offshore services.
However, this is not the case.  Outsourcing is now more flexible, more affordable and more accessible than ever for smaller businesses – and even startups. Since the pandemic, more businesses are realizing the potent benefits of outsourcing for their operations.
Save up to 70% on staffing costs
Sourcing staff from countries like the Philippines means that you can save 60%-80% on your staff costs. This is huge.
For startups and small businesses, being able to access high quality talent is crucial to their speedy development and success. Typically, the biggest expense for most companies is their staff costs. 
Outsourcing allows you to hire the high-quality staff that you need, whilst at the same time, conserving your money and limiting your spending. 
Almost any kind of business can benefit from offshore staffing. Right now, hundreds of businesses are turning to outsourcing to help them acces the staff that they need – affordably.  Once they start outsourcing, they realise the incredible potential of this often overlooked transformative business tool.
Businesses can save 70% on their staff costs.  But it's not just about saving money.  The other way to look at it is that you have the opportunity to triple your workforce (for the same price). Imagine what you could do if you could employ triple the staff that you currently have. 
You can build more products, faster,  do more research, service your clients better, make more sales calls, and do more marketing.  You can out-compete your competitors!
Plus – if you are VC funded, and you're burning cash right now, it can extend your runway by up to 300%!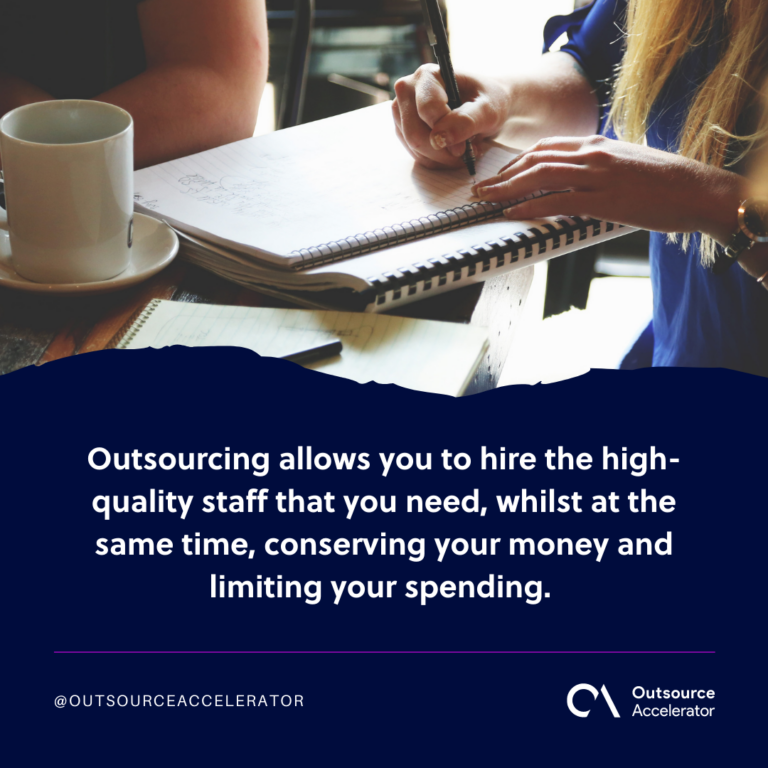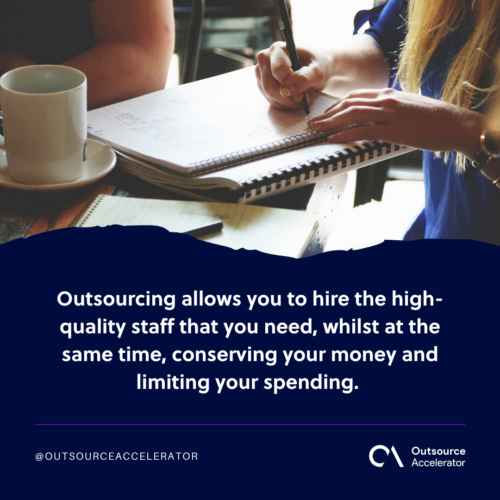 Get the staff you need to grow – now
It's hard to find the skilled workers you need. There are labor shortages everywhere.  Salaries and employment costs are skyrocketing.  How are you meant to build your business when you can't find the staff?
Outsourcing enables businesses to tap into global talent at a much affordable price.  There are 8 billion people on this planet!  There are a lot of highly capable people out there.  They can do the work you need – and typically at a fraction of the cost.
The Philippines has a flourishing outsourcing industry.  It is highly sophisticated and has been helping businesses grow for the last 30 years. The industry employs over 2 million people and offers a plethora of business functions that cater to almost every vertical. 
Traditionally, Filipinos are well-known for customer service roles. But the Philippines is not an outsourcing powerhouse due to customer service alone. 
The Philippines has incredible developers, animators, accountants, architects, marketers, sales agents, engineers, and highly-qualified professionals representing all major roles across all major industries. 
Remote staffing – on steroids!
As the world adjusts to COVID-19, businesses have had to evolve.  In most cases, they have had to slash costs, reassess their operations, adap, and rebuild. 
Businesses are now realising that offshore staffing is a powerful tool that can get them the staffing they need, while at the same time allow them to cut costs. Offshore staffing is flexible, cost-effective and allows a business to save, whilst at the same time adapt and rebuild.
Remote work and globalized employment is now a powerful trend seen across businesses of all types and sizes. 
Everyone – including your competitors – are turning to offshore staffing. It's time you do the same.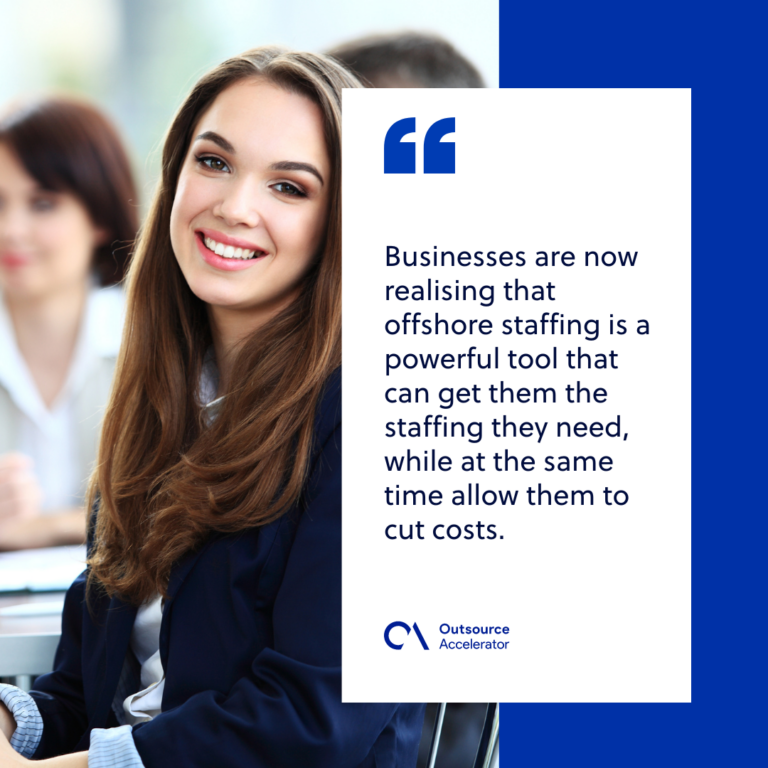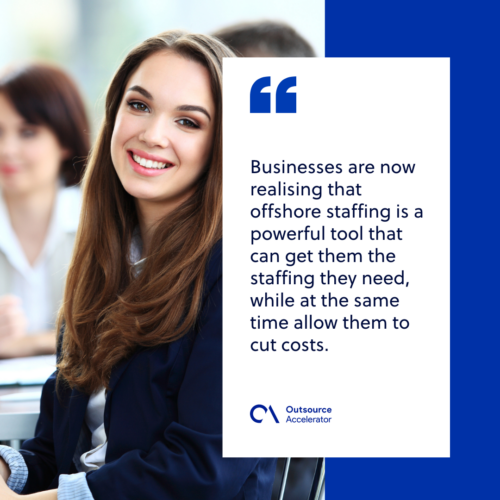 More growth, more opportunity
For businesses, controlling costs means more profits, and more opportunity to grow.  Having access to offshore staffing not only means that you can save 70% on staffing costs, it also means that you can triple your workforce!  
This means more growth, faster!
Businesses are now realising that offshore staffing is a competitive advantage. It enables them to build a bigger and better team, which means that they can grow their revenues, clsients, sales and products faster.
Leveraging offshore staffing means that you're properly utilizing the global workforce of 8 billion people. It's a big opportunity.