Business assistant: What you need to know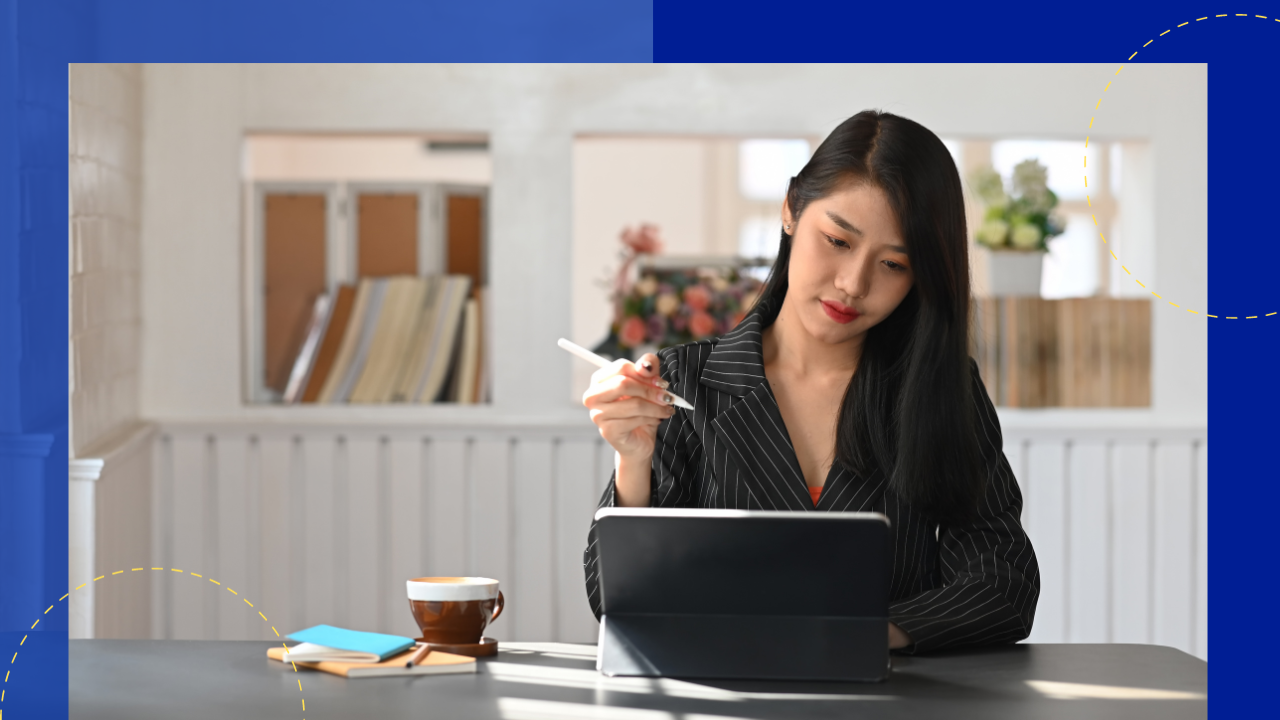 Efficiency and productivity are paramount in business. Whether you're a small startup or a well-established corporation, having a business assistant can make a world of difference.
According to 80,000 Hours, a good assistant can boost daily productivity by 10%. So, if your organization doesn't have a business assistant yet, this article provides what you need to know to get you off the fence about hiring one.
Read on to explore what business assistants are, the benefits they bring to the table, their responsibilities, and the key skills to look for when hiring one.
What is a business assistant?
A business assistant (aka executive assistant or administrative assistant) helps businesses or executives manage day-to-day tasks and responsibilities.
Business assistants are skilled in organization, communication, and problem-solving to ensure the smooth running of a company's activities. They are the unsung heroes behind the scenes, ensuring operations run efficiently.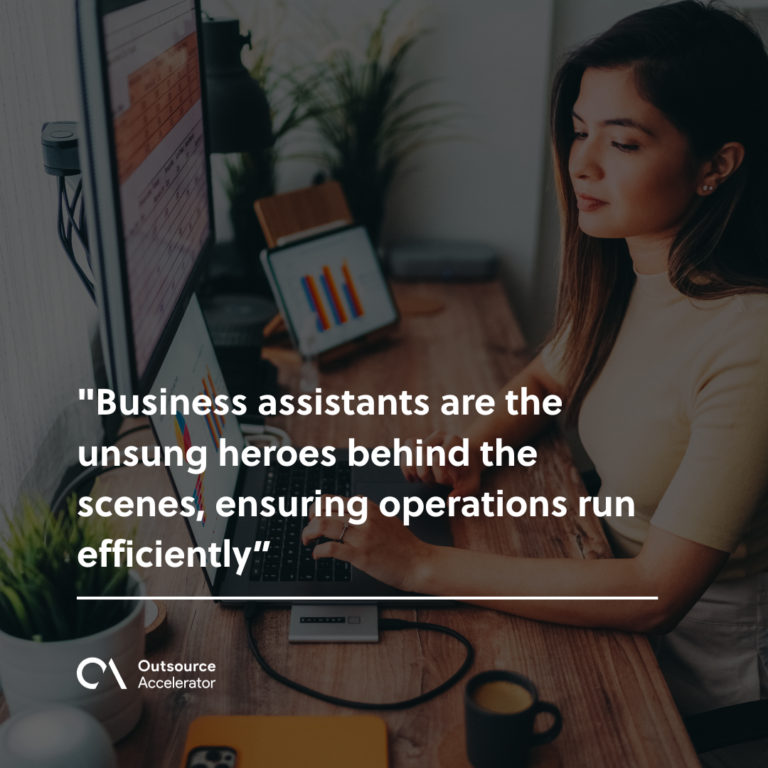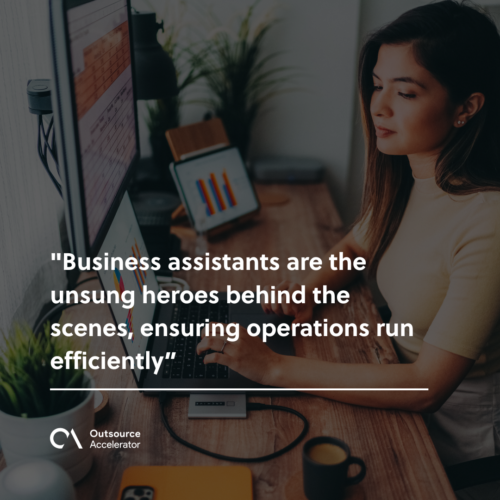 Benefits of having a business assistant
A business assistant can bring numerous advantages to your organization:
Enhanced productivity
Managers and executives can focus on strategic decision-making and core business activities with a business assistant handling administrative tasks. As a result, productivity and efficiency are given a boost.
Time management
Business assistants excel at organizing schedules, prioritizing tasks, and managing calendars. By optimizing time management, they ensure that important meetings, deadlines, and appointments are never missed.
Improved communication
Executive assistants serve as a liaison between managers, staff, clients, and other stakeholders.
They can handle correspondence, screen calls, and respond to inquiries, ensuring smooth organizational communication flows.
Task delegation
Assigning tasks to a business assistant allows managers to delegate routine or time-consuming responsibilities. This frees time for high-impact projects, leading to greater focus and better outcomes.
Streamlined operations
Business assistants are adept at streamlining operations. They ensure that all logistical aspects are well-organized, reducing stress and optimizing workflow.
Confidentiality and trust
Business assistants can handle sensitive information while maintaining confidentiality. Their commitment to professionalism and integrity creates an atmosphere of trust within the organization.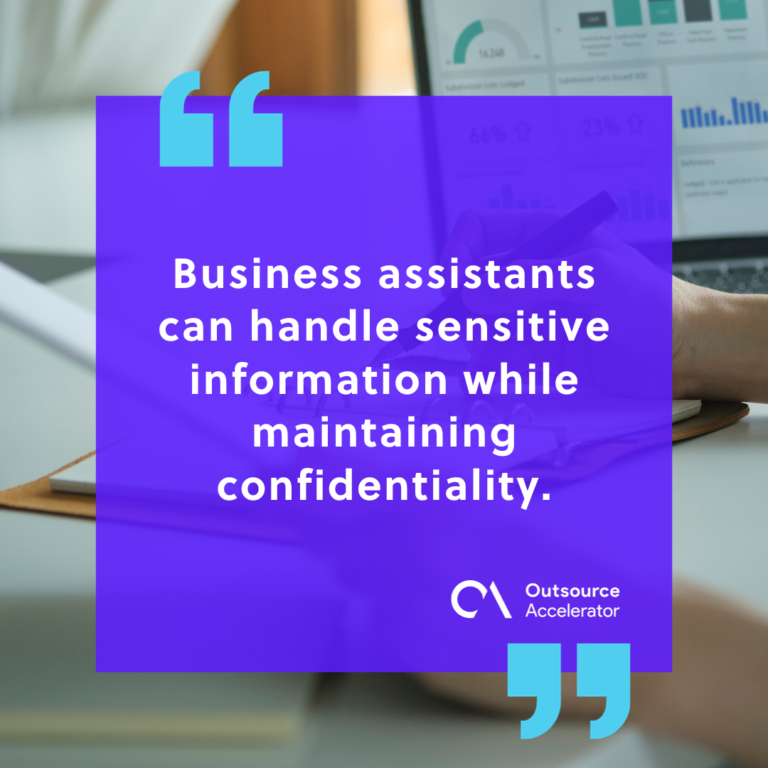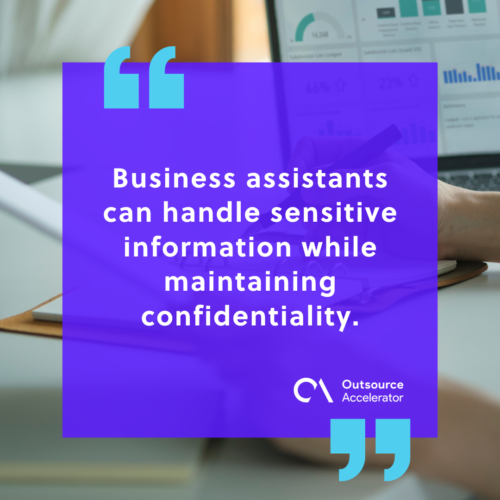 Crisis management
These specialists are skilled at problem-solving and taking charge when unexpected issues arise.
They can handle emergencies, adapt to changing situations, and find solutions, providing a sense of security in times of uncertainty.
Roles and responsibilities of a business assistant
Business assistants' duties may vary depending on the organization's size, industry, and specific needs. 
Here are the common tasks they often undertake:
Managing calendars and scheduling appointments

Arranging and coordinating meetings, conferences, and travel plans

Handling correspondence, including emails, faxes, and mail

Preparing reports, presentations, and other business documents

Conducting research and gathering data for various projects

Assisting with budget management and expense tracking

Maintaining records, databases, and filing systems

Providing customer support and addressing client inquiries

Collaborating with internal teams and external stakeholders

Participating in brainstorming sessions and contributing ideas

Keeping up to date with industry trends and developments
Skills and qualifications to look for in a business assistant
Certain characteristics are crucial when hiring a business assistant to ensure effectiveness in handling the role's demands. 
Look for candidates with the following attributes:
Strong organizational skills

. A business assistant must be highly organized to efficiently manage multiple tasks, deadlines, and priorities.

Excellent communication skills

.

Effective verbal and written communication

is essential for a business assistant to interact with team members, clients, and stakeholders.

Proactive and self-driven

. A proactive approach and ability to take initiative are invaluable traits in a business assistant. They should be self-motivated and capable of anticipating needs and problems before they arise.

Attention to detail

. Accuracy and attention to detail are crucial for tasks such as proofreading documents, managing records, and scheduling appointments.

Problem-solving ability

. Executive assistants should possess

critical thinking skills

to solve problems independently and make informed decisions

Adaptability

. Adapting to changing priorities and handling unexpected challenges is vital for a business assistant in a dynamic work environment.

Technical proficiency

. Proficiency in using office software, collaboration tools, and other relevant technology is essential for efficient business operations.

Discretion and trustworthiness

. High ethical standards, professionalism, and the ability to handle confidential information with discretion are key.
Hire a business assistant now
The option of hiring a business assistant to aid your day-to-day operations is worth exploring, especially with the numerous advantages the role brings to an organization.
Business assistants' contributions extend far beyond routine administrative tasks — they are the backbone of efficient operations.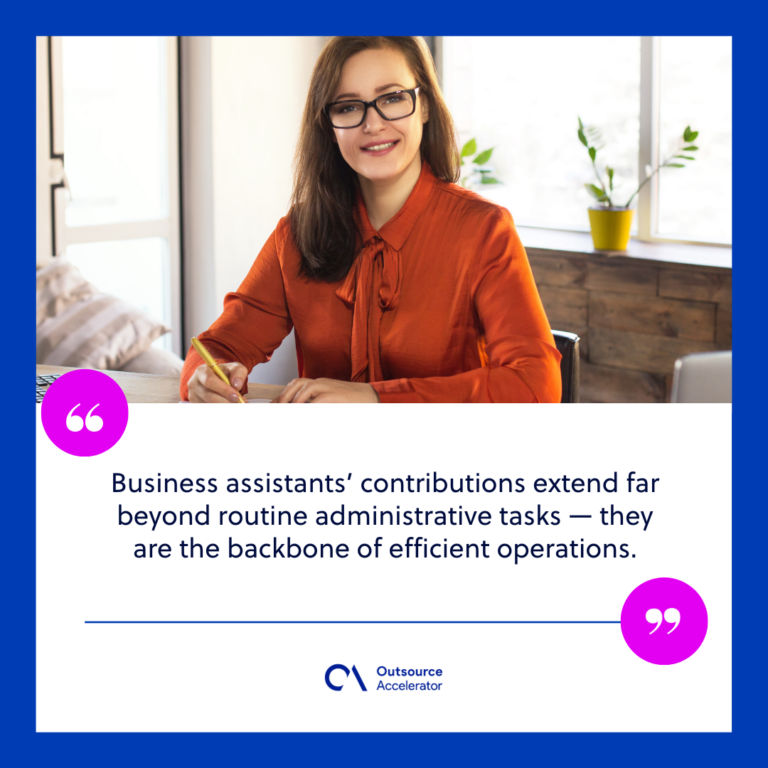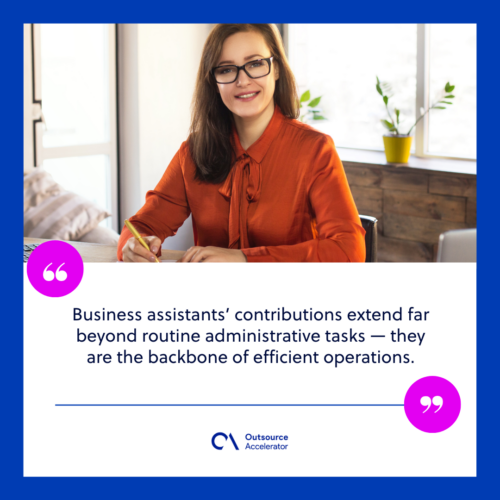 If you want to enhance productivity, streamline processes, and focus on what truly matters in your business, it's time to consider hiring a business assistant.
You can also consider outsourcing this role. Many outsourcing firms offer virtual assistant services, providing the same benefits without needing office space or the overhead costs of hiring an employee.
Whether you bring someone in-house or opt for outsourcing, the key is to act now and take advantage of what an assistant can bring to your organization.