Board of Investments (BOI)

The Philippines must take many more opportunities to see its political and economic climates grow. But over the decades, the country has fostered a goldmine of raw talent, ready and resilient enough to work in world-class business environments.
One key governing body that happily observes and tends to the budding relationships of adaptable Filipinos and like-minded foreign investors is the Board of Investments (BOI).
Read on to learn about how the BOI works and its initiatives in foreign investments.
About BOI
Board of Investments (BOI) is the lead investment promotion agency of the Philippine government. It manages and promotes investments in industries and in the regions for balanced economic development.
BOI's mandate is to generate local and foreign investments and develop globally competitive industries, thereby increasing employment among Filipinos.
Under the guidance of the Board of Investments (BOI) Philippines, the investment process becomes seamless.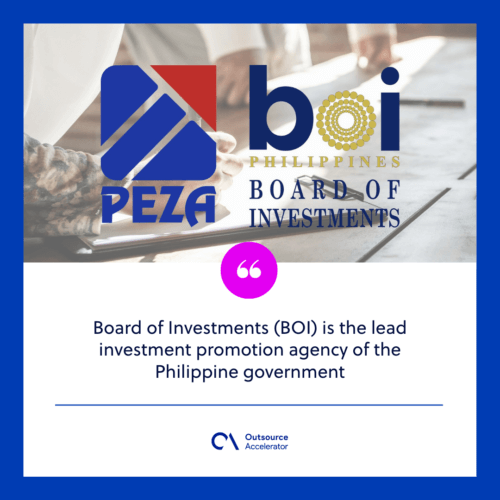 The BOI collaborates with local government funds and financial institutions to lend low-interest funds, thus enabling easier access for investors. This initiative involves cooperation with state agencies and local governments overseen by the BOI's executive director.
Overall, BOI streamlines investment procedures, making them more straightforward and accessible to both local and international stakeholders.
Unprecedented investment growth
In 2017, it was reported that the agency notched an all-time high of PHP 616.7 billion in investment approvals. This is the highest that the agency has seen in its 50 years of service.
Making investments easy and accessible
For one, the BOI shows favor to both local and foreign investors in the sector of ICT, and for these, it offers a separate range of incentives, which include:
Income-tax holiday
Exemption from taxes and duties on imported spare parts
Exemption from wharfage dues and export taxes, duties, imposts, and fees
Tax credits
Additional deductions from taxable income
According to their website, BOI-OWN's system offers online investment facilitation of investors' pre-investment and post-investment queries and concerns, requests for inbound missions, and joint venture facilitation.
Through the portal and through conscientious email and SMS notifications from BOI's designated account officers, future investors can easily track and monitor concerns anytime and anywhere.
A sunny business climate
What returns will the country promise to foreign investors if they set out to create ripples in the Philippines?
For one, we can promise the wide range of Filipino skills, talents, and personalities that will come with the choice to invest and do business; for another, we promise a business climate that is nursed by good governance and our country's heightened pursuit of economic growth and sustainability.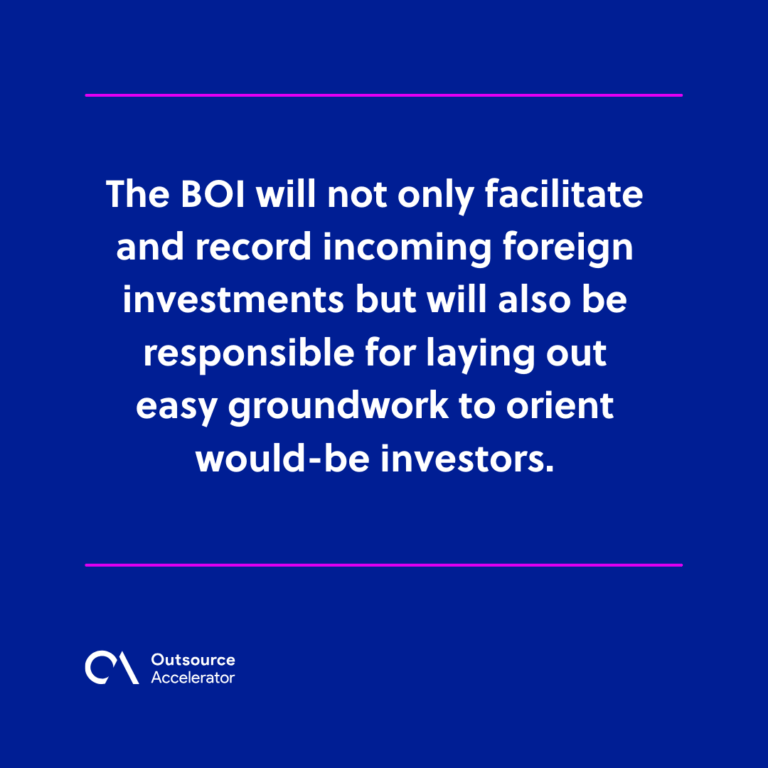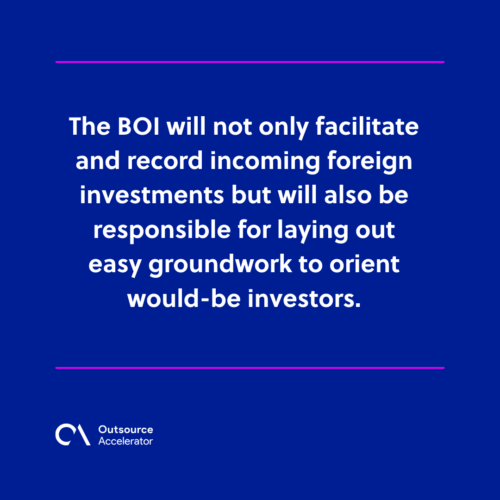 Essentially, the BOI will not only facilitate and record incoming foreign investments but will also be responsible for laying out easy groundwork to orient would-be investors.
In addition, they guide them every step of the way through our country's bylaws, processes, and upcoming benefits.
Many key players now see the country as a nest for partners and their upcoming projects on technology.
Is it the same circumstance for your IT-BPM company, which wants to grow its roots in new soil?
The Philippines may be part of the future that you seek.