Best outsourcing deals & packages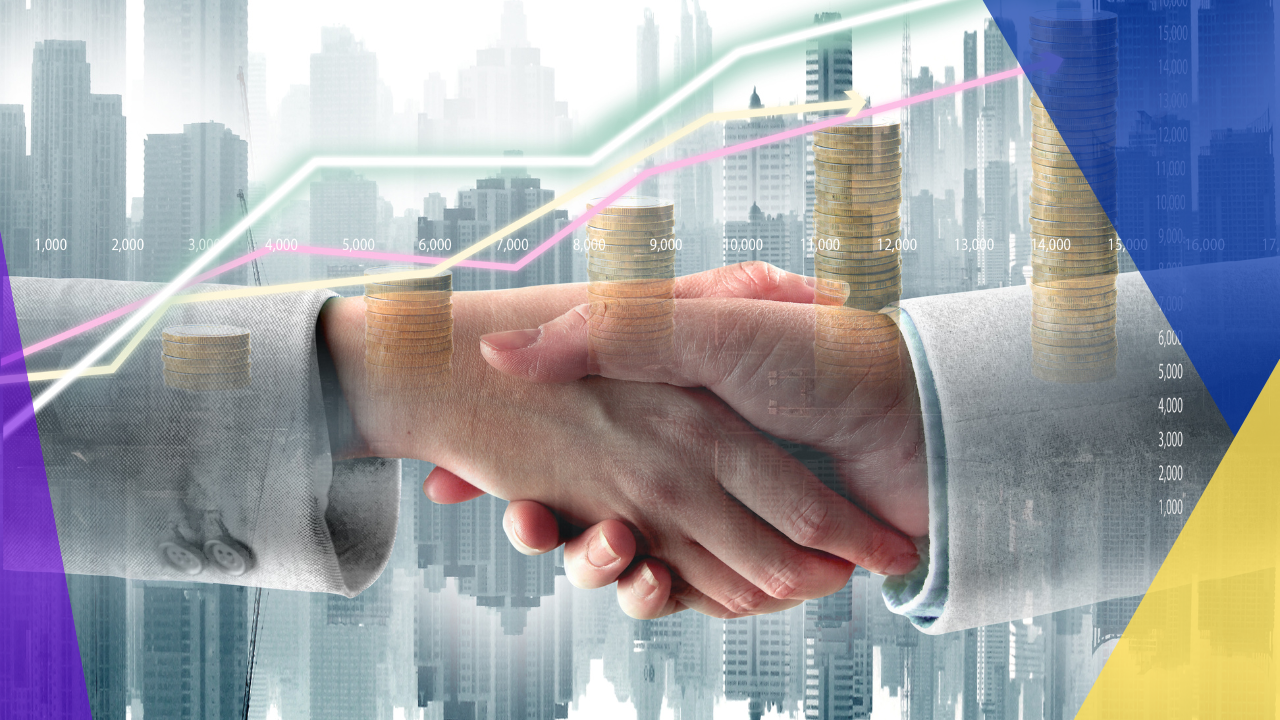 Looking for the best outsourcing deals for customer service? Perhaps, you are in dire need to outsource finance and accounting or digital marketing and content? Do you need to hire a virtual assistant or a general admin?
There's no reason to look further than The Source Superstore. We are not a BPO company, but we can connect you to the best BPO service providers that fit your exact business needs.
Outsourcing has become quite popular for business owners, business managers, entrepreneurs, and many business-minded people. It is a way for businesses to get one step ahead of the competition in terms of running business processes smoothly and more efficiently. A lot of small to medium-sized companies have already tried their hands with the BPO industry and have gained quite a handful of benefits.
With outsourcing, you can spend more of your time on creating and developing your products and services. Leave the hassle of day-to-day operations and other redundant and time-consuming tasks to your outsourcing partners. Find the best outsourcing deals and run your business as seamless as it can be.
Best outsourcing deals and services
What are the best outsourcing deals? Where can you find the best outsourcing deals? How can you spot the best outsourcing deal for your business?
All these questions are necessary, especially if this is your first time dealing with outsourcing a business process. However, such questions are oftentimes not easy to answer.
With the popularity of outsourcing business processes come countless of outsourcing service providers. Oftentimes, it can be a little tricky to choose who to hire and which outsourcing partner will give you the best deal for your buck.
Price vs. Quality
When it comes to outsourcing, cost and quality are two important factors to consider. While a cheap deal might save a lot of money, the quality of the outsourced product must never be compromised. The best outsourcing deal would be something that provides top-notch quality at an affordable price.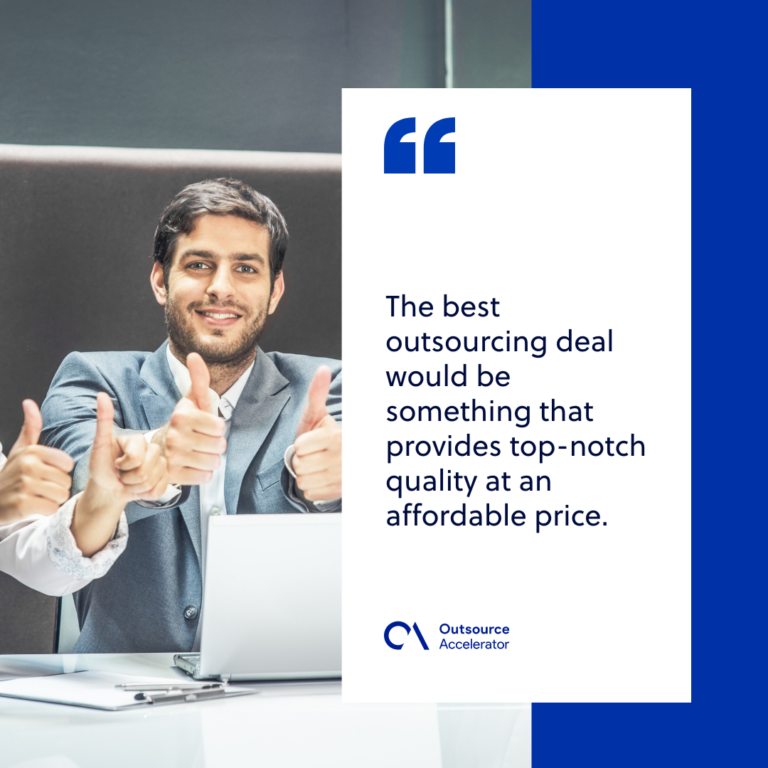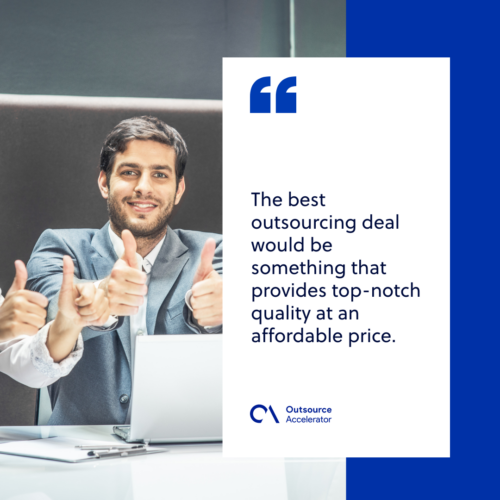 How to find the best outsourcing deal
It's not easy to choose the best outsourcing partner, and we understand that. There are several things you have to consider in spotting the best deal that would give you both quality and affordability. Here are a few pointers to consider when looking for an outsourcing partner.
1.  Cost-effective
The best outsourcing deals are cost-effective which means you have to get high-quality products at an affordable price tag. Quality doesn't have to mean pricey.
2.  Business reputation and expertise
Aside from the price, the outsourcing partner should have an established reputation in the business. They should prove to be experts in the field, and not just claim to be an efficient outsourcing provider.
3.  Communication
It's not enough to get the best outsourcing deal and pay for it. The process itself involves quite a lot of communication from you to your outsourcing partner and vice versa. An excellent outsourcing deal should have a proper communication process to keep the business process flowing seamlessly.
We understand all the struggles that come with choosing who to trust in the business world, especially in the BPO industry. Thus, this is where we come in.
Your search for best outsourcing deals in the market finally comes to an end. The Source Superstore answers all those questions and provides all your needs when it comes to outsourcing. Our main vision is to help your business get one step ahead of the competition by maximizing the advantages of outsourcing.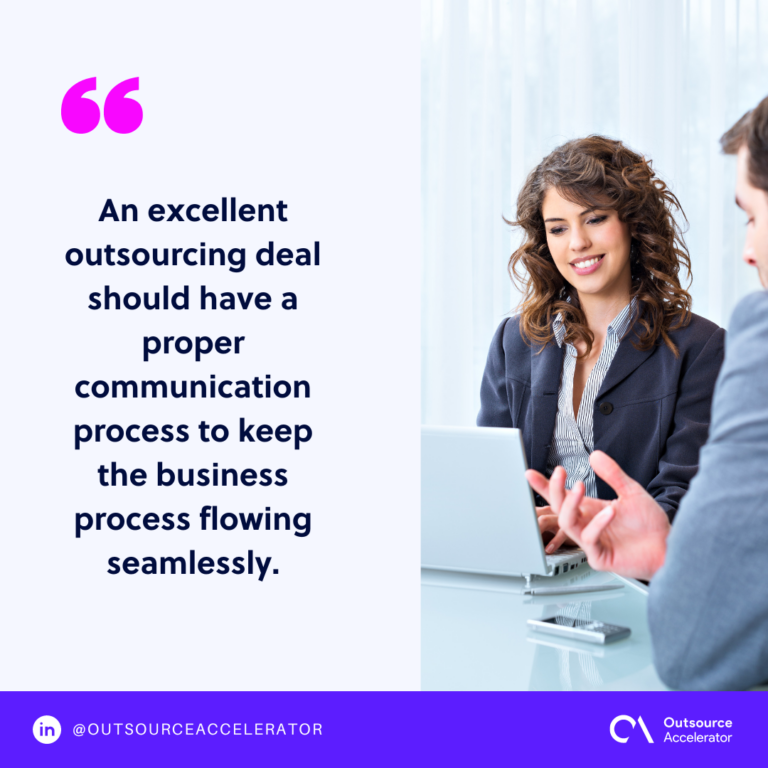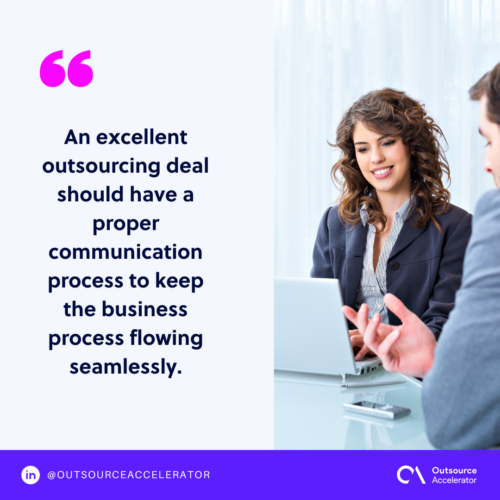 Costs of dirt cheap outsourcing
As mentioned, outsourcing doesn't have to be expensive. In fact, an advantage of outsourcing services is to cut the costs of a company's business process. So, it should be affordable or cheap.
However, if you're thinking that opting for "dirt cheap" outsourcing can save you a lot, that's where you're wrong. It can cost you a whole lot more in the future. There's no guarantee in dirt cheap outsourcing deals.
Cheap outsourcing setup
At The Source Superstore, we understand that you don't want to spend a lot on outsourcing, but we also understand the need for high-quality output.
We not only give you access to the best outsourcing service providers, but we guarantee that the ones we connect you to are based on your budget. We've made pricing categories you can select from to make all things simple and upfront.
Cheap outsourcing Philippines
While outsourcing has become popular in a lot of businesses and companies worldwide, the Philippines has also become famous as one of the best hubs for outsourcing service providers in Asia.
The BPO industry in the Philippines is rich, and we want the whole world to know.  Is it cheap outsourcing in the Philippines that you want? Do you want to hire quality and established BPO companies in the Philippines to be your partner? The whole process is made a whole lot easier through our Superstore.
We make it more convenient and accessible for businesses to start their hand at outsourcing by finding their ideal outsourcing partners in the Philippines. We don't only collect and make a list of all outsourcing service providers in the country; we verify, vouch and get you an exclusive discounted package so you can start outsourcing.
Outsourcing prices: cost-effective outsourcing
Do you need to outsource finance and accounting? Perhaps, you are in need of a customer service support for your business. How about digital marketing and content?  Are you looking to hire a general admin for your business or a virtual assistant to help you manage your daily tasks? The answer to all these questions is simple. Outsource.
Whatever outsourcing services you want and need for your business, we have a long list of reputable service providers for you. There are no dirt cheap outsourcing prices, and we give an attractive bargain; something affordable, but doesn't compromise the quality of the result.
Expect great results at a reasonable price from the BPO industry experts. There's no reason to look further. The Superstore has got you covered.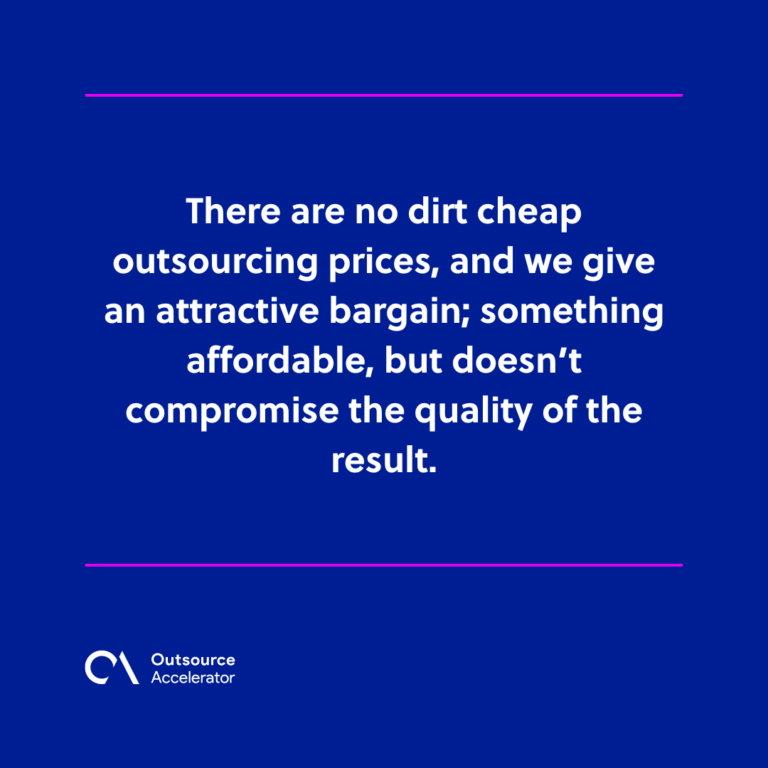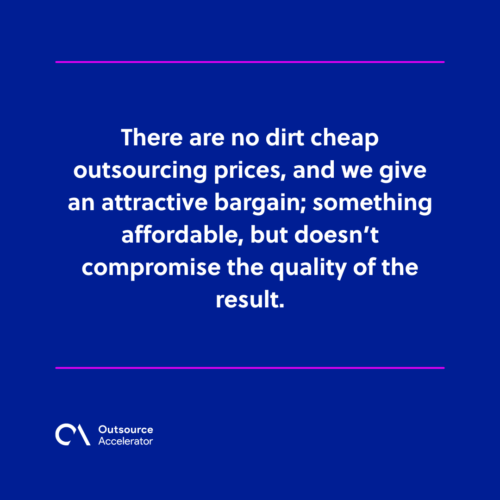 Cheap labor outsourcing vs. finding BPO experts
What is more important: saving your business a few bucks through dirt cheap outsourcing or hiring the expensive services of BPO experts to help you with your business process?
Before we answer that, let's try to understand the consequences as well as the advantages of choosing one over the other.
Cheap labor outsourcing
Choosing cheap labor in outsourcing can save a lot of money upfront. You pay less for the services that you need, which is what every company wants.
However, there are some disadvantages to choosing cheap labor. The tasks outsourced for a cheap price would also equal cheap quality. Now, this would be fine if you're willing to compromise quality.
It is important to note that a sub-par quality output won't be great for any company's reputation.
Hiring BPO experts
Although it might not come cheap, hiring reputable BPO experts equals quality work. They know the ins and outs when it comes to outsourcing, and as such, they would give a better end result. Basically, the more you pay, the better the quality.
So, why bother choosing one over the other? At The Source Superstore, we aim to give the benefit of both price and quality to every business and company when it comes to outsourcing.
We are the perfect hub for finding the best outsourcing deals. Hire BPO industry experts to be your outsourcing partner at a price that is completely affordable. We aim to give you the best bargain when it comes to outsourcing business processes.
Best outsourcing plan: how to get ahead of the competition
Get global expertise and make your business processes more efficient through outsourcing. Plus, experience the ease and convenience of outsourcing.
However, before that, again here are a few frequently asked questions when it comes to outsourcing. Once you have an answer for all these questions, you can start outsourcing with the package that fits your needs in the Superstore.
What should you outsource?
At The Source Superstore, we have various services under our key offer categories to make your purchasing decision easy. There are currently eight specific product categories in our Superstore: Customer Service, Finance and Accounting, Lead Generation and Sales, Digital Marketing and Content, IT Network Support, Software Development, Virtual Assistant and General Admin, and BPO Client Consulting Services.
When should you outsource?
There are a lot of benefits and advantages when it comes to outsourcing and the right time to experience those is right now.
There shouldn't be any reason for you to delay the decision. Once you have the necessary knowledge on how outsourcing works and how it can work wonders for your business, finding the ideal outsourcing partner at The Source Superstore should be next.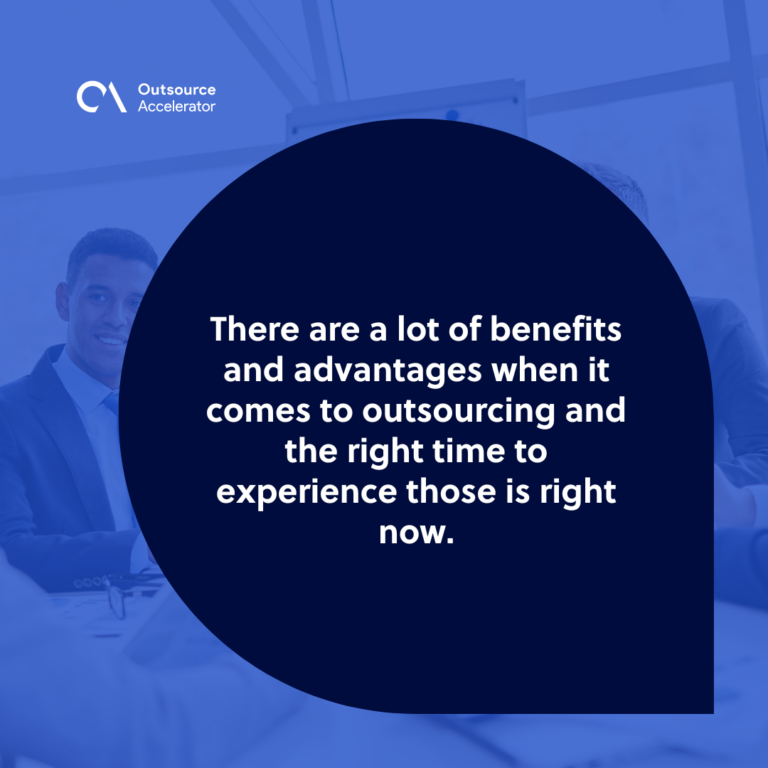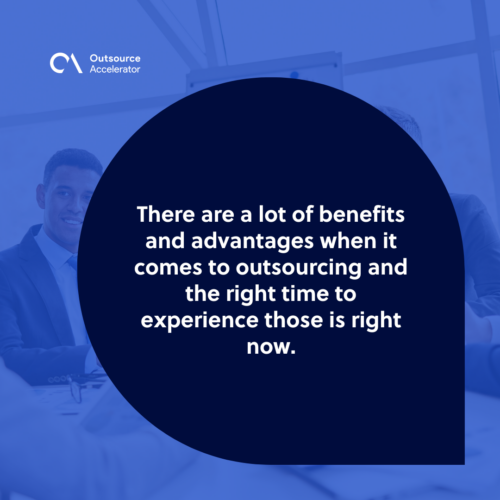 Where Should You Outsource?
Philippines is a great place to outsource business processes. There are various expertise in language and communication as well as in fulfilling different outsourced tasks. In The Source Superstore, you can find a lot of reputable and high-quality Philippine outsourcing service providers.
How should you outsource?
Being smart in outsourcing is a must in every choice you make. First, you have to understand why outsourcing is the next best thing for your business. Perhaps you want to be more focused in developing your products or services, but you can't really do that if you're bogged down by redundant daily tasks that could simply be outsourced.
Second, you have to be smart in choosing the best outsourcing deal. Quality and price should come hand in hand. Fortunately, that becomes easier and more convenient when you turn to The Source Superstore.
Outsourcing in a box: outsourcing package and cheap outsourcing setup
Looking for convenient ways to start with outsourcing? We understand that you need the help you can for a surefire way towards success. Hence, we offer an affordable outsourcing setup in our Superstore. Get started with outsourcing today!
Please be reminded that we are not a BPO company. We also don't offer any outsourcing services or any freelancing work besides our bespoke consultation service. Our Superstore is a central hub where you can shop for outsourcing. Think of it as Alibaba for all things outsourcing.
From outsourcing packages to a cheap outsourcing setup that can help kick-start your business' efforts, we have it all. We aim to give you all the resources you need.
All-in-one outsourcing
While outsourcing has become popular over the years, it's not as widespread as we would like it to be. There are still some company owners who do not have the right knowledge needed to start and succeed in outsourcing for their business.
That is what we hope to correct. At The Source Superstore, we don't only aim to provide a site where businesses can shop for outsourcing products and services. We also want to help every business start outsourcing and succeed in the transition.
There is no reason to look further than The Source Superstore for all things BPO. Whether you are looking for the best outsourcing deals or some outsourcing startup toolkit and bundles, you've come to the right place.