Your quick guide to hiring a benefits representative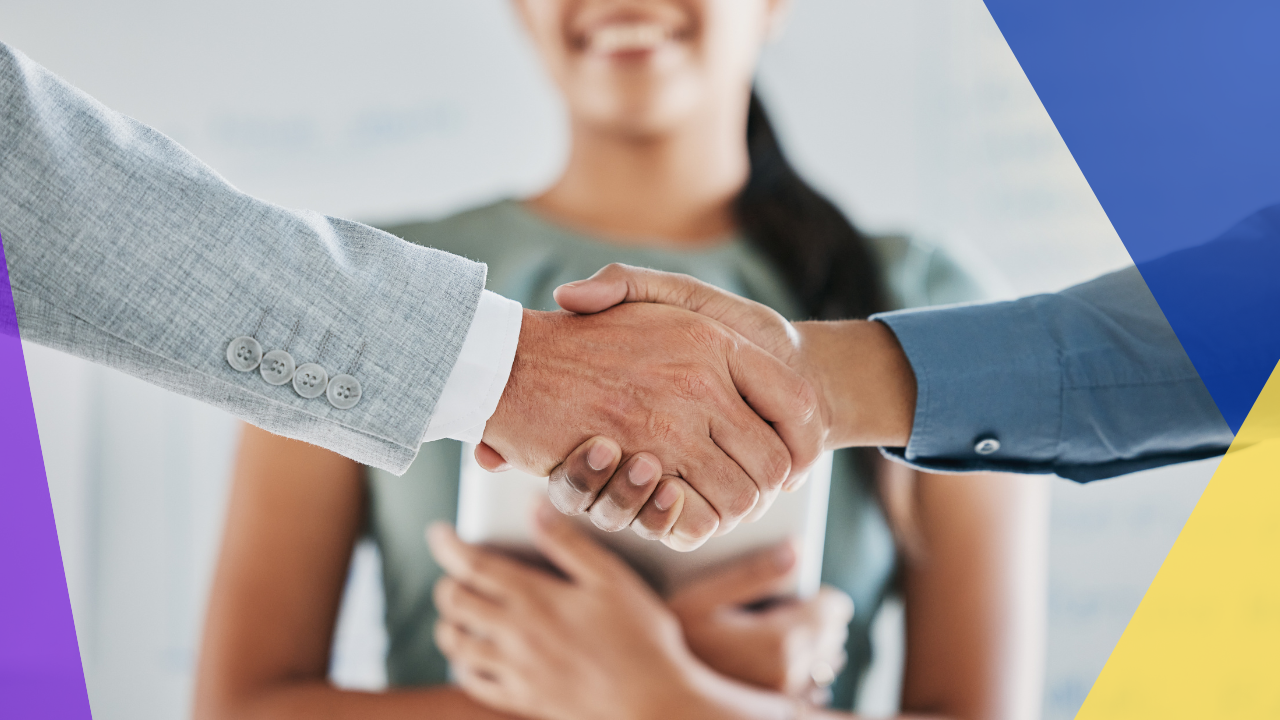 Businesses are under growing pressure to curate benefits packages that align with their employees' needs and differentiate them in a competitive job market. Employee benefits include health insurance options, retirement plans, and wellness programs.
A Society for Human Resource Management (SHRM) survey revealed that 92% of surveyed employees expressed that benefits are important to job satisfaction.
However, designing and managing these benefits is no small feat. This is where a skilled benefits representative enters the picture.
A benefits representative serves as a liaison between the company and its employees. They guide staff to curate a variety of benefit options and make their employment worthwhile to increase their engagement.
This guide will walk you through the essential aspects of hiring a benefits representative, offering insights backed by industry data and expert recommendations.
What is a benefits representative?
A benefits representative serves as a liaison between the employer and the employees. Benefits representatives are the go-to person for all matters related to employee benefits and forming the most cost-effective plans.
They work with HR teams to ensure that employees make the most of the benefits offered by the organization.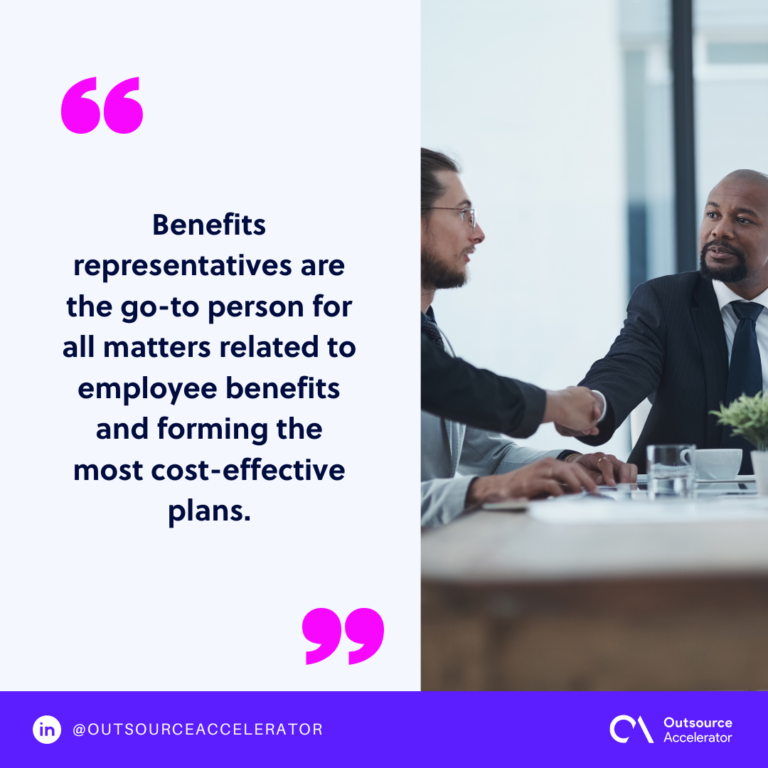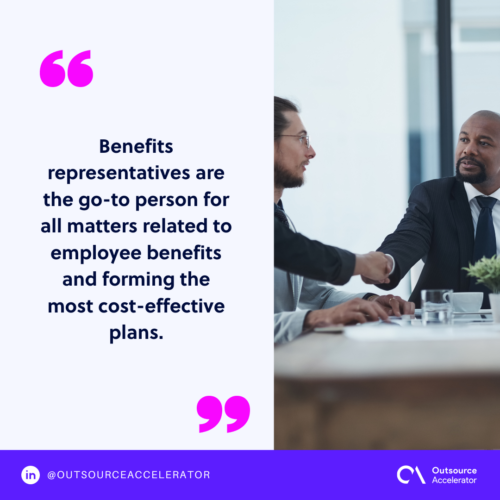 What does a benefits representative do?
A benefits representative covers various responsibilities, such as the following:

Navigating the complexities of benefits plans
One of the primary roles of a benefits representative is to navigate complex benefits plans.
Benefits representatives break down various benefit options, such as health insurance and retirement plans. They meet with key representatives to discuss options and propose the best ones accordingly.
Educating and empowering employees
Benefits representatives conduct informative sessions and workshops to inform employees of their benefits.
At the same time, they conduct employee surveys on what would work best for them and forward the results to the management.
This proactive approach fosters employee satisfaction and strengthens their loyalty to the company.
Records processing and management
Benefits representatives handle employees' insurance plans. They are tasked with claims processing on the worker's behalf and maintaining their benefits files.
Given this process, they are required to maintain confidentiality and compliance in line with records management.
Problem-solving and conflict resolution
Inevitably, questions and concerns arise regarding benefits. Here's where benefits representatives shine. They serve as a troubleshooter, swiftly addressing issues and resolving conflicts related to benefits.
Whether it's a claim dispute or confusion about coverage, employees can rely on the benefits representative to steer them in the right direction.
Adapting to evolving needs
Benefit plans evolve with changing regulations and employee demographics.
A benefits representative stays attuned to these shifts and adjusts benefits offerings accordingly. This ensures that the company provides competitive benefits reflective of the ever-changing needs of the workforce.

Reasons to hire a benefits representative
Your HR team should best focus on developing better workforce management strategies for your organization.
In particular, aspects like benefits management should be delegated to various roles such as benefits representative. 
Here's why you should hire them:
Tailored guidance for employees
Each employee has unique needs regarding healthcare, retirement, or other perks.
Benefits representatives personalize this guidance, helping employees get packages that suit their life stages and personal situations.
Maximizing benefits utilization
Employees are not uncommon to underutilize the benefits they're entitled to. Benefits representatives proactively contact employees and help them maximize the full spectrum of available benefits.
This move boosts the overall value of the benefits package they get.
Simplifying complex information
Benefits plans often have intricate terms and conditions that can bewilder even astute employees.
Benefits representatives excel at simplifying this jargon. They break complex processes and terms into easily digestible information they can comprehend without hassle.
Mitigating HR workload
HR departments juggle numerous responsibilities regarding overall workforce management. Benefits management can be time-consuming and exhausting on their part.
HR teams can offload the benefits-related inquiries by having benefits representatives on board and focus on other critical tasks.
Your options for hiring a benefits representative
All in all, a benefits representative is a crucial link between an organization and its employees. From untangling complex benefits plans to empowering employees, their role can help bolster the company's overall benefits program.
You can hire a benefits representative in different ways: 
In-house benefits representative
Bringing a benefits representative on-site can foster a close-knit relationship with the workforce. Employees can engage in personal interactions, building trust and rapport over time.
Outsourcing benefits management
Outsourcing compensation management can be viable for smaller companies or those looking to minimize overhead costs.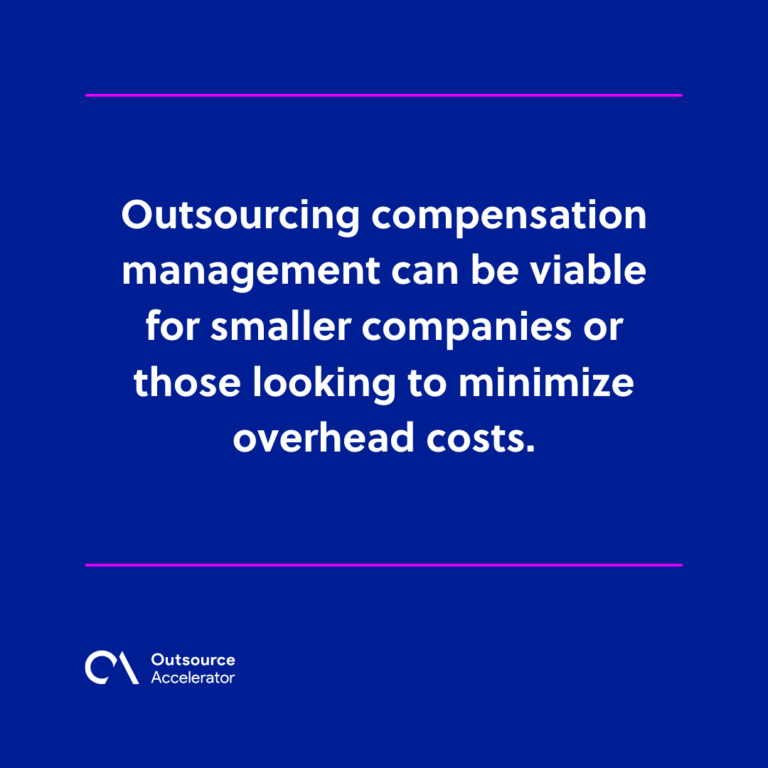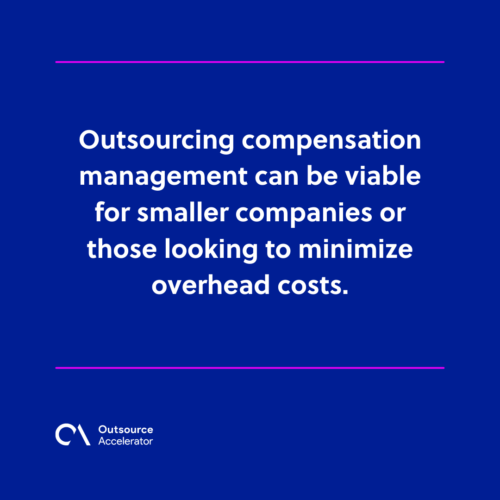 While outsourced teams work remotely, they can conduct guidance and consultancy through video calls, emails, and chats.
Specialized benefits consultancy
In some cases, partnering with a specialized benefits consultancy can provide access to a team of experts rather than a single representative. This approach offers a broader knowledge base and diverse insights.