Back office outsourcing: Why do you need it?
The majority of businesses, such as small and medium enterprises (SMEs) and even startups, encounter several challenges in achieving business growth.
There is a need for laser focus on matters like managing and ensuring operations, business core competency, and efficient work processes.
In such a case, businesses require robust back-office support services in order to keep up with the growing trends and establish a competitive edge that ensures the company's success.
The main driving force behind back-office outsourcing is its cost-effective solutions, which are beneficial for any organization with limited time and resources.
What is back-office outsourcing?
Back-office outsourcing is a business process outsourcing (BPO) practice where the company outsources workload from the back office of the business. It usually involves delegating tasks to remote workers from a third-party provider instead of the company's in-house staff.
The term "back office" refers to the portion of a company not involved in client-facing tasks yet gives support to the front-office functions.
Clearly, repetitive and monotonous tasks highly affect the employee's productivity. For organizations, outsourcing back office operations is one way to resolve this tedious cycle.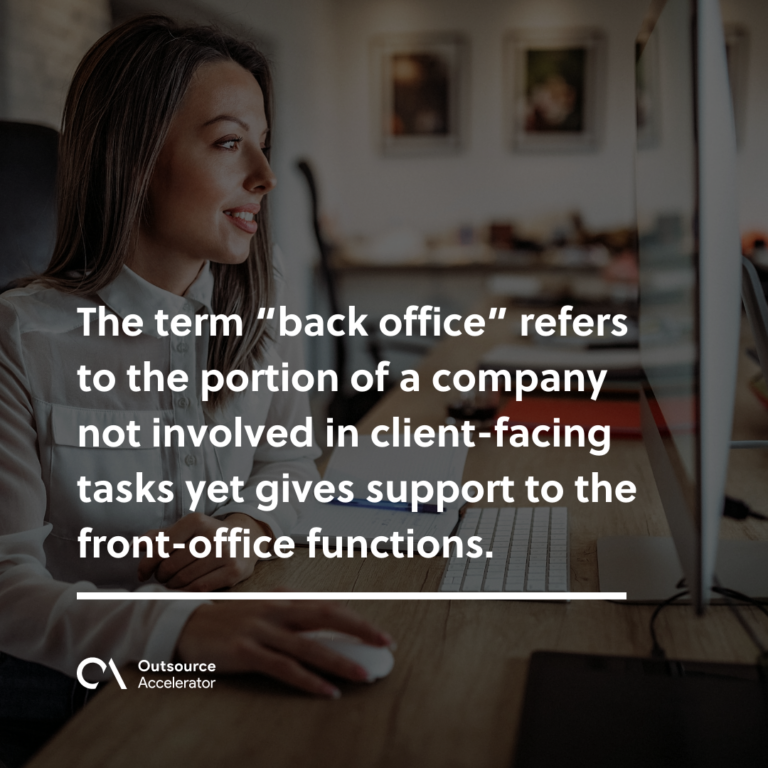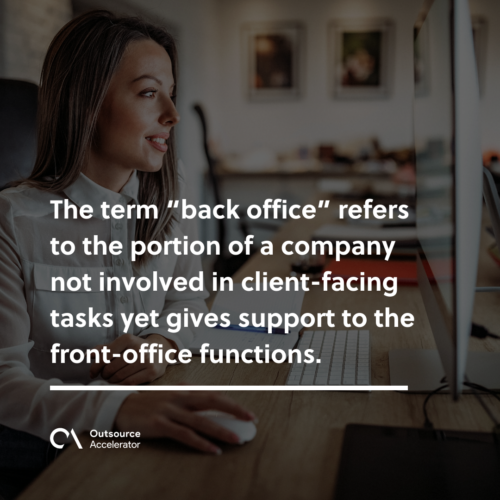 Back office outsourcing: Commonly outsourced services
Indeed, back-office outsourcing streamlines any process, which helps reach business continuity and growth. Here are the most common back-office services that companies outsource.
Data entry
Data entry is one of the most mundane tasks yet plays a vital role in business operations. It involves transferring digitized data from a specific source to another system.
Companies outsource data entry processes for operational efficiency. It helps them safeguard data with security measures in place and save a large amount of time and resources.
It also significantly decreases in-house staff workload, which is often considered a huge burden for employees.
A recent report reveals that the data entry outsourcing market experienced 46% market growth from key market countries in the Asia Pacific (APAC), such as India, China, and the Philippines.
It is projected to grow by  USD 504.12 million by 2025.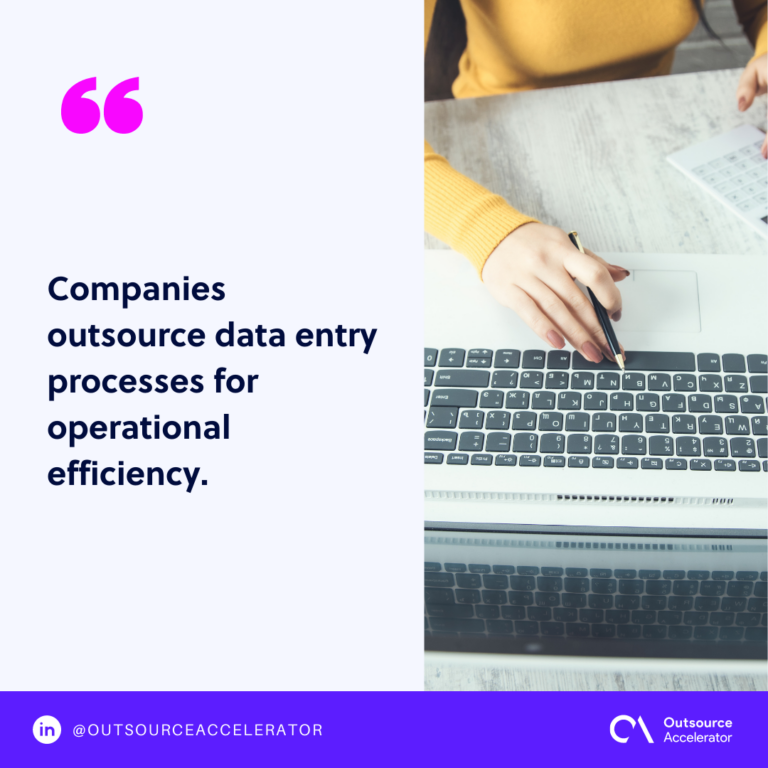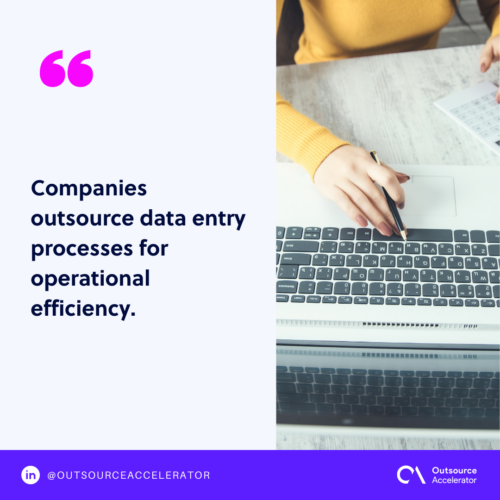 IT support 
In 2021, the IT outsourcing service market was valued at USD 526.6 billion. The market is forecasted to increase to USD 682.3 billion between 2022 and 2027.
Keeping the rate of customer satisfaction and customer retention is crucial and a big challenge for any business.  Firms need to provide effective post-sales support or technical support for customers.
IT outsourcing services deal with any kind of technical issues that require troubleshooting. Thus, IT or tech support services not only ensure a higher rate of customer experience but also relieve in-house staff of complex technical responsibilities.
Administrative 
Back office outsourcing is often associated with administrative tasks. The administrative function is the core of back-office outsourcing.
The most common types of administrative tasks are bookkeeping, email and calendar management, transcription, research, content development, presentations, and more.
As such, back-office administrative functions ensure business development and keep the internal processes running smoothly.
Human resource outsourcing 
According to a recent report, almost 75% of global employers face talent shortages and struggle to hire capable talent.
HR and recruitment outsourcing experts help the company develop a strategic HR strategy, inclusive of hiring, screening, onboarding, compensation and benefits, employee management, and other tasks that may support establishing seamless workflows and procedures.
This type of back-office service significantly saves time and effort, which may help in achieving a higher return on investment (ROI).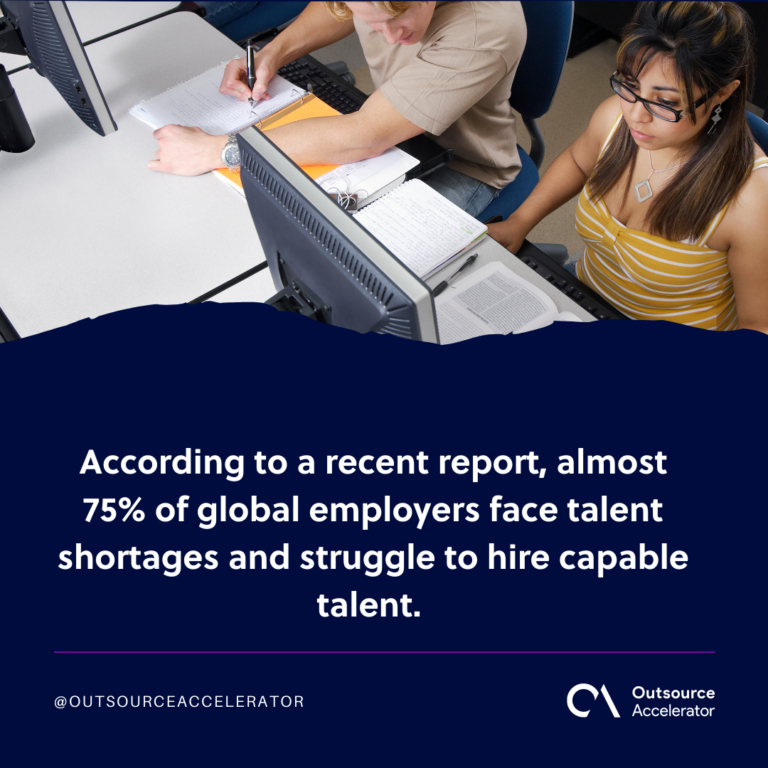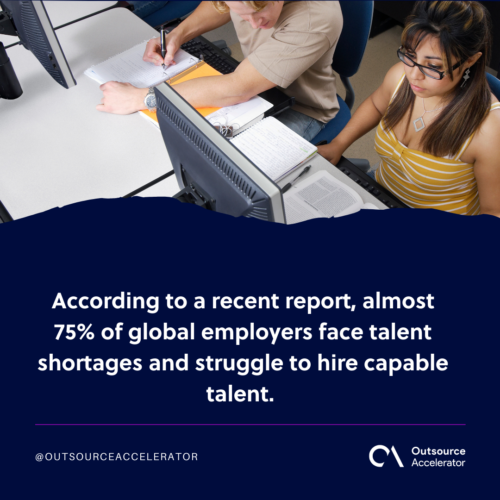 Accounting 
Finance management is usually crucial to any enterprise. It requires a high level of accuracy and transparency, which helps create a better financial strategy.
With the help of an offshore expert such as an accountant, payroll specialist, or even data analyst, it guarantees smooth financial procedures within the company.
Why your business needs back office outsourcing
Indeed, back-office outsourcing plays an integral role in any business operations as it gives several advantages relevant to business growth.
One of the primary benefits of back-office outsourcing is cost reduction. When with the right third-party or outsourcing provider, the company can save up to 75% in staffing costs.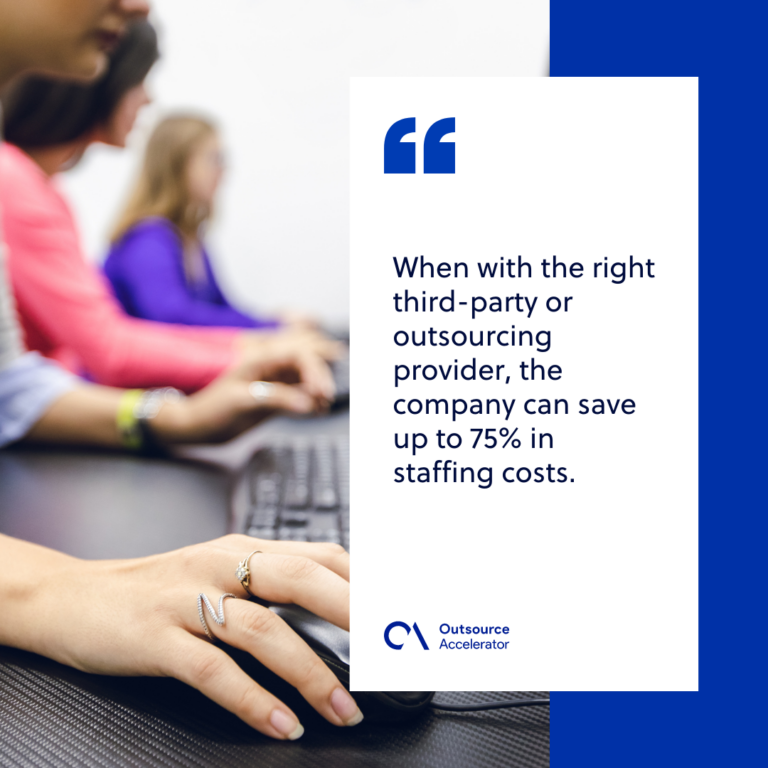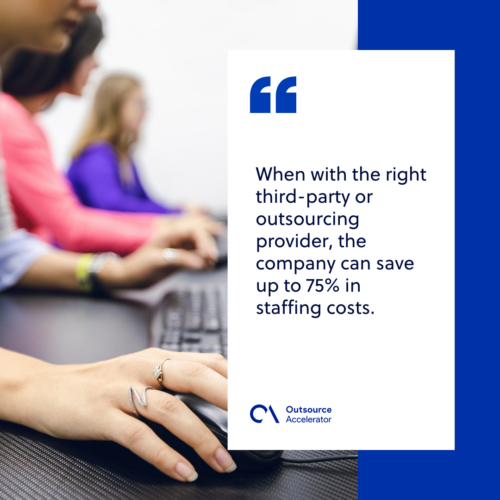 For the majority of organizations, hiring professionals would be a hassle as it requires a lot of company expenses, time, and effort.
Leveraging back-office outsourcing ensures high-level flexibility, scalability, and cost reduction.
Moreover, back-office outsourcing offers an opportunity for businesses to have access to a huge global talent pool. It guarantees much better-quality performance and service as compared to in-house employees.
Lastly, opting to outsource back-office services from a third party can help boost productivity and efficiency since it lets the company focus more on the core operations.
Consequently, back-office outsourcing is becoming increasingly popular because many companies acknowledge its significant benefits for the business.
With the right choice of an outsourcing provider, the company's success is much easier to achieve.
Cloudstaff is one of the Philippines' leading providers of outsourcing services, including back-office roles. As one of the country's premier BPOs, you can be assured that your back-office processes are in safe hands when you outsource with Cloudstaff.