Top 10 B2B data providers to expand your potential client in 2024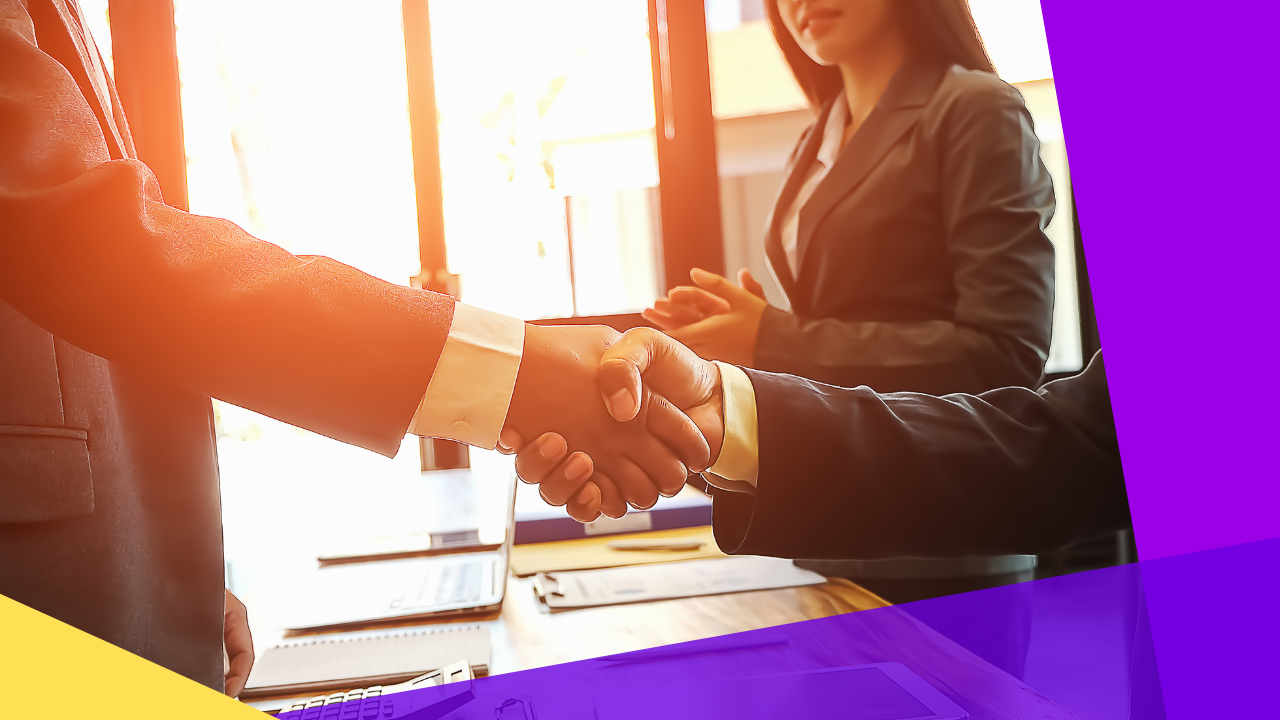 List of top B2B data providers
For businesses, effectively reaching the right audience leads to success. 
Collaborating with leading B2B data providers can unveil fresh prospects and enrich your business. B2B data providers help facilitate business growth by offering accurate information to your target customers.
This article delves into the ten best B2B data providers that will help you broaden your customer base in 2024.
What are B2B data providers?
Business-to-business (B2B) data providers specialize in collecting and supplying business data to other businesses. 
"B2B" means they serve other companies, not individual consumers. These providers gather info about industries, companies, and professionals. They offer these sets of data to businesses to improve their marketing, sales, research, and decisions.
Data from B2B providers includes:
Company details:

Size, location, industry, revenue

Contact info:

Key people like CEOs and managers

Industry trends:

Insights and market analysis

Segmentation

: Sorting businesses for targeted marketing

Sales leads:

Lists of potential clients

Research:

Data for understanding markets

Data enhancement:

Adding info like job titles

Verification:

Ensuring data accuracy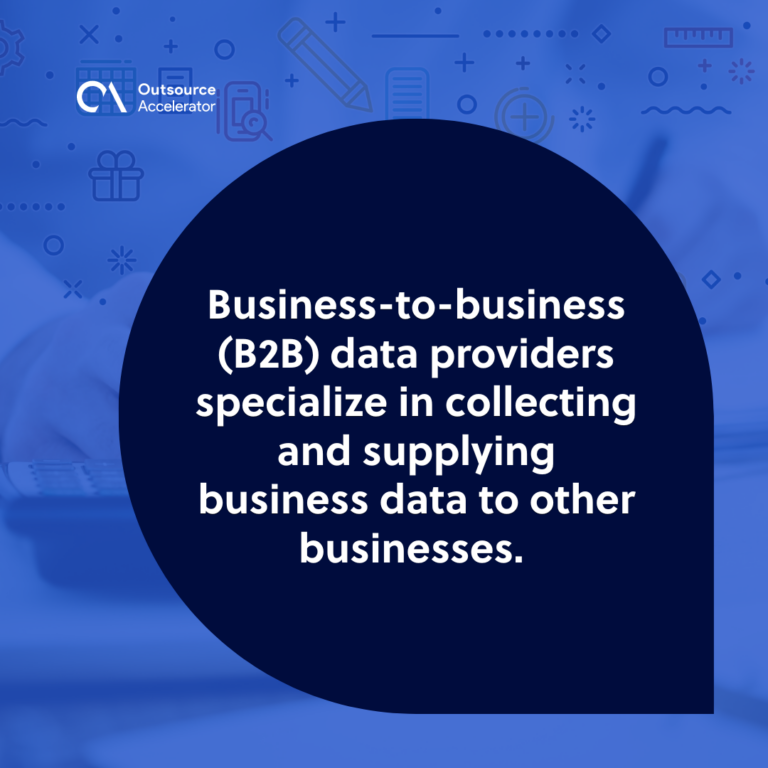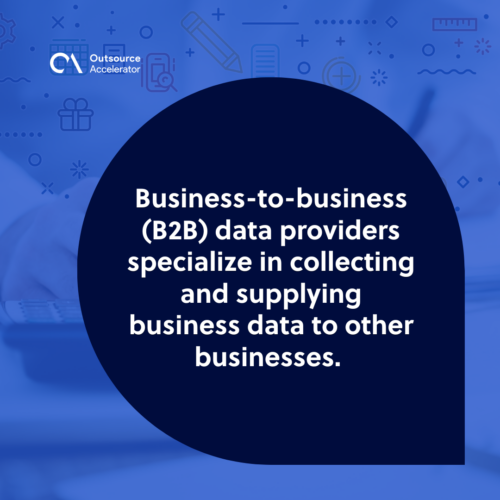 Benefits of partnering with B2B data providers
Working with B2B data providers can offer your company a range of valuable benefits, including the following:
Increased relevance in marketing campaigns
B2B data providers offer accurate contact information, helping businesses connect with their target audience more effectively. 
Companies can tailor their marketing strategies for maximum relevance and impact by identifying the right individuals in relevant industries. 
This significantly increases the chances of attracting potential clients and converting them into valuable leads.
Streamlined lead generation and sales processes
Doing research manually can be time-consuming and not always fruitful. B2B data providers save businesses from this by eliminating the need for extensive research.
A comprehensive database helps companies streamline their lead generation and sales processes. It allows them to focus on engaging with potential clients more likely to convert into customers.
Data-driven insights for better strategic planning
Successful businesses rely on data-driven decision-making. B2B data providers offer valuable insights into market trends and customer preferences.
Companies can use this information to plan intelligent strategies that align with potential clients' needs. These insights help businesses stay ahead and make smart decisions for growth.
Factors to consider when choosing a B2B data provider
When choosing a B2B data provider, assess important factors that fit your business needs. 
Here are the main things to think about:
Data quality
The data's accuracy and dependability from B2B data providers are vital. Seek providers with strong data validation and verification processes. This ensures the info you get is current and reliable.
Data source
Ask them how they get their data and where it comes from. Good providers use different ways to ensure the data is right, such as web scraping, public records, and checking information directly.
Data segmentation and customization
Each business has distinct targeting needs. Find B2B data providers with segmentation choices like industries, job roles, or relevant criteria. 
Customization helps tailor marketing to specific client groups.
Data compliance and privacy
Data compliance and privacy are more crucial than ever in today's digital era. Opt for B2B data providers following legal and industry rules, guaranteeing sensitive info protection. 
Seek providers with strong data security measures to safeguard your business and potential clients' data.
Factors to avoid while choosing a B2B data provider
When picking a B2B data provider for your business, it's vital to be careful. This guarantees the data you get is trustworthy and valuable. 
Here are things to avoid when selecting a B2B data provider:
Inadequate data quality assurance.

Stay away from providers that don't prioritize data quality. Incorrect, old, or incomplete data can waste resources and opportunities.

Lack of data source transparency.

Avoid providers not being open about where they get their data and how. Clear sources ensure data authenticity.

Limited data coverage

: Don't choose providers with limited industry or location data. Comprehensive data matching your target market is vital.

No customization options:

Be cautious if providers only offer fixed data packages. Customization is crucial for your unique business needs.

Data privacy and compliance concerns:

Avoid providers not following

data privacy laws (like GDPR)

or industry norms. Non-compliance risks legal and reputation issues.

Unverified or un-updated data:

Steer clear of providers not regularly checking and updating their data. Old data can hurt your efforts.

Lack of data segmentation:

Avoid providers unable to categorize data by criteria like industry or role. This helps your precise campaigns.

Unexplained pricing structures:

Watch out for unclear pricing models. Hidden fees can lead to surprise costs.

No sample data or trial period:

Be cautious if there's no sample data or trial. Testing it first helps check quality.

Unresponsive customer support:

Avoid providers with poor customer service. Timely help matters.

Negative reputation

: Steer clear of poorly reviewed providers. Always research about their history.

Lack of data update frequency

: Be careful if providers don't mention data update frequency. Regular updates ensure accuracy.

No data segregation:

Avoid providers not sorting data (like leads, contacts). Sorting aids marketing.

Over-promising results: Be wary of over-hyped results. If it sounds too good, it might be.

Limited data enrichment services:

Avoid providers lacking

data enrichment

, as enrichment adds B2B value.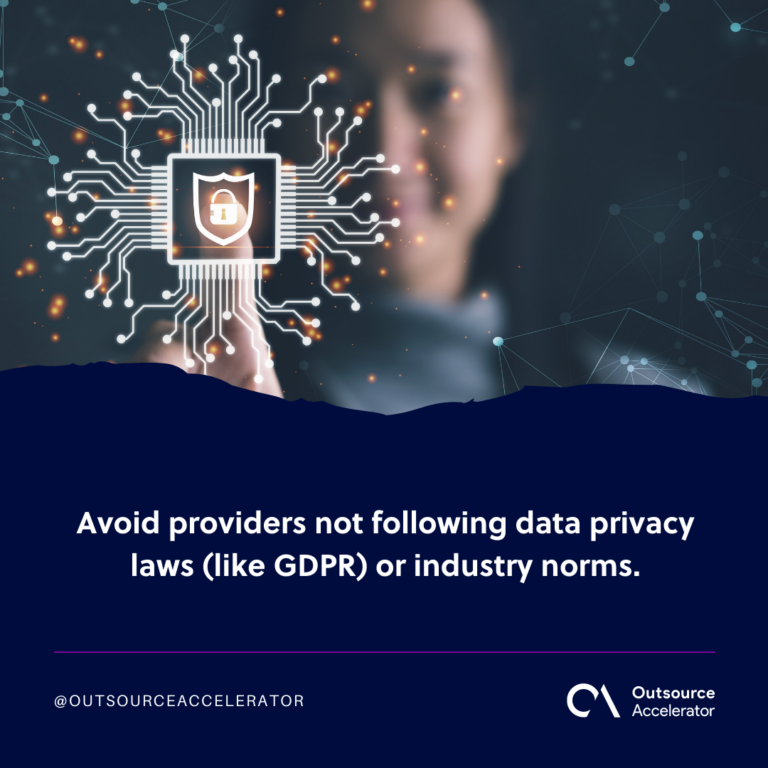 Top B2B data providers in 2024
Here's a list of the top B2B data providers you can work with:
Ampliz is a B2B data provider that assists businesses in using precise data to achieve growth, increase sales, enhance business outcomes, and attract skilled professionals.
Ampliz provides a database of companies using enterprise software solutions and contact lists of hospitals, clinics, laboratories, and physicians. These lists can be filtered by location and specialty to create high-quality leads for selling medical devices.
Datamatics Business Solutions Ltd. (DBSL) is a prominent provider of B2B data, demand generation, and business intelligence solutions. 
It also offers financial and accounting solutions tailored for CPAs and enterprises. DBSL serves Fortune 1000 clients from various sectors, delivering B2B sales, marketing, and technology outsourcing services. 
Its expertise lies in business process transformation, combining advanced technologies with human innovation to craft cutting-edge business solutions for clients.
ZoomInfo is a platform businesses use to find, get, and expand their customer base. It was started by Henry Schuck in 2007 to help professionals and businesses grow by using better information.
Both big and small sales and marketing teams trust ZoomInfo to give them correct contact details, company info, technology details, and clues about who might be interested. 
ZoomInfo company got even better by teaming up with DiscoverOrg. Now it provides superb, detailed, and in-depth business info.
Adapt.io helps businesses find vital contacts in other companies and provides accurate information to connect with the right individuals. The platform aims to simplify using this information for business growth and increased sales.
Adapt.io provides various tools to help businesses effectively engage their target audience. It offers powerful filters that quickly reach the desired audience. 
Users can add contacts to lists, export data as CSV, and integrate with CRM systems.
RocketReach is a B2B data provider that helps businesses find and connect with professionals and decision-makers. 
It gives accurate contact info, including email addresses, gathered from various sources and checked for reliability. This is useful for businesses relying on email outreach or needing to contact specific people in target companies.
UpLead is a B2B data provider that offers a verified B2B database to aid businesses in achieving growth. With its email verification feature, UpLead is recognized for its high-quality business contact data. 
UpLead is a tool businesses can use for accurate B2B data that drives growth and generates leads. It's user-friendly, cost-effective, and guarantees 95% data accuracy.
Lead411 is the sole unlimited data provider for B2B data driven by intent. Unlike other providers with potential hidden fees or download restrictions, Lead411 offers unrestricted B2B data access without concealed terms.
Lead411's goal is to assist businesses in forming stronger relationships, including finding more and warmer B2B leads. 
By utilizing its unlimited B2B data access, businesses can create steady leads and identify prospects displaying intent or interest in their products or services.
Lusha provides easy-to-use, accurate data solutions for B2B salespeople of all company sizes. 
Through its straightforward self-service products, sales professionals can pinpoint, engage, and close potential clients using Lusha's prospecting platform, web extension, and API.
The Lusha community has grown to include over 670,000 sales professionals and 223,000 sales organizations, counting renowned names such as Zendesk, Google, and Yotpo.
DemandScience provides a global audience of in-market B2B technology buyers through outbound engagement and intent data exclusive to the company. 
It has spent years on focused discovery to build and enrich its audience with firmographic, demographic, and technographic data across numerous industries.
Ziff Davis Performace Marketing encompasses two prominent demand generation and sales enablement solution firms: Salesify and Demandshore. 
This merger has resulted in the creation of the largest B2B tech performance marketing brand globally. 
The newly formed entity is dedicated to providing substantial volumes of high-quality leads, with an unwavering emphasis on technology, data, and streamlined procedures. 
Choose the right provider and leverage data effectively for success
Teaming with B2B data providers can greatly impact businesses aiming to grow their potential client base. 
By using top data providers, businesses can enhance marketing relevance, streamline lead generation and sales, and gain data-driven insights for strategic planning. 
With the right provider and smart data use, your business can soar to new heights in expanding its potential client base.