The national average salary in Colombia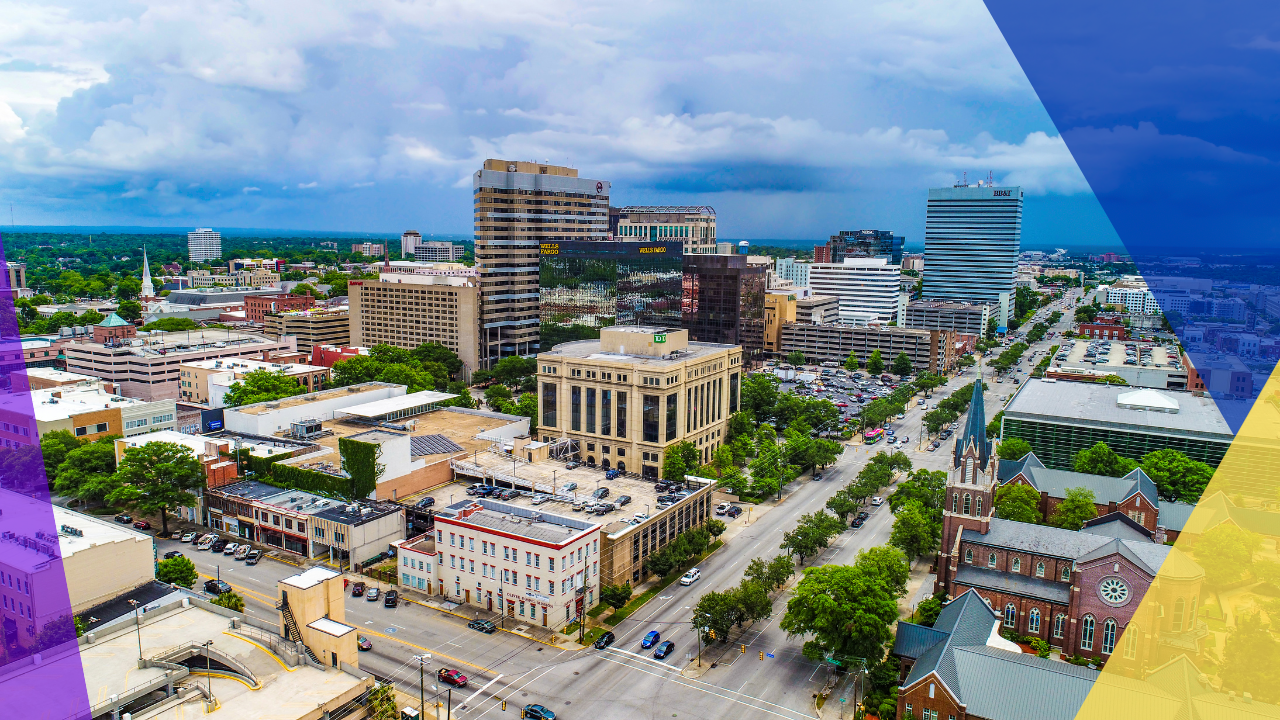 Colombia ranks as the fourth largest economy in Latin America[1]. It is one of the countries in the world that have recovered remarkably from the COVID-19 pandemic crisis.
In fact, its gross domestic product (GDP) is forecasted to grow continuously between 2023 and 2028, eventually reaching 426.76 billion USD. Businesses are the main driver of this recovery due to progressive employment in the country.
As a result, Colombia is one of the top outsourcing destinations, offering extensive expertise in the Business Process Outsourcing (BPO) industry.
In this article, find out the average salary in Colombia, its difference from other countries, and the factors that affect its rate.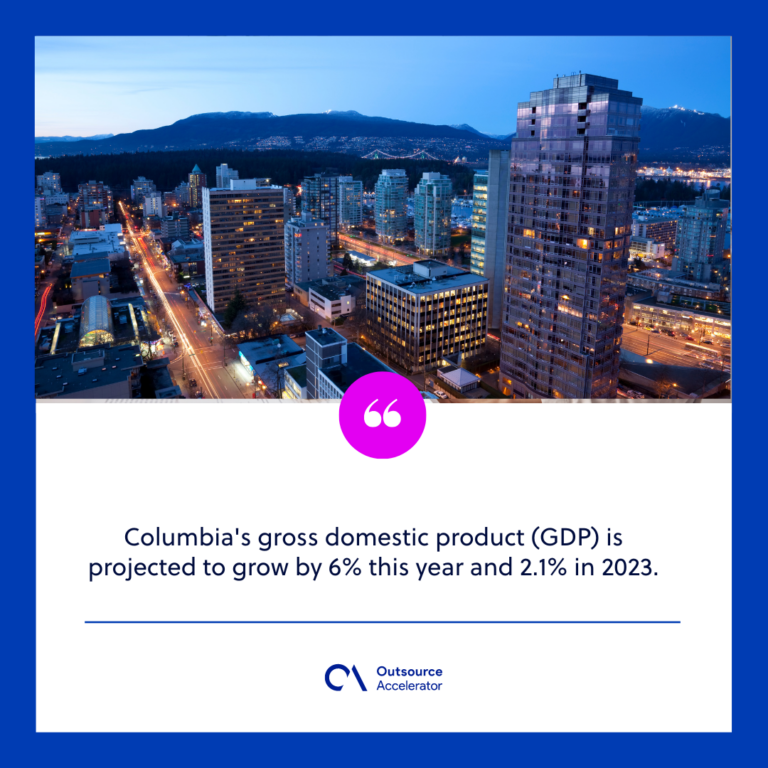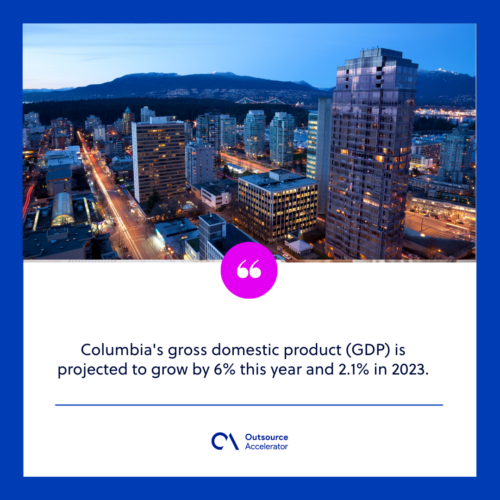 How much does a Colombian worker make? 
Colombia has achieved economic and social progress in recent years. This was possible because of the highly skilled workforce the country has.
As a matter of fact, the national average salary in Colombia is 4,690,000 COP (1,059.83 USD) per month.
The average rates in the country are generally the baseline of how much the average person earns, and it varies due to different factors.
According to Salary Explorer, the minimum salary of a typical Colombian worker is 4,690,000 COP (1,060.43 USD) per month. The lowest average salary in the country is 1,190,000 COP (269.07 USD), while the highest average salary is 20,900,000 COP (4,725.60 USD).
In Bogota, the center of the economic and industrial sector, the city's average salary is 5,420,000 COP (1,224.68 USD) per month.
Factors that affect the average salary in Colombia 
Recent statistics indicate that Colombian wages are on the rise. Colombian gross pay may include allowances and benefits, which are subject to income tax and other mandatory deductions.
On the other hand, employers may be required to pay state tax to:
Caja de Compensación Familiar (CCF)
Now, let's look at the factors that affect the salaries in Colombia:
Cost of living 
Since Colombia's cost of living is significantly low, more and more expats are attracted to settle there.
LivingCost.org ranked Colombia 141st of the best places to live, making it 1.58 times less expensive than the world average.
In most cases, major cities such as Bogota and Medellin are much more expensive than smaller cities.
Below are the average prices for accommodation in Colombia.
                                          Accommodation (rent per month in Colombia) 

Average monthly living expenses for a family of four (excluding rent)

5,633,958.99 COP (1,271.48 USD)

Average monthly living expenses for a single expat (including rent)

1,622,416.60 COP (366.17 USD)

One bedroom apartment in the city 

1, 700,000 COP (383.81 USD)

One bedroom apartment outside the city

1,050,00 COP (237.08 USD)  
Colombia is a great value for expats who want to live either temporarily or permanently. The cost of utilities is low, and public transportation is cheap.
Roles and expertise 
Salaries in Colombia may vary depending on the roles and expertise of an employee. The country has a thriving IT sector, thus, professions in this field attract good salaries.
Here's a list of the different salaries of the popular professions in Colombia:
                    Job Title

 

                Average Salary 

Accountant

6,980,000 COP

Financial Manager 

9,050,000 COP

Pilot

8,130,000 COP

Customer Service Manager 

6,530,000 COP

Chief Executive Officer

10,200,000 COP

Dentist

10,800,000 COP

Information Technology Manager 

7,520,000 COP

Software Engineer 

4,680,000 COP

Web Developer 

4,140,000 COP

Attorney

8,750,000 COP

University Teacher 

6,610,000 COP
Employees with 3 to 5 years of experience typically earn 35% more than the junior position level. With ten years of experience, they can earn another 20% and another 12% for employees with more than 15 years of experience.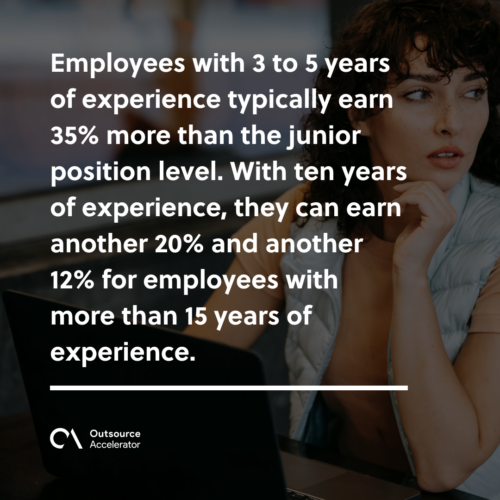 Educational background  
A Colombian worker with a bachelor's degree is more likely to earn a better basic salary than secondary school graduates.
Here is the breakdown of salary comparison based on the education level.
| | |
| --- | --- |
| Education level | Approximate earnings (percentage)  |
| Certificate or diploma holders | 17% |
| Bachelor's degree holders | 24% |
| Post-graduate degree holders | 29% |
| Ph.D. scholars | 23%  |
Colombia has a 9.6% unemployment rate as of July 2023. Thus, a person with higher educational attainment has a better chance of getting a job than someone without one.
Industry 
The annual salary growth in the country depends on the working industry. Sectors such as telecommunications, construction, and mining give their employees much higher salaries.
Listed below are the annual pay rise percentage figures depending on the sector:
| | |
| --- | --- |
|               Industry  | Percentage of annual pay rise |
| Healthcare  |                 8% |
| Information Technology   |                 6% |
| Education |                 5% |
| Energy  |                 4% |
| Construction  |                 3% |
| Banking  |                 2% |
| Travel  |                 1% |
Salary Explorer has also reported that a Colombian employee can get a pay rise of around 17% for every 19 months on average. In contrast, the world average is around 3% every 16 months.
Gender 
Regardless of the industry, Colombian male workers typically earn 12% more than their female counterparts.
More specifically, male workers earn 4,900,000 COP (1,104.93 USD), while female workers earn 4,600,000 COP (1,037.28 USD).
Location 
Cities like Bogota and Medellin are some of the major business hubs in Colombia. 25% of Colombian GDP is driven by Bogota's foreign trade and accounts.
Here is the average salary in major Colombian regions:
| | |
| --- | --- |
| City  | Average Salary |
| Barranquilla | 57,961,400 COP (13,069.57 USD) |
| Bogota | 65,041,800 COP (14,666.70 USD) |
| Bucaramanga | 54,840,400 COP (12,366.32 USD) |
| Cartagena | 57,479,000 COP (12,961.31 USD) |
| Cucuta | 56,998,400 COP (12,852.94 USD)   |
| Ibague | 56,158,300 COP (12,660.34 USD)  |
| Medellin | 64,439,700 COP (14,527.30 USD) |
| Soacha | 56,041,700 COP (12,634.05 USD) |
| Soledad | 56,998,400 COP (12,849.73 USD) |
| Villavicencio | 54,840,400 COP (12,363.23  USD) |
Colombian wage fare vs other countries 
According to Statista, Colombia ranked top 5 among Latin American countries based on monthly minimum wages.
While Ecuador ranked at the top, Colombia is much higher than its neighboring countries Peru, Brazil, Venezuela, and Argentina.
In 2022, the minimum wage in the country rose by 10.07%, reaching an all-time high of one million Colombian pesos per month, equivalent to 262.54 USD.
The following is a comparison of the average salary in Colombia to other outsourcing countries and their markets.
Outsourcing destination/market

  Average salary

Colombia 

US$

1,059.83

South Korea 

US$

2,082.97

United Kingdom

US$2,416.00

United States 

US$3,534.00

Philippines

US$308.00

India 

US$438

South Africa

US$1,594.26

Australia

US$3,333.00

Germany

US$2,689.00

Singapore

US$3,516
Why you should outsource to Colombia? 
Colombia is classified as an upper middle-income economy country and one of the largest economies in Latin America. The country has been an outsourcing destination for IT sector services in the past few years.
Colombia's business process outsourcing industry[2] offers a lot of benefits for businesses, such as the following:
Cost-effectiveness
Colombia offers high-quality services at a lower cost. Clients overseas outsource software developers, which are less expensive in the US.
A pool of IT talent
The country has more than 5,000 tech companies, and it has been dubbed Latin America's Silicon Valley.
Foreign firms outsource to Colombia to aid their IT operations. Students who graduate from IT-related programs mostly provide outstanding programming skills.
Companies outsource their software development projects in the country because of the offered skills, minimized language barrier, and same time zone.
Business-friendly economy
The World Bank has ranked Colombia as the third best business environment in South America.
The Colombian government has implemented economic measures to attract foreign investors. This way, more global businesses will be attracted to enter the country.
With its rising tech industry, clients can outsource to Colombia to utilize outsourcing services to their business advantage.
All that said, Colombia has great potential for outsourcing and nearshoring destinations, specifically in tech companies. From cost-effectiveness to the country's economic growth, Colombia is an ideal destination for businesses that want to maximize their profitability fully.
Article References:
[1] Latin America. Campo, J. and Sarmiento, V. (2013). THE RELATIONSHIP BETWEEN ENERGY CONSUMPTION AND GDP: EVIDENCE FROM A PANEL OF 10 LATIN AMERICAN COUNTRIES. Latin American journal of economics, [online] 50(2), pp.233–255. ‌
[2] business process outsourcing. Lacity, M.C., Solomon, S., Yan, A. and Willcocks, L.P. (2011). Business Process Outsourcing Studies: A Critical Review and Research Directions. Journal of Information Technology, 26(4), pp.221–258.