10 best auto dialer apps for your customer service teams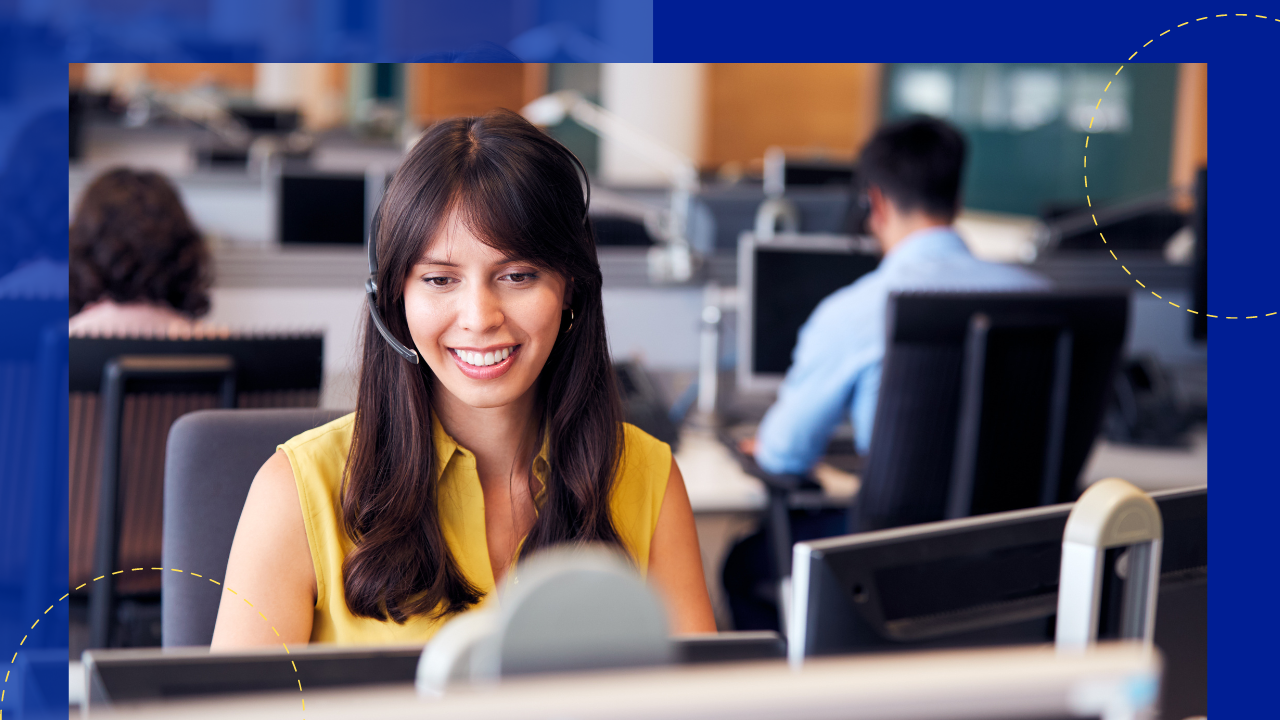 Top 10 auto dialer apps in 2023
With customers expecting prompt and personalized assistance, global businesses constantly seek ways to enhance their interactions.
When working with outbound teams, your team might experience endlessly dialing numbers and risking costly mistakes in doing outbound calls.
You may not get connected with your leads and customers due to misdialed or unavailable numbers, closed caller IDs, and other factors.
Fortunately, these mistakes can be prevented through the use of auto-dialer apps.
Auto dialer apps have become a game-changer for customer service teams, revolutionizing how businesses interact with their clients. These powerful tools automate outbound calling processes, enabling seamless connections and improved productivity. 
This article will explore the top 10 auto dialer apps in 2023 and discuss the critical features that make them stand out.
How do auto dialer apps work?
Auto dialer apps are tools used to automate outbound calls. Once connected, they automatically dial customers' numbers and transfer them to live agents.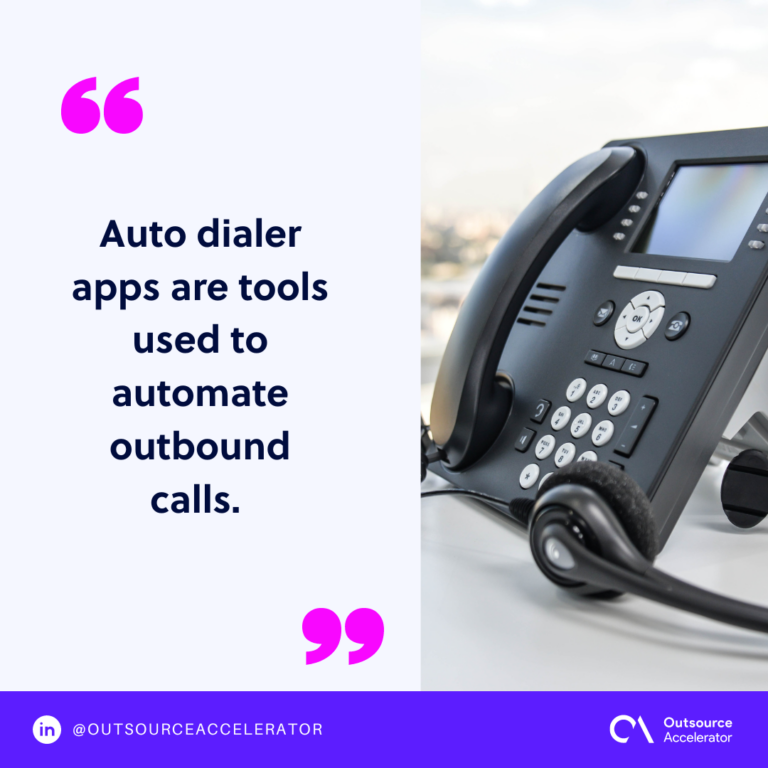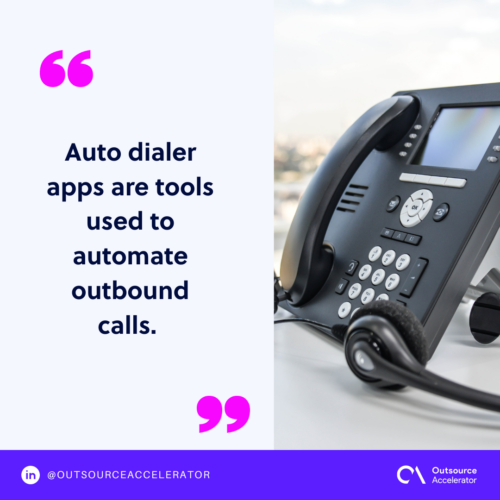 Apart from this, auto dialer apps typically work in the following steps:
Data import

. Users can import their contact lists or integrate the app with their CRM systems to access customer data conveniently.

Call campaign setup

. Users can set up call campaigns by defining

call scripts

, frequency, and routing rules.

Automated calling

. The auto dialer app initiates outbound calls automatically, eliminating the need for manual dialing.

Call monitoring

. Auto dialer apps offer real-time call-monitoring features. This allows supervisors to listen in on calls, provide assistance, or take over if necessary.

Call analytics

. These apps provide comprehensive call analytics, including call duration, success rates, and agent

performance metrics

. These insights help businesses optimize their customer service strategies.
Critical features in auto dialer apps
Auto dialer apps incorporate a range of critical features. Look for the top essential features when choosing an auto dialer app for your customer service teams:
Call recording and logging
Auto dialer apps should be able to record calls for training purposes while ensuring recording compliance.
For future reference, they should allow logging essential call details, such as timestamps, call duration, and caller information.
Intelligent call routing
Efficient call routing is crucial for directing calls to the most appropriate agent or department. Auto dialer apps with intelligent call routing capabilities ensure customers are quickly connected to the right person, enhancing interactions.

CRM integration
Integration with customer relationship management (CRM) systems allows auto-dialer apps to access valuable customer data in real-time. This enables agents to personalize their interactions, view customer history, and provide a seamless experience.
Call analytics and reporting
Robust call analytics and reporting features provide actionable insights into call performance, agent productivity, and customer behavior.
These insights empower businesses to check outbound call quality, improve training programs, and enhance customer satisfaction.
Compliance and security
Auto dialer apps must comply with industry regulations like the Telephone Consumer Protection Act (TCPA). They should also prioritize data security to safeguard sensitive customer information. 
Look for apps with built-in compliance features and stringent security protocols.
10 best auto dialer apps for your customer service teams
When selecting the best auto dialer app for your customer service teams, several options stand out in terms of features, usability, and overall performance.
Here are the top ten auto dialer apps that can elevate your customer service to new heights.
RingCentral is a comprehensive communication tool for businesses of all sizes. It allows agents to get and stay connected with their customers through auto-dialing features such as advanced list management.
The platform offers a user-friendly interface and advanced management capabilities, including an easy script builder.
With seamless CRM integration, agents can access customer information effortlessly, enabling personalized interactions for every call.
Talkdesk modernizes customer services with its AI-powered platform. It is known for its intuitive auto dialer app, with features such as power dialing and preview dialing.
The platform integrates seamlessly with popular CRM platforms, allowing agents to access customer details and personalize the outbound experience.
Talkdesk empowers agents to streamline their calling processes and handle customer interactions efficiently.
Convoso is a powerful contact center solution perfect for sales and lead generation teams. Their auto dialer app combines automation with intelligent call routing, ensuring calls are distributed optimally and reducing wait times.
Moreover, the tool provides detailed analytics and call recording features. This lets supervisors evaluate agent performance effectively and identify areas for improvement.
CloudTalk ensures seamless connections with customers for their competitive advantage. It offers a scalable and flexible auto dialer app for sales teams.
With smart dialing and real-time call monitoring, customer service teams can handle calls efficiently and deliver exceptional experiences.
The app also provides advanced analytics, enabling businesses to gain insights into call performance and agent productivity.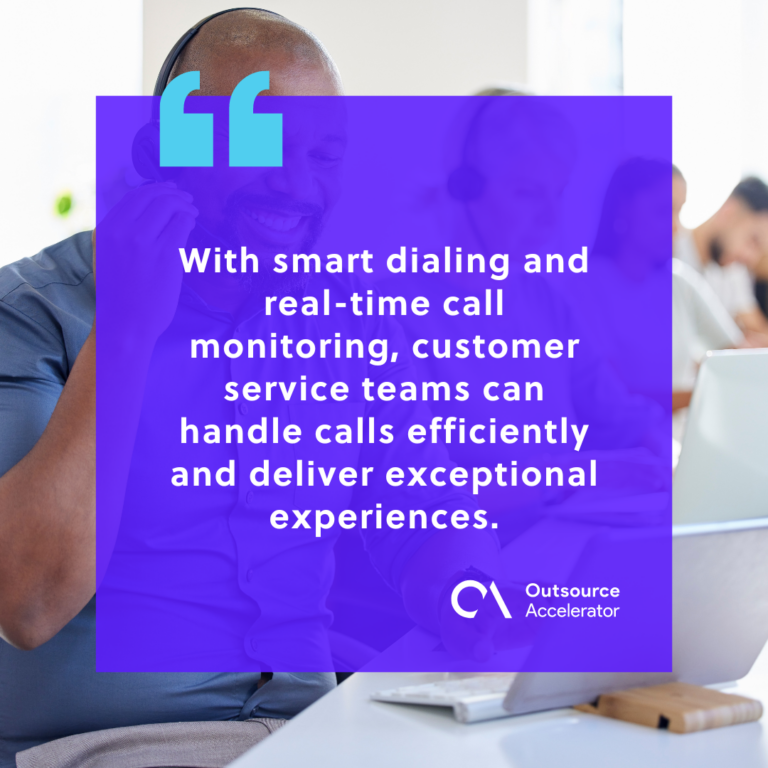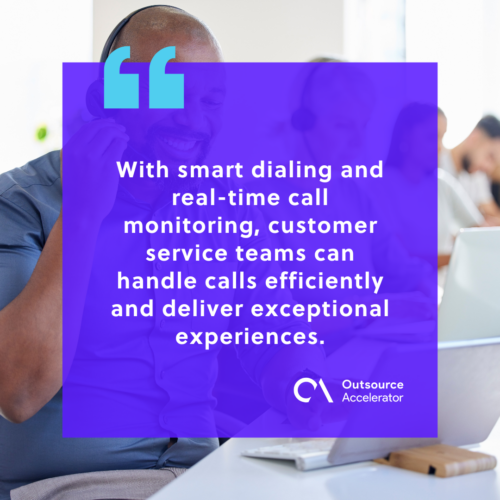 Kixie's auto dialer app is known for its powerful CRM integration and comprehensive reporting features. Agents can enjoy click-to-call functionality, enhancing their efficiency and customer engagement.
Kixie also offers local presence dialing, making it easier for agents to connect with customers and establish trust.
CallHippo's user-friendly auto-dialer app allows for customizable call campaigns and automated voicemail drop features. Its seamless integration with popular CRMs streamlines operations and ensures a smooth workflow for customer service teams.
With CallHippo, agents can handle calls efficiently and effectively.
PhoneBurner stands out with its high-speed dialing capabilities and personalized messaging features.
The auto dialer app boosts agent productivity by automating repetitive tasks. It also provides robust analytics and productivity tools, enabling businesses to monitor and optimize customer service performance.
Five9's auto dialer app offers advanced dialing modes, including predictive and progressive dialing.
By integrating with leading CRM systems, Five9 provides agents with valuable customer insights, enabling personalized interactions and improved call outcomes.
NICE CXone delivers a feature-rich auto dialer app leveraging AI-powered and speech analytics capabilities. Its cloud-based platform ensures reliability and scalability for businesses of all sizes.
NICE CXone empowers customer service teams to deliver exceptional experiences and drive positive customer outcomes.
EngageBay's auto dialer app optimizes sales and customer service processes. It includes automatic call logging and dispositions, enabling teams to track and manage customer interactions effectively.
EngageBay helps businesses streamline their communication workflows and enhance overall customer satisfaction.