April outsourcing inquiry & traffic analysis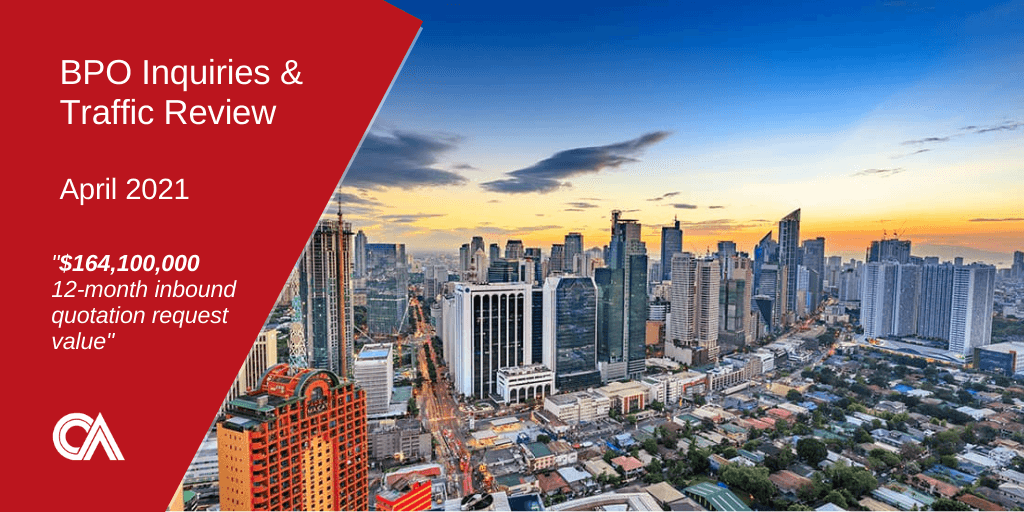 $164M Inbound Outsourcing Inquiries
Outsource Accelerator generated 1,118 inbound outsourcing quotation requests over the last 12 months, requiring an impressive 5,470 full-time jobs and representing over $164M* in contract value.
For April alone, the Source Partner program generated 203 quotation requests, requiring 911 full-time jobs with a contract value of over $23.3M*.
The Outsource Accelerator platform saw a slight dip in outsourcing traffic again for April.  There is a downward trend in visits and inquiries, since the enthusiastic peak of the 'new year'. However, despite the lower traffic in April, it still generated 52,783 site visitors, 122,746 page views and 341 inbound inquiries.
Outsourcing inquiry value – 12-month view
It is inspiring to think that the Outsource Accelerator platform has generated inbound inquiries worth in excess of $164M* in contract value over the last 12 months.  This represents at least 5,470 well paid full-time jobs for the Philippines.
*Conservative client value calculation: take the lowest end of their role request numbers, multiply by conservative top-line revenue of $1,250/role/month, multiplied by 24 months (conservative team lifetime value & duration)

Outsourcing inquiry value – April 2021


April outsourcing traffic & inquiries
Website traffic was slightly down by 17.17% in April compared to March, and inbound inquiries also dropped by 9.79% this month.  The drop in inbound inquiries can be partly attributed to internal activities related to the reconfiguration of the site landing pages and funnels, as well as some of the paid channels. We expect the May figures to see significant growth and record numbers.


341 inbound client inquiries, 93 calls booked
OA generated over 11 inbound outsourcing inquiries for every day of the month in April. Of those inquiries, 93 partner consultation calls were booked.  Here's a snapshot of just 4 of the inbound inquiries.

Outsourcing inquiry insights
The Source Partner dashboard provides live analysis and deep-dive insight into the traffic and inquiries coming through. Some insights from April:
​​
Number of roles required – initially

Clients typically start with a smaller
requirement and then grow
the team once they settle the team

 

Size of clients' company

The inbound inquiries come from
companies of all sizes – from startups
to multi-national enterprise

Origin of clients' company

The client inquiries come from
across the globe – typically from the
high-cost English-speaking nations

Client company sector

The client companies cover almost every
sector possible, and the roles they
seek are also very varied
OA website performance
OA's website generated 101,672 page views over April from 52,783 visitors.  That's over 3,000 page views for every day of the month – all of them exploring Philippine outsourcing services.


April sees continued slow down in traffic
April has seen a continued slow down in traffic with a 19.50% drop in site visitors and a 17.17% drop in page views.  We see this as normal seasonal variation and we expect web traffic to ebb and flow throughout the year, but generally, OA is driving towards a 2x-3x growth in website traffic over the year, and a 5x-10x growth of inbound outsourcing engagements.
Matching the web growth is an increasing awareness and appetite from businesses across the globe for Philippine offshore staffing solutions.

Exciting growth of Philippine outsourcing
We see April's performance as a bit of a set back for the otherwise stellar growth of the Outsource Accelerator platform. However, we are fully committed to the promotion of Philippine outsourcing to the world and we can already see the fruits of our labors of our recent website enhancements, and we are confident that May will provide some fantastic results.


As explained last month, we are in the process of rebuilding our main landing pages (recently launched), rebuilding the lead capture funnels (about to launch), and continuing with a huge content drive – generating over 300-400 articles each month.  We have a growing team of writers, developers, designers, and outsourcing experts – all dedicated to the common cause of promoting Philippine outsourcing to the world.
Slowly, we are educating the world about Philippine outsourcing, and demonstrating through action that the Philippines provides world-class professionals, skills and talent.
We continue to be excited about the prospects of 2021 and the opportunity to put Philippine offshore staffing on the global stage.
Source Partners
Outsource Accelerator is bracing for a significant expansion of its inbound inquiries in 2021.  It is seeking a limited number of best-in-class outsourcing companies to partner with for 2021.  The Source Partner intakes are already oversubscribed for May and June, however, the marketplace is excited to explore future prospective Source Partners after this point.