Understanding application outsourcing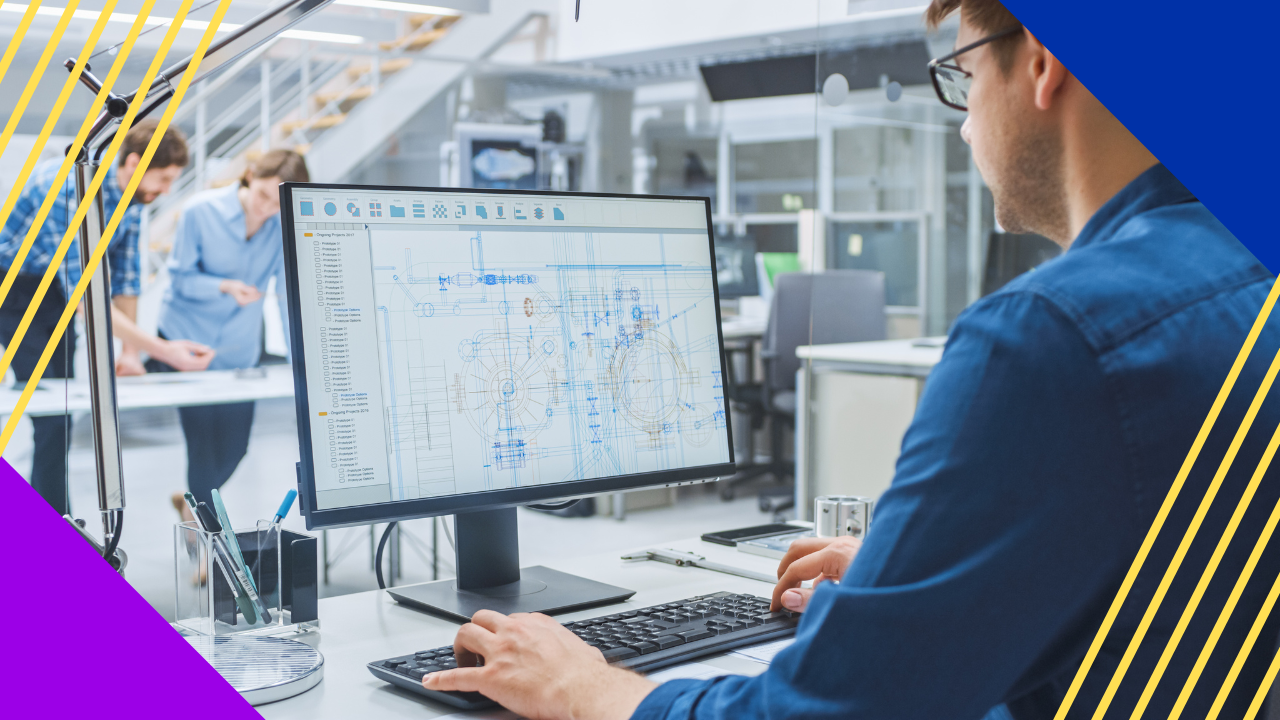 Technological advancement undeniably leads many business industries toward innovation and strategic development. Because of its advantages, many organizations have provided quality services beyond expectations. 
Some businesses spend much time and resources to run operations, as well as their systems' maintenance. However, understanding the capabilities of application outsourcing can streamline their processes.
Outsourcing services have proven to be very effective. However, some companies are still not aware of its framework. 
This article will let you understand how application outsourcing can help your business grow.
What is application outsourcing?
Application outsourcing is a process where a company hires a service provider to design, develop, or enhance a software application based on its specific requirements. 
It also involves vendor evaluation. It ensures the software's functions and navigations correspond to the desired value and business requirements with high-quality infrastructure standards.
A software application performs different functions to support and maintain business operations. Service providers can easily design and customize based on the following functional areas:
Administrative services 

Production and design 

Accounting and auditing 

Human resource management services

Consulting and management services
Application outsourcing's advantages drive many companies to consider hiring service providers.
It can be reflected in the research from Statista, stating that the revenue of the application outsourcing market is projected to reach US$118.70 billion in 2023.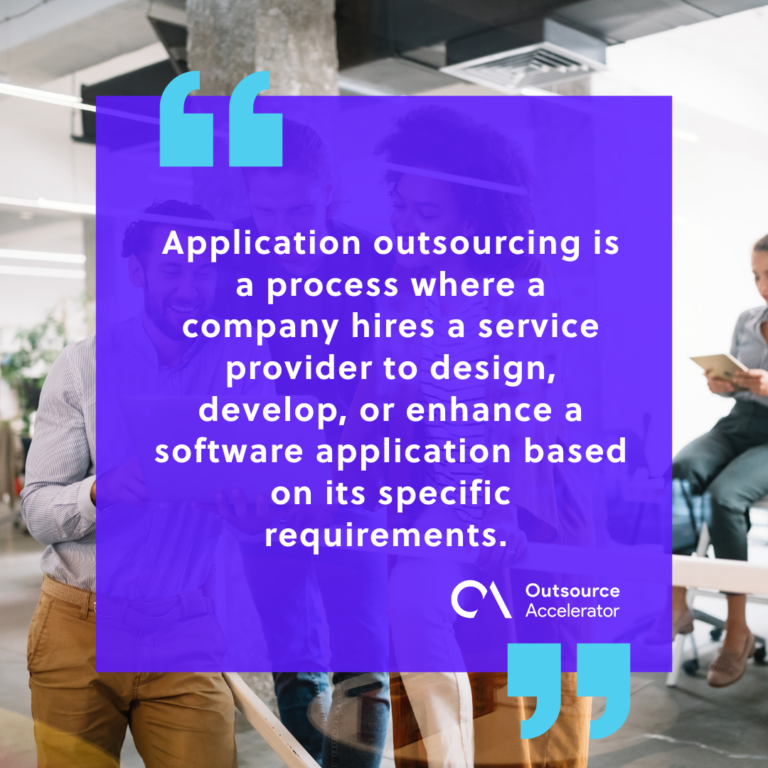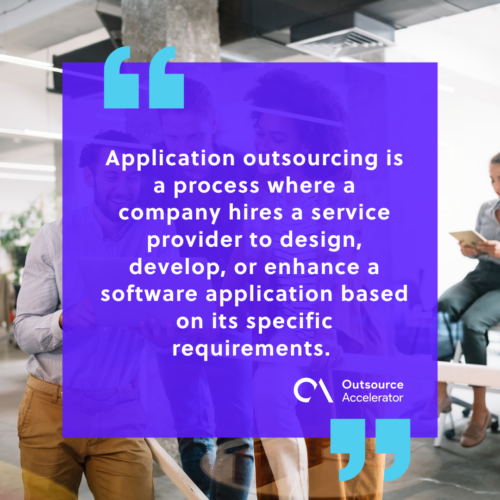 6 key advantages of application outsourcing
The benefits of having application outsourcing are not only centered on cost-effectiveness and saving time in conducting operations. Aside from these, other significant factors led many businesses to outsource application development.
Here are the key advantages of application outsourcing that may help your business consider hiring a service provider:
1. Saves costs, time, and effort
Acquiring a software application can be expensive at first, considering the weight of customization required. However, its functionality can be profitable in the long run. 
Unlike private applications, hiring a service provider proves to be a cost-effective solution. Companies will no longer spend on installing infrastructure and equipment, given that its installation is at the provider's operation center.
The maintenance, including the security licenses, are also under the services offered by the provider. 
2. Gain competitive advantage in the market
Application outsourcing also comes with developing strategies that give the organization a competitive advantage and cover different areas, including system automation.
Many companies have recorded a spike in their sales generation and gained higher customer reach after considering application outsourcing. 
3. Timely delivery of products and services
With automation, processes have become faster, which results in many organizations becoming more capable of expanding operations. 
Application outsourcing has paved the way for businesses to explore and enhance their systems, including flexible working arrangements for other staff to work remotely.

4. Service efficiency and effectiveness
Any software application should bring efficiency and effectiveness to the organization in delivering its products and services to its customers. It helps maximize resources and enhance the overall customer experience.
Application outsourcing should support and attend to the overall digital transformation journey of the business. Service providers cover the ongoing development, maintenance, and future improvements.
5. Expertise 
Venturing and adapting new software development methods is always a risk. However, partnering with expert software outsourcing companies with vast knowledge of application development services can avoid the challenges.
Ensuring that the provider comprises well-trained and expert developers in taking on new projects is necessary. It reflects the capability of your target partner to perform and achieve the requirements of your application development process.
6. Flexible delivery models 
Application outsourcing services are not only about software development and installation. Services are present from planning stages, maintenance, and future innovations based on customization and upgrading requirements.
Like any other IT outsourcing service, application outsourcing is available in different forms. Depending on the organization's requirements, it can be offshore, onsite, or nearshore.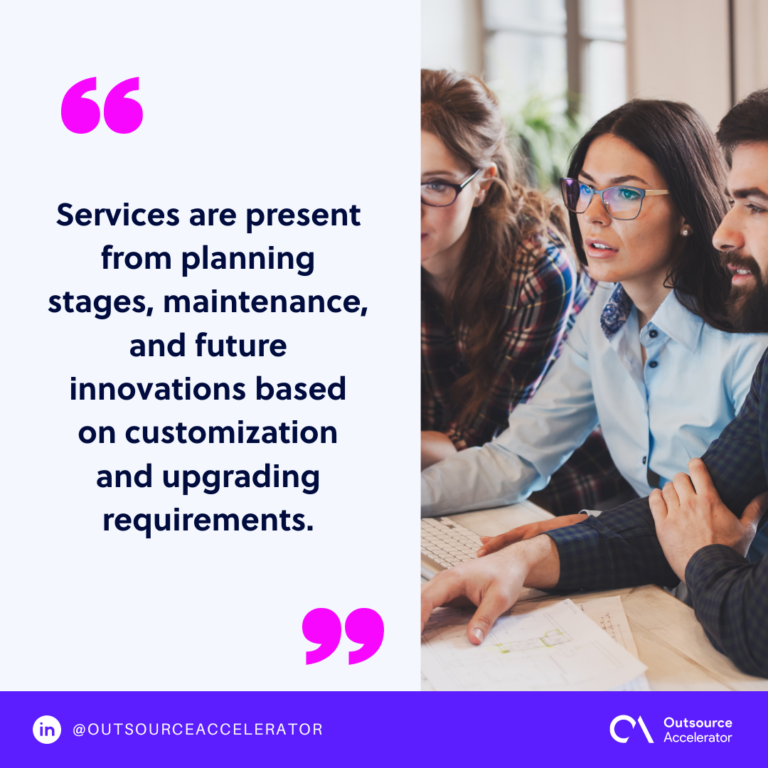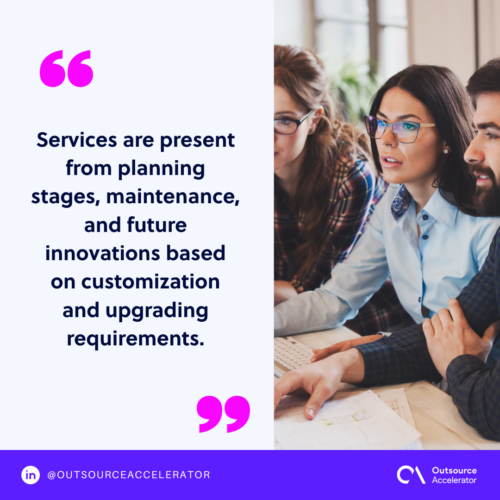 Choosing the best application provider for your company
Although application outsourcing is a great platform for productivity and innovation, organizations should look for trusted and reliable service providers of software applications. 
Some factors need more attention, and choosing the right service provider for your business should have a proper assessment. 
Here are some of the areas that can help you in determining a reliable partner:
Updated licenses and permits in conducting operations 

Scalability and flexibility of software applications

Security protocols and regulatory requirements 

Capability to handle customized model for software application 

Rate of successful project partnerships 
Conduct research and background checks. This intelligent initiative carefully identifies and rates the reliability and capacity of the provider in attending to various business requirements.