7 safety tips when doing business on freelancing websites in 2023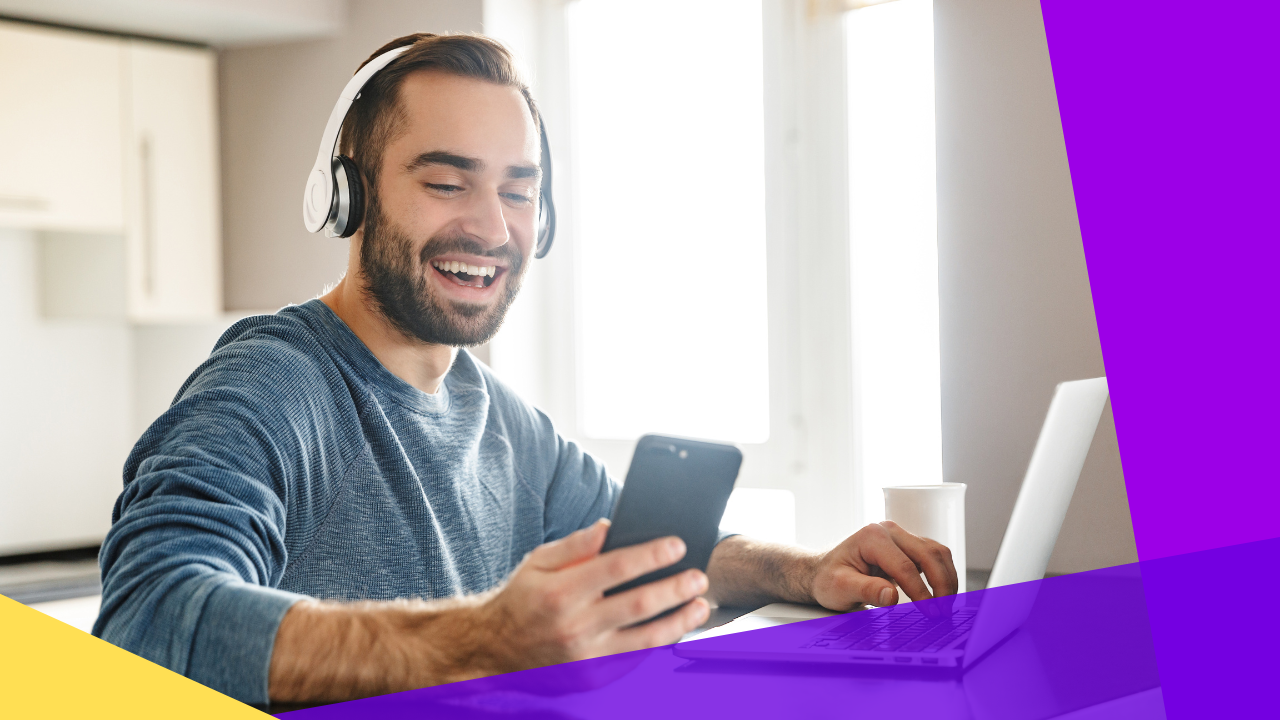 7 Safety tips when doing business on freelancing websites
At best, freelancing websites are an affordable and wide-reaching means to tap a global pool of talent. Clients representing smaller businesses, in particular, regard popular freelancing platforms in the vein of Upwork as a boon to clearing projects of a varied nature. 
Virtual assistance, graphic design, programming and web development, and content writing are among the leading tasks assigned to freelancers.
At worst, however, freelance sites are overcrowded, under-supported, and insufficiently equipped to filter bona fide freelancers from more ill-natured sorts. Some common horror stories about scams on freelancing websites include duplicate identities, copyright infringement, phishing, and blackmail.
Those uninformed about the risks of contracting with these sites might be the victims of subpar work, unscrupulous business practices, potential brushes with the law, and attacks to their cyber-security.
This article will feature some safety tips when doing business on freelancing websites.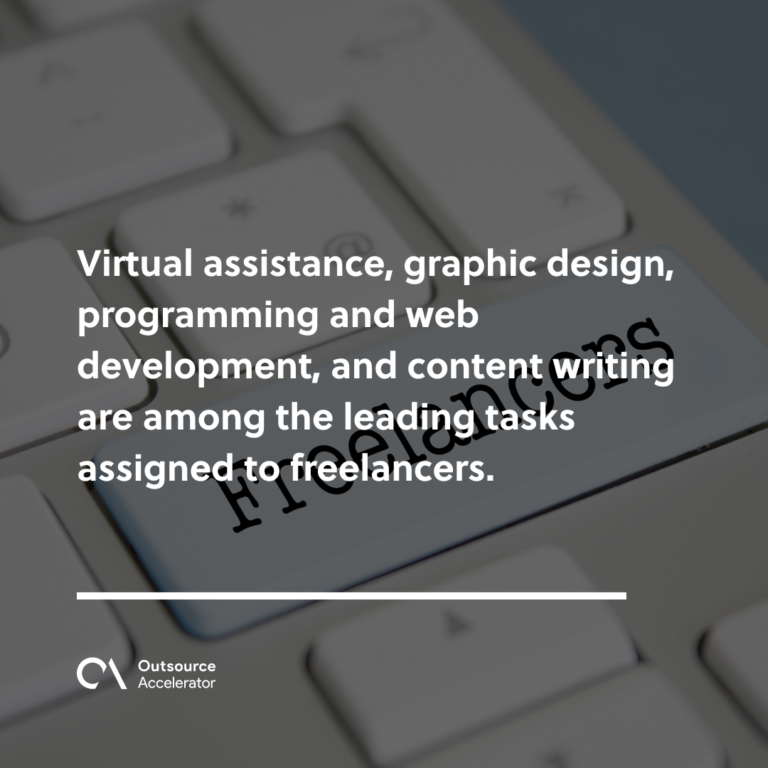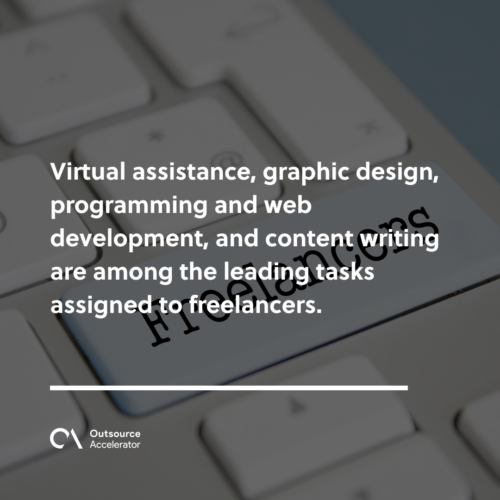 Top safety tips when doing business on freelancing websites
Want to insulate yourself against some of the common risks of doing business on freelancing websites? Make the most out of contracting your labor offshore with these safety tips.
1. Secure your device each time you browse
This should be a no-brainer even outside of browsing freelancing websites—the bottom line is you can never be too careful.
Make sure you have all of your email and mobile security alerts on, and never leave yourself logged into your site account if you will be away from the keyboard for a prolonged period of time. This goes for your smartphone and tablet as well as your laptop or PC.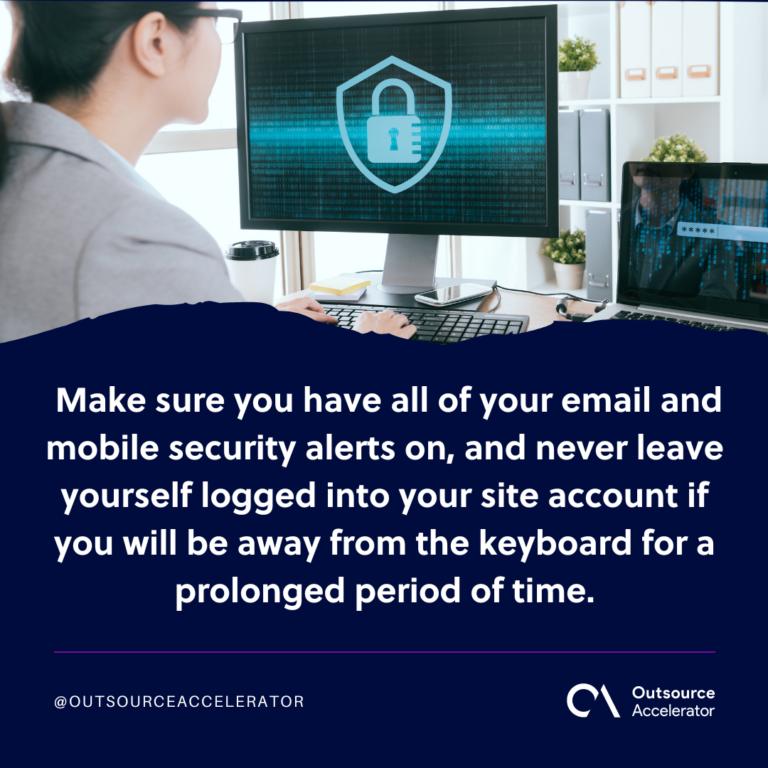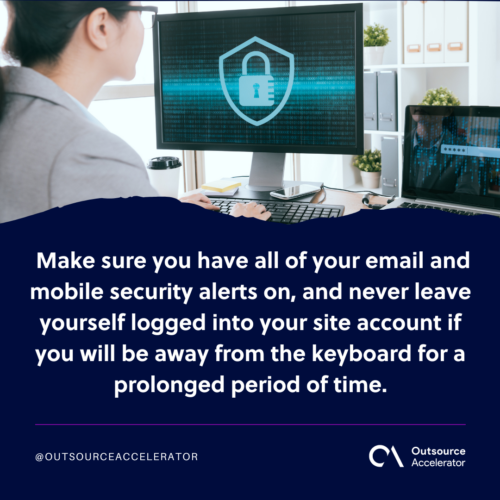 2. Encrypt your Internet traffic with a VPN
Another option to boost your Internet security is to subscribe to a virtual private network or VPN. Using a VPN will encrypt your Internet browsing data, secure your IP address, and enable you to browse freelancing websites from a safe server.
3. Go through the site's safety policies
A dangerously large number of clients will forego reading the policy agreements from the freelancing websites where they're registered. Don't be one of the lazy ones. 
Make sure you've read each site's safety and trust policies before you start transacting. These guidelines are meant to protect both you and the freelancers from unsafe and illegal activity.
4. Avoid anything less than verified
Be thorough about your next candidate for the job. Once you're on one of the freelancing websites and looking through freelancer profiles, check their client ratings, reviews, and employment history. 
Look for candidates with distinct personal brands and trustworthy, out-there presences. 
Avoid scammers-in-the-making who engage in suspicious behaviors, like sending out repetitive and generic-sounding bid offerings for multiple projects.
5. Never transact offsite
By all means, if you have contracted with a freelancer on a distinct freelancing website, never do business outside of it. Ensure you and your contractor see eye-to-eye about doing logging hours, clearing milestones, and processing payments within site. 
Steer away from individuals who quickly direct you offsite and to their own social media or PayPal accounts before accomplishing any work.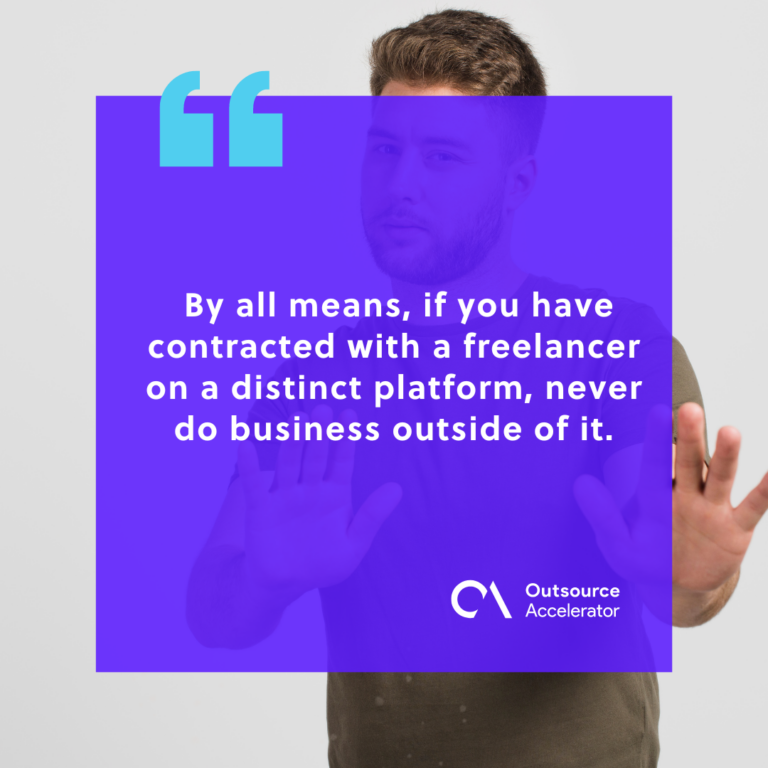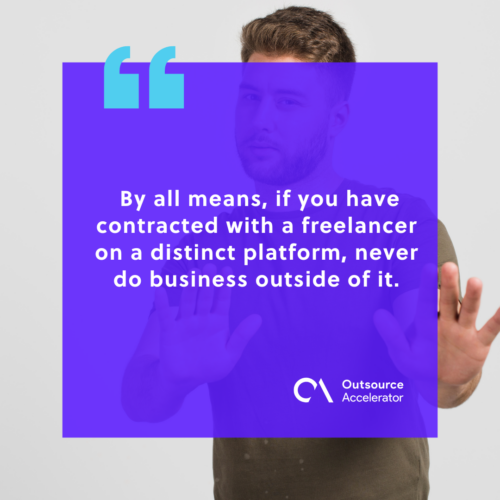 6. Never share your personal info
When you're on these freelancing websites, there's little need for other individuals to know your personal address, banking details, credit card details, or passwords. 
Giving any of these away puts you in danger of phishing or identity theft. Avoid anyone who asks for any of these from you.
7. Report if anything goes awry
If anything untoward happens during a transaction made onsite, compile all the receipts needed to file a report. 
Even if you are averse to conflict, or feel like the site receives so many complaints daily that it won't make a difference, take the step if wrongdoing truly has been committed. 
A report will serve not only your interests but those of other clients. In the best-case scenario, it will also set a precedent to take action against evolving scams or threats.
Be safe, and happy hunting for the next big candidate!