5 Hacks to get away with the wrong outsourcing partner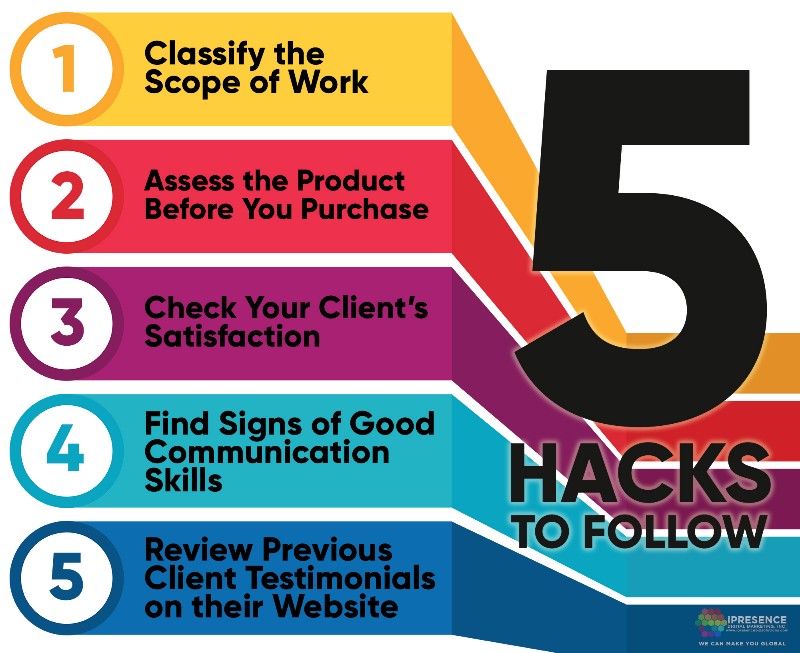 Time equals life. That's according to the well-known author of time management, Alan Lakein. What you do to time, you do to your life. It's either you waste your time and waste your life, or master your life as you master time. And when you land with the wrong outsourcing partner, you waste your time, money, and life.
After understanding that outsourcing is assigning a specific company's functions to a third-party provider, you now consider the outsourcing of your business. After evaluating the ins and outs of outsourcing, you are now convinced to outsource other services to your company.
There are millions of Business Process Outsourcing (BPO) providers all over the world. Where do you start looking? Let's reduce your possibility of trusting a wrong outsourcing partner.
According to a Global Outsourcing 2017 article, Philippines has become the top destination for outsourcing. Because of its cheaper human capital, English language literacy and cultural adaptability, the Philippines stands out among other outsourcing destinations around the world. Plus, the determination and dedication of its workforce are highly commendable.
Outsource Accelerator has also gathered a pool of competitive and trusted BPO providers to keep your company on the competitive edge of the market. The Source collects articles to help and guide startup and medium enterprises as they venture to outsource.
To better get away with the wrong outsourcing partner that may cause your downfall, here are five hacks you should follow:

Classify the Scope of Work
Be very specific about everything. Most outsourcing fails because companies failed to clarify the scope of work to their outsourcing provider.
Remember that your product schedule greatly affects your production costs. Document everything from the list of tasks you expect to the upfront requirements and all sorts of operation to avoid unexpected additional costs.
Assess the Product Before You Purchase
Some BPO companies offer a free trial of their products and services. Avail the test orders and assess their services whether they're aligned with your expectation and quality standard. You can challenge the provider by giving them a task wherein unusual circumstances might arise, and see and observe how the company responds to it.
Since some outsourcing firms do not offer test orders, be sure you get a clear sight on what to expect from your chosen outsourcing partner.
Check Your Client's Satisfaction
Your clients' satisfaction is the heart of your business. Their satisfaction becomes your measurement on how to improve and manage your business. Find an outsourcer who is flexible in attending to your customer's requests and is willing to serve them by making them a priority.
If your client is dissatisfied, it means that your outsourcing partner is giving you poor quality service.
Find Signs of Good Communication Skills
Third-party or outsourcing contractors are usually based offshore. You trust an outsourcing firm according to what they tell since you don't meet them personally. Communication is the foundation of trust and strong partnership between firms.
If you're always passed around to a person every time you want to talk or discuss things with the manager, it is clear that they are not serious about working with you.
Review Previous Client Testimonials on their Website
Testimonials or customer reviews are the reflection of your business' brand and credibility. Find an outsourcing partner who has good feedback and rating from their past clients. If there's none, then you'd better look for companies like iPresence Digital Marketing, Inc. who regularly receive 5-star ratings and can make you compete in the global market.
Services like website designing, graphic design, content writing, virtual assistance, forum marketing, keyword research, transcription, voice-over, and animated video creation are offered by the top of mind provider of digital marketing solutions.
You can expect excellent service quality from an outsourcing provider with good feedbacks and review. With the right outsourcing partner, your business will never fail. Instead, your business will be skyrocketing to the top.
Moreover, you can check out the content writing, explainer videos, voice over, graphic design, website design, virtual assistance, transcription, forum marketing, and keyword research services of iPresence Digital Marketing, Inc. for your internet marketing needs. You will find them on Facebook, Twitter, Instagram, and LinkedIn.