Ukrainian Hi-Tech Initiative
Definition
What is the Ukrainian Hi-Tech Initiative?
The Ukrainian Hi-Tech Initiative, is a leading non-profit Ukrainian association of information technology (IT) outsourcing companies and has been operating for over ten years in the industry.
One of the association's primary goals is to promote Ukrainian software development businesses and the positive image of Ukraine's IT outsourcing sector globally.
By using the partner network and marketing channels of the association in the external markets, the Ukrainian Hi-Tech Initiative provides its members with the opportunity to enhance their business in IT offshoring and outsource software development.
The Ukrainian Hi-Tech Initiative also supports the selection of IT outsourcing partners and providers.
They also provide expert advising services on commercial and legal aspects of conducting and establishing a business in Ukraine.
The Ukrainian Hi-Tech Initiative aims to support Ukraine in becoming one of the world's most well-known and attractive outsourcing locations.
The organization promotes the growth of Ukraine's software development and IT outsourcing industries.
The initiative is one of the founding members of the Central and Eastern European Outsourcing Association (CEEOA) in 2008.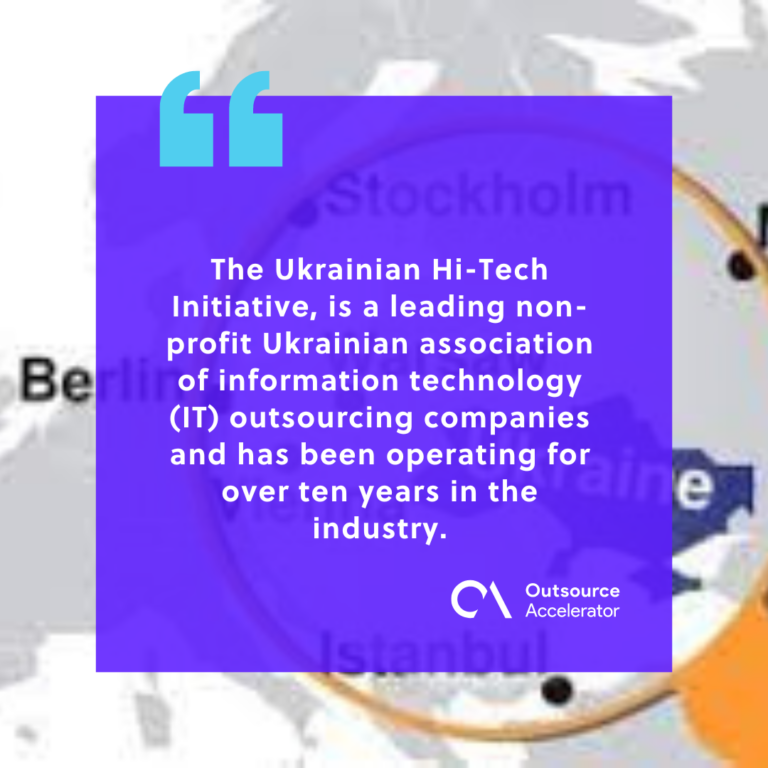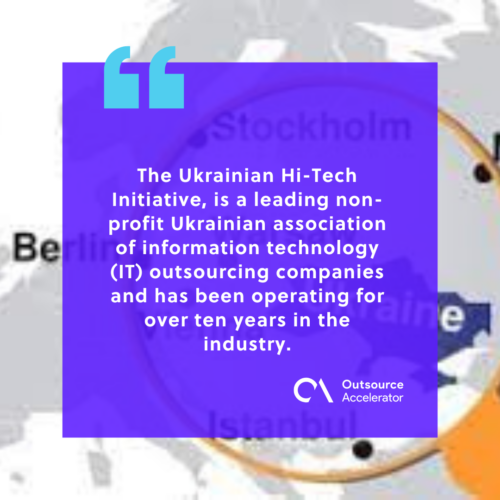 What are the goals and tasks of the Ukrainian Hi-Tech Initiative?
Establish global connections and networks for hi-tech industry collaboration.

Develop reliable communication connections with Western companies.

Encourage the growth of high-tech industries in the Ukrainian economy.

Promote a positive impression of Ukraine's high-tech sector in foreign markets.

Encourage the use of scientific potential in Ukrainian hi-tech industry items.

Encourage hi-tech experts to pursue additional training.

Establish an IT-professionals' club in Ukraine.

Encourage Ukrainian hi-tech companies to expand their export potential in hi-tech industries.
The Ukrainian Hi-Tech Initiative  directly elaborates and engages in a discussion on proposals for developing the hi-tech industry to achieve these aims through joint actions of the participants.
The association should also organize and participate in round tables, meetings, seminars, conferences, and other events and distribute its activities.
They also aim to develop ongoing collaboration between companies in different industries.
Participate in establishing professional associations and other organizations aimed at bringing together and promoting the efforts of businesses.
The Ukrainian Hi-Tech Initiative maintains communication with citizens and institutions from other countries and collaborates with them on projects.
They cooperate with state agencies, local governments, political parties and movements, labor unions, public groups, and businesses to accomplish these required goals.
Service offered by Ukrainian Hi-Tech Initiative
Outsourcing provider selection
Ukrainian Hi-Tech Initiative is a Ukrainian company that specializes in IT outsourcing and software development provider selection services.
They will choose the best local partner for your business, one who will fulfill all of your expectations.
Technology partner selection
They also assist in selecting a technology partner for the Offshore Development Center (ODC) to be established in Ukraine.
When potential clients are looking for a local technology partner, the Ukrainian Hi-Tech Initiative will look for IT outsourcing businesses that satisfy their standards. 
IT staff search & selection
Ukrainian Hi-Tech Initiative is a company that specializes in finding and hiring highly skilled IT professionals in Ukraine.
Their extensive expertise in the IT outsourcing sector, and thorough understanding of the needs enable them to provide a reliable and professional service, and choose the finest IT professionals for their customers.
Custom research
Ukrainian Hi-Tech Initiative provides a wide range of customized market research services.
They offer IT outsourcing and software development market analysis to assist their clients in tracking market dynamics, trends and understanding the coverages of the industry.
Legal support
They also offer legal support services and legal consultations in the Ukrainian Hi-Tech Initiative.
They have in-depth knowledge of the details of Ukrainian law and provide legal assistance services aimed at meeting the demands of their members and clients.
Event management
The Ukrainian Hi-Tech Initiative provides event management services, and they organize every element to match their clients' needs and demands, from logistical planning to concept design to contract negotiations.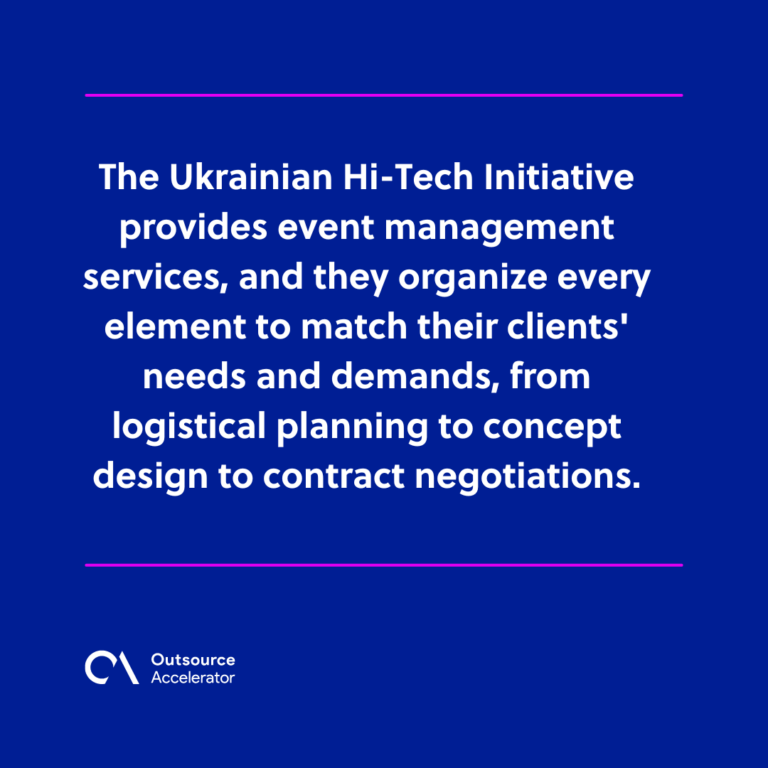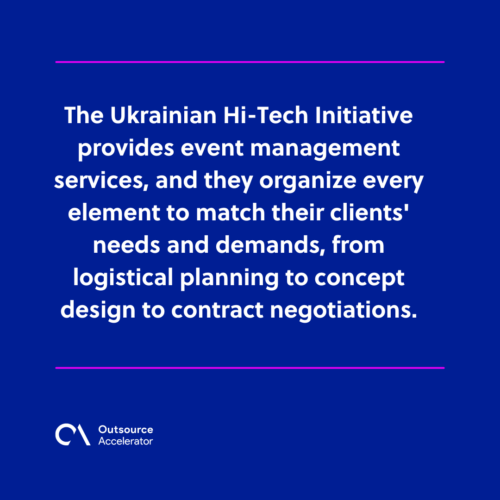 Online event management
An event gives you the chance to put your best foot forward. It's a great way to meet new prospects, business partners, and other associates by attending events.
They are aware of the details, which are crucial to the success of any event. 
Ukrainian Hi-Tech Initiative has much expertise running online events, especially webinars, and they know how vital event organization is.
Ukraine becomes a major player in the IT and Software industries 
Entrepreneurs didn't fully recognize the potential of Ukraine's IT and software sectors until 2011, when service exports surpassed $1 billion throughout the country.
These significant earnings also contributed to the country's ranking as the 26th most attractive country for outsourcing technological services. 
The Ukrainian Hi-Tech Initiative published a report the following year that put Ukraine among the top ten countries with the most certified IT experts.
Ukraine is gaining international attention, and its fast-expanding IT industry has made it one of the most appealing countries for investors and venture capitalists.
The generous funding provided new workplaces, such as IT laboratories, hotels, and restaurants in the country.
This development resulted in a lineup of employment opportunities, further boosting Ukraine's economy.
These sectors' rapid expansion influenced Ukrainian institutions had to create specialized degree programs to cater to them exclusively.