Definition
What is sustainable investing?
Sustainable investing is the practice of including environmental, social, and corporate governance (ESG) factors in the decision-making process before investing in a business or company.
The principle behind sustainable investing is to utilize investment money – whenever possible – to foster positive social impact and corporate social responsibility without compromising long-term financial gains.
Practicing sustainable investing ensures that investors aren't only investing in companies based on short-term financial returns. Instead, they also look at how and what these firms contribute to society.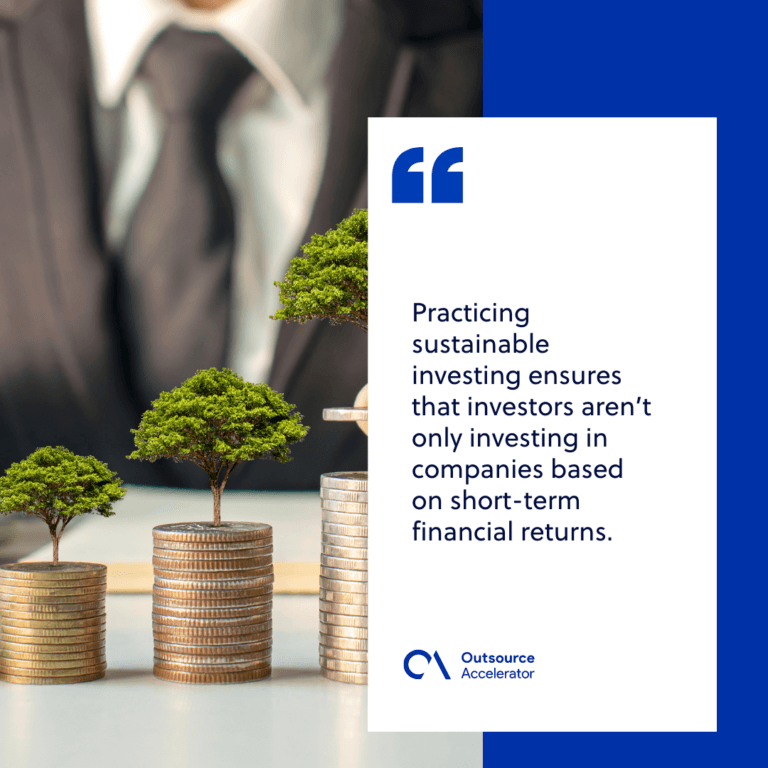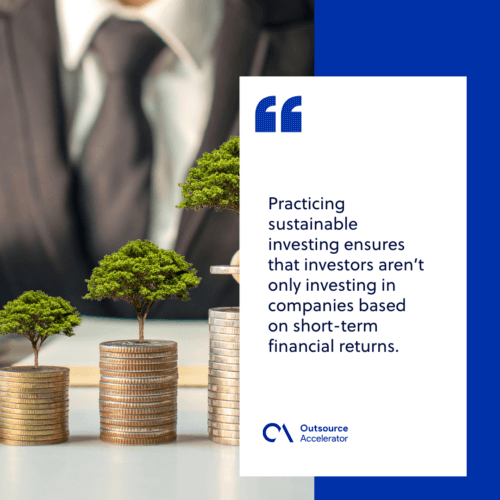 How did sustainable investing become mainstream?
Over the years, sustainable investing has slowly made its way into mainstream investment trends.
In a 2019 survey, three in four or 75% of asset managers in the US confirmed that their firms offer sustainable investing strategies, while almost 90% of fund managers no longer consider this investment strategy to be just a fad.
In the same survey, 63% of US asset managers expect sustainable investing to continue its growth in the next five years.
Sustainable investing reached record highs in 2020 with more than USD 51 billion in new investments.
There are many reasons behind the increasing popularity of the sustainable investing movement. Among these factors are the worsening climate crisis, the Black Lives Matter movement, and the coronavirus pandemic.
With an ever-increasing consumer product awareness, investors have begun to discover that where they put their money sends a signal to consumer sentiment.
These conscious consumers patronize products and services that positively impact the world around them and are even willing to spend more on these products. Hence, it would be wise for investors to invest in these conscious consumer-friendly companies.
Aside from the subtle virtue-signaling, sustainable investing has also proven to be a practical move. 
In 2020, sustainable investments outperformed traditional indexes and portfolios on average — three out of four sustainable funds placed in the top half of their 2020 Morning Star category.
Investors are also not likely to run out of options for sustainable investments. As of 2020, the US Social Investment Forum Foundation has listed at least 836 registered investment firms with ESG assets, 83% higher than the 139 investment funds in 2015.
As mentioned earlier, experts forecast that the sustainable investing growth rate will continue increasing in the coming years.
One of the reasons behind this projection is that sustainable funds are particularly popular among millennials. As the millennial population grows older and gains more money for investments, experts expect sustainable investments to grow even more.
Importance of sustainable investing
The importance of sustainable investing lies not only in its potential profitability for businesses and companies. Instead, its significance lies in its paramount importance to the continued existence of humanity and our way of life.
Sustainable investing: Good for business
As was already discussed earlier, investment firms and fund managers have found out that putting their money in companies that are ESG-aligned is more profitable than investing in more traditional assets.
Sustainable investing not only catches the attention – and thereby the investments – of most investors belonging to the millennial generation, but it also appeals to the female demographic, regardless of age group.
Thus, investing in more sustainable firms allow investors to hit not just two but three proverbial birds with one stone: millennial investors, female investors, and investment in better-performing assets.
Moreover, sustainable investment also aligns with business interests in the long run.
The effects of the climate crisis, such as droughts and other extreme weather, disrupt business operations and drives up costs. The same is true for social problems, such as the Russian invasion of Ukraine, which resulted in global supply chain disruptions.
In this situation, investing in companies promoting practices that can mitigate these effects is a practical decision.
Sustainable investing: Good for the planet
More important than being profitable, sustainable investing contributes to creating a positive impact socially and environmentally.
By patronizing more environmentally friendly companies, such as those utilizing green energy, or outright avoiding companies that run counter to sustainable practices, consumers and investors can pressure firms to do better for the planet and society.
Moving to greener and more ESG-sustainable investment practices pressures companies to reduce their carbon footprint and be more socially and environmentally responsible.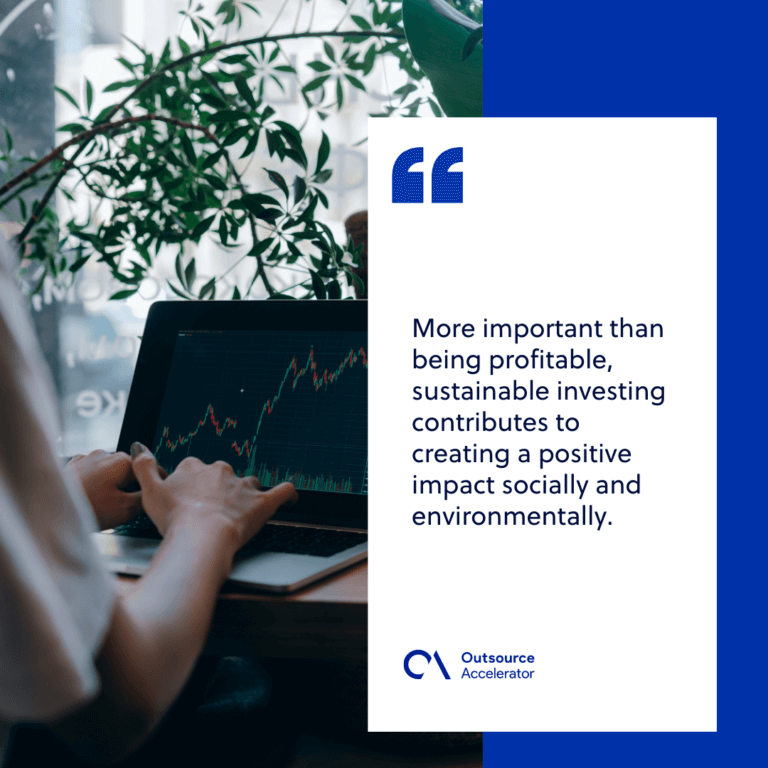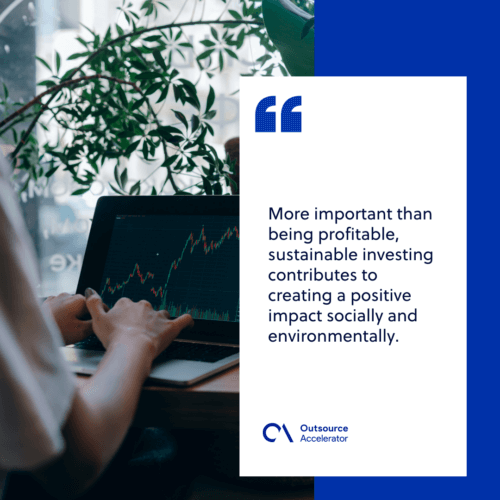 List of companies practicing sustainable investing
In early 2022, Canada-based research company Corporate Knights ran an assessment of 7,000 publicly listed companies with over USD 1 billion in revenue.
Listed below are some of the most sustainable companies of 2022.
1. Vestas Wind Systems (Denmark)
Vestas Wind Systems is an energy company promoting the use and development of sustainable energy solutions.
Vestas designs, manufactures, installs, and services wind turbines worldwide. The company has produced more wind power than any other company globally.
2. Chr. Hansen (Denmark)
Chr. Hansen is a Danish bioscience company focusing on creating natural solutions for pharmaceutical, agricultural, and nutritional industries.
The company boasts an over 80% rate of revenue that contributes to the UN Global Goals.
3. Autodesk Inc. (US)
Autodesk Inc. is a US-based multinational corporation that caters its products and services to the engineering, construction, architecture, manufacturing industries, and media, entertainment, and education industries.
Autodesk Inc.'s facilities, events, cloud services, and even work-from-home employees are 100% powered by renewable energy. The company has also achieved carbon neutrality for the second year in 2022.
4. Schneider Electric (France)
Schneider Electric is a French multinational energy and automation digital solutions provider.
By combining premiere energy technologies, software, and real-time automation, Schneider is able to provide its clients with renewable solutions for their energy needs. 
Among the company's well-known clientele is retail giant Walmart, which Schneider helped save over 230 million tons of carbon emissions by suppliers.
5. City Developments Ltd (Singapore)
CityDev is a Singaporean multinational real estate company and the first company in the country to embrace the UN's Sustainable Development Goals.
Aside from developing some of Singapore's most prominent skyscrapers, CityDev is also leading the real estate industry in terms of sustainability.
The company has also received numerous awards for its role in embracing and leading sustainability, such as the BCA Green Mark Platinum Champion Award.