Definition
What is an SQL developer?
An SQL developer is a sub-branch of backend developers who develop SQL databases. They work with other backend devs to write, create, and test codes that are seen on the server-side of things.
SQL development pertains to the process of designing tables, writing views and functions, storing procedures, and more.
SQL developers often work with project managers and clients, even though the essence of their work revolves around the "backend" side of the project. Clients and customers have control of their timelines and the budget.
Further, developers have to provide extensive documentation to whatever changes they made or will make to the existing project. These logs will help them when a patch or another change will be made in the future.
Backend projects may be built from scratch or in collaboration with another team while being developed by others for performance reasons.
If they plan for future changes or add new features during the schedule, then database projects will be completed within weeks instead of coding which may take months to build.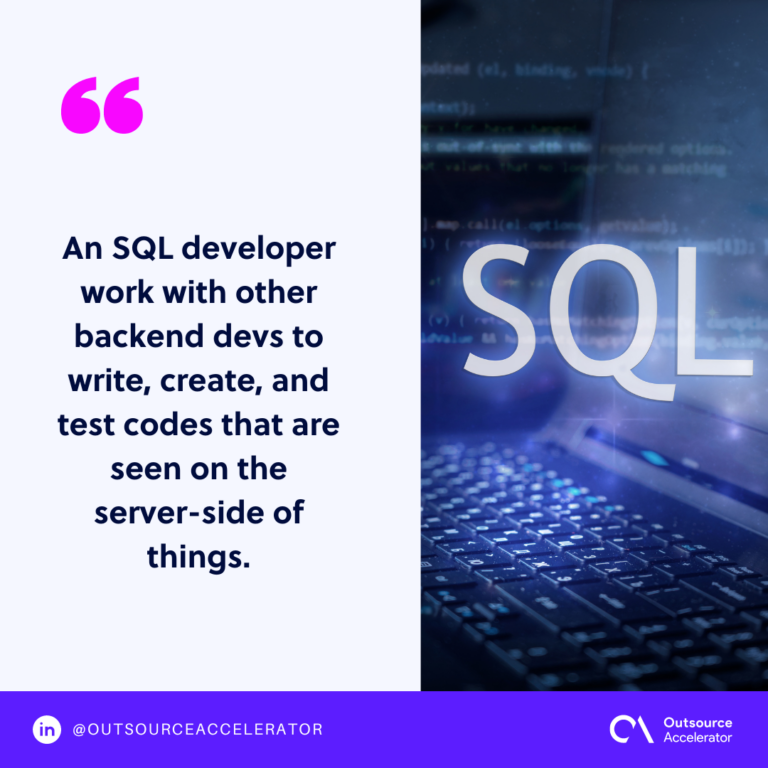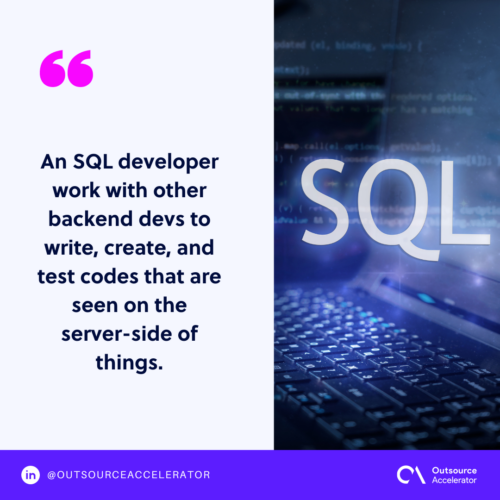 SQL developer salary
While SQL development projects can be a bit too repetitive in nature—it's no doubt that they are one of the most well-paid individuals in the software development team.
This just shows just how important they are when it comes to the software development life cycle (SDLC). Without them, the backend of each and every project would essentially be lifeless.
SQL developer salary: US vs PH
Annual SQL developer salary

Junior developer

Mid developer

Senior developer

United States

US$96,411

US$108,500

US$128,000

Philippines

₱580,000

(US$11,563.57)

₱702,000

(US$13,995.91)

₱900,000

(US$17,943.48)
By going on the table below, we can compare how much a US-based SQL developer does compared to their Philippine-based counterparts. But do keep in mind that these figures are heavily dependent on state wages, provincial, and municipal rates.
These figures are also independent of bonuses and incentives that companies give their employees.
For instance, a junior SQL developer (1 to 4 years of experience) in the United States can earn up to $96,411 per year while Philippine-based ones only get ₱580,000 (US$11,563.57) during the same period.
Onto the next one: A mid-level developer with around five to seven years of experience earns up to $108,500 in the US. A Philippines-based professional with the same years of experience earns around ₱702,000 (US$13,995.91). 
Finally, we get to the senior level devs with at least 8 years of experience in the field—making them the most experienced ones in the team. In the US, they earn $128,000 a year, while their counterparts in the Philippines earn around ₱900,000 (US$17,943.48).