Definition
What is a reservation system?
A reservation system is a kind of software that allows hotels to manage reservations and take bookings and appointments online. It also enables potential guests to reserve and pay for a service directly through the website.
A hotel reservation system eliminates the need to make phone calls to the concierge or front desk. It offers an online self-service means for guests to book a room, set the dates, and make special requests. At the same time, hotels can keep track of these bookings simultaneously and efficiently.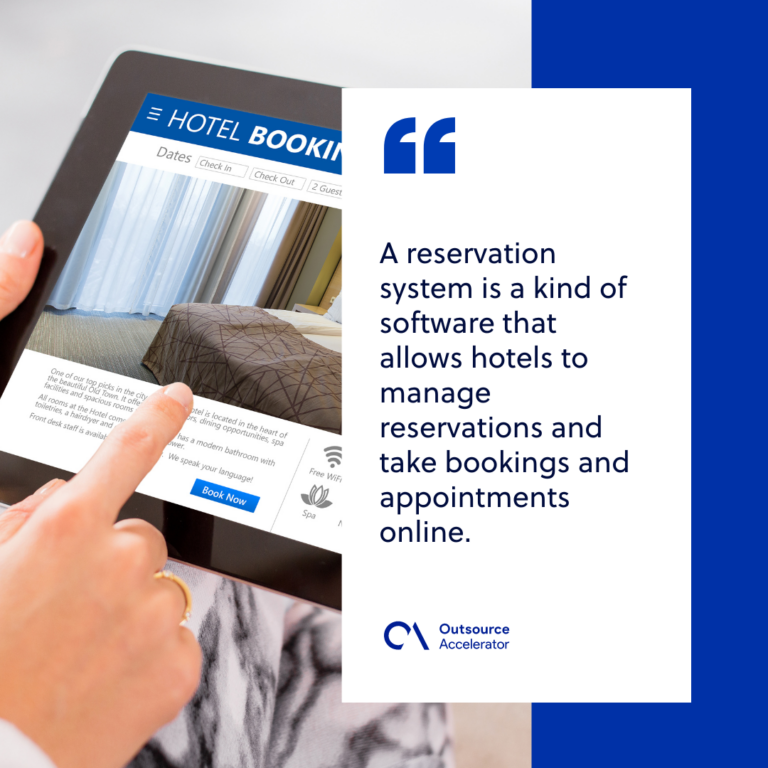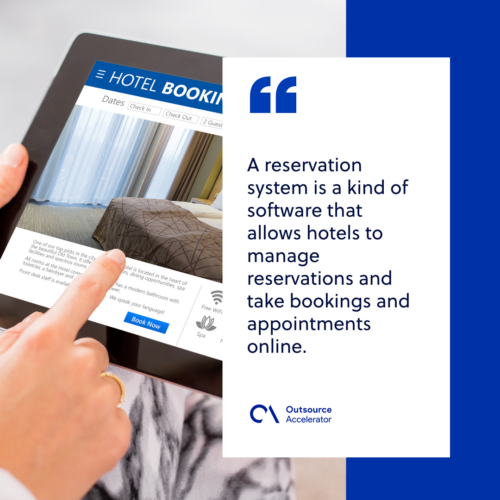 Why do you need a reservation system?
A hotel reservation system is an essential must-have for today's hotels, no matter the size. An increasing number of tourists are depending on online bookings, and you may lose substantial revenue if you don't have the tool to meet this demand.
In addition, it gives your hotel an advantage over competitors. There are still hotels that don't accept internet reservations, and they usually get fewer guests. That said, you are more likely to get bookings with a quick and convenient reservation system.
Further, you need a reservation system to improve your business efficiency. It saves time on administrative workload while minimizing the possibility of overbooking and rebooking. When you receive a reservation, your availability is instantly updated across all of your channels, not just in your system.
What are the benefits of a reservation system?
These days, a reservation system is a must-have for hotel businesses. To attract more consumers and improve revenue, the booking procedure must be seamless and user-friendly.
Consider introducing a reservation system in your business since it will provide you with various benefits:
Saves time and cuts costs
A reservation system can seamlessly facilitate bookings, saving customers the time to wait for a confirmation. They are one click away from booking their desired room in your hotel.
If a person can reserve a room by following a few simple steps online, the chances of them choosing another hotel are limited. At the same time, you won't need to pay staff to handle email correspondence with guests.
Automates the booking process
The system automatically reduces the number of rooms available in your hotel when guests make a reservation. A reservation system allows you to analyze physical and online sales, sales by staff members, and sales by outsourced travel agents.
You can also offer customers access to the system, so they don't have to approach you every time they make a transaction.
Reduces errors
A reservation system makes the booking process efficient as it doesn't allow double booking. When guests provide their dates and requirements in the system, human error becomes less of a problem as they can instantly check the availability in real time.
If something unexpected happens, you'll have the data in the system to serve as documentation of all transactions.
Increases customer satisfaction
The customer experience can be improved by keeping track of their reservations and purchases. You can offer value-added services like guided city tours or spa packages during the booking process.
A reservation system is also a strategic place for feedback and proves that your hotel responds to its visitors' recommendations.
Making the most of your reservation system
A reservation system is a way for hotels, inns, or bed and breakfasts to increase sales and maintain profits. Having this tool will keep your guests satisfied and avoid frequent misconceptions. 
To complement it, offer discounts as an incentive for people who book through your system. You may also use the platform's data to send email marketing campaigns. All you need is a product that is personalized to your brand and your customers.