Philippine offshore gaming operators (POGO)
Definition
What are Philippine offshore gaming operators (POGO)?
Philippine offshore gaming operators, often referred to as POGOs, is a Philippine-based online gambling company that offers services to customers outside of the country. 
POGOs are registered and licensed by the Philippine Amusement and Gaming Corporation (PAGCOR) in order to operate legally. They are the only casino industry classified under the business processing outsourcing (BPO) sector. 
In simple terms, a POGO is an online casino game that makes use of networks and software over the internet. Players make bets and receive payouts through e-transactions. 
As of 2019, Philippine offshore gaming operators (POGOs) consist of three categories.
E-casino –

often referred to as internet casino; a type of online gambling that operates real-time casinos and usually caters to a random number of games.  

Sports betting –

is a form of gambling that involves predicting the results and placing a bet on a particular sporting event. 

Sportsbetting on Regulated Wagering Events (SBRWE) –

regulated by other jurisdictions; caters live event audio and visual feeds to consumers.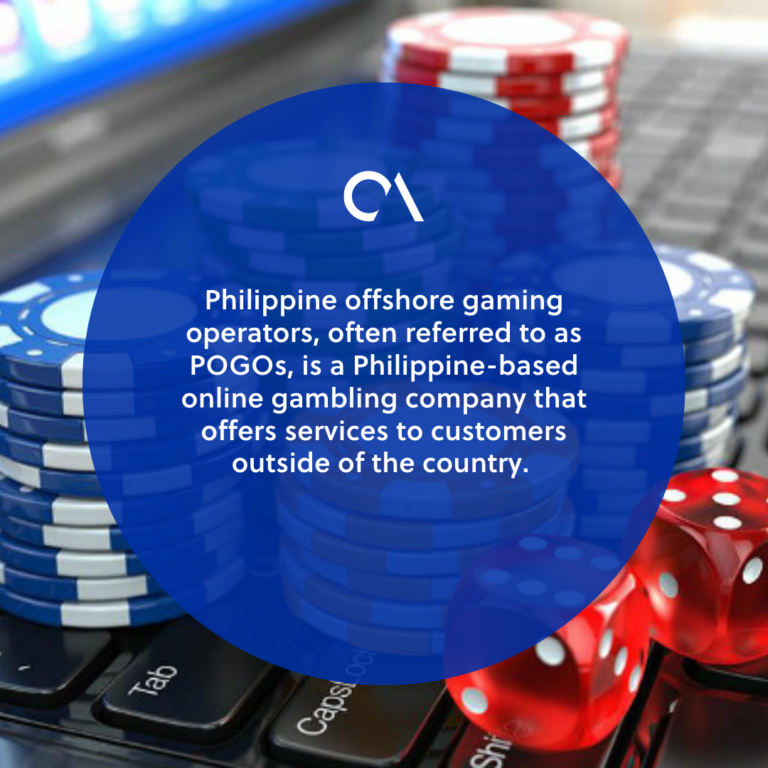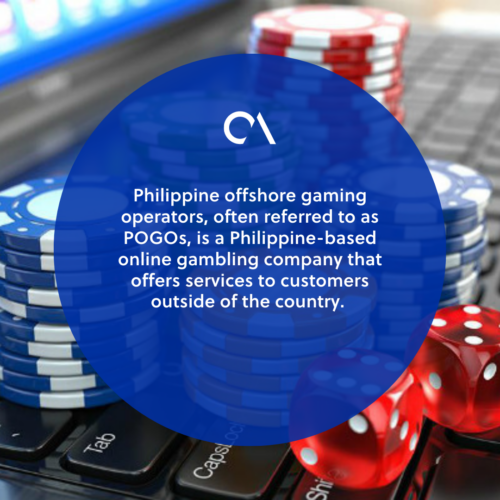 How do POGOs work?
Offshore gaming companies fall under three licensing categories: 
Category 1

– where the ladies or dealers are in charge of managing online games through live streaming. 

Category 2 and 3

– the subsectors of business processing outsourcing (BPO) that focus on back-office services.
As mandated by the Republic Act No. 11590, only foreigners based outside of the Philippines are allowed to participate in gambling and must be 21 years of age and above. 
However, Chinese nationals are mostly the main players in these online gambling hubs since gambling is strictly prohibited in China. There are more than 50,000 Chinese reportedly working in Manila-based POGOs. 
On the other hand, Filipinos residing outside the country as well as foreign nationals based in the Philippines are not allowed to participate in online gambling. 
State of the POGO industry
NCR hosts a large number of POGOs in cities such as Makati, Pasay, Manila, Las Piñas, Mandaluyong, Parañaque, and Quezon City. There are also regions outside Metro Manila that cater POGOs, including Region III, IV-A and Region VII. 
POGOs began their operations in November 2016, during the Duterte Administration, signed in Executive Order No. 13. Today, it is now rapidly expanding in the country. 
The Bureau of Internal Revenue collected a total of PHP 5.28 billion (US$101 million) in 2020 and PHP 3.47 billion (US$67 million) in 2021. 
Due to the COVID-19 pandemic, POGO operations experienced a setback and were forced to close due to pandemic-related travel restrictions and high tax obligations. 
In the year 2022, the POGO industry faces a major decline with an accumulated revenue total of PHP 1.67 billion or US$32 million. 
As of May 2022, there are 34 licensed POGOs in the Philippines.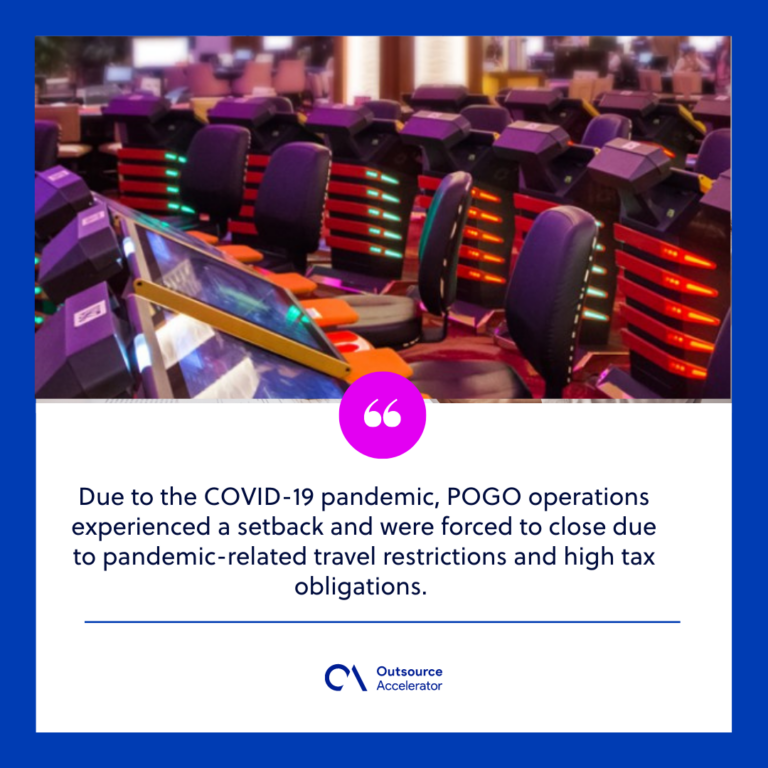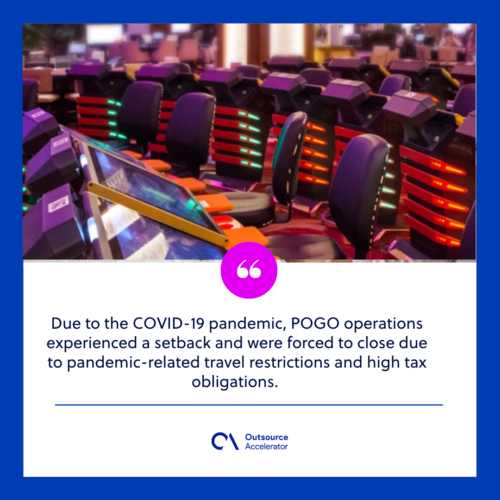 Tax treatment of POGOs
The Republic Act No. 11590 provides regulations in taxing rules for Philippine offshore gaming operators. 
The offshore gaming licenses are subject to tax at five percent of their entire gross gaming revenues or receipts from online gambling. Non-gaming revenues are subject to 25% income tax every taxable year. 
On the other hand, sales and services provided to offshore gaming companies are at zero percent value-added tax. 
Moreover, all alien individuals, regardless of residency, are employed and designated in the Philippines by a certain offshore gaming licensee, or its service provider shall be subject to pay 25 percent of their gross income or tax equivalent to P12,500. 
Thus, offshore gaming licensees must file and submit applicable tax returns before their due date, including internal revenue taxed and other compliance reports such as Certificate of Registration or BIR Form No. 2303.