Omnichannel Customer Service
Definition
What is omnichannel customer service?
Omnichannel Customer Service uses different communications methods (such as email, SMS, live chat, social media, geo-tagging, and QR codes) across a customer's lifecycle to create a unified brand experience.
Aside from creating a seamless experience when relating to customers, from a marketing perspective, omnichannel customer service allows greater control over a customer's experience and creates more opportunities for retention and up-selling.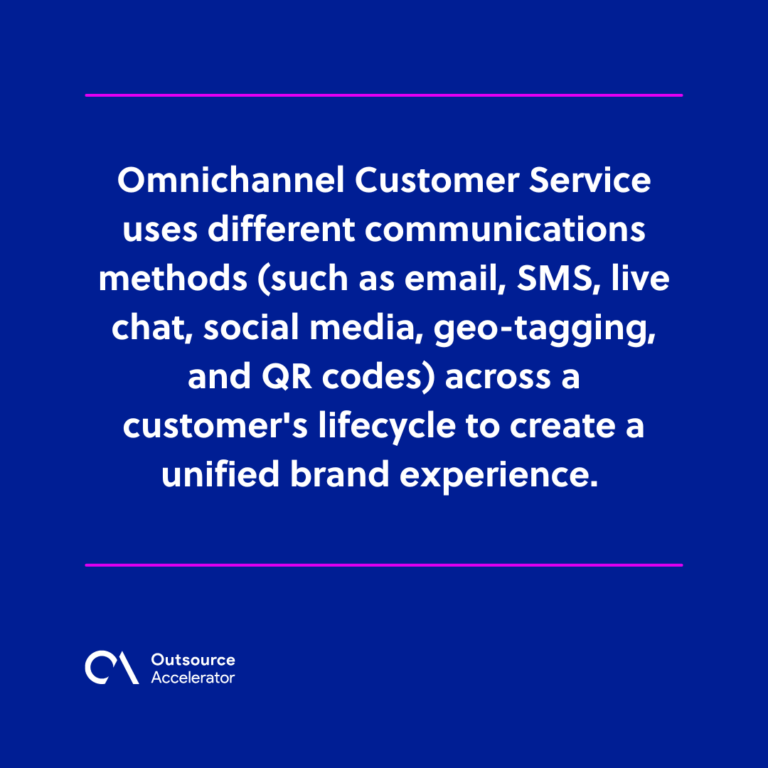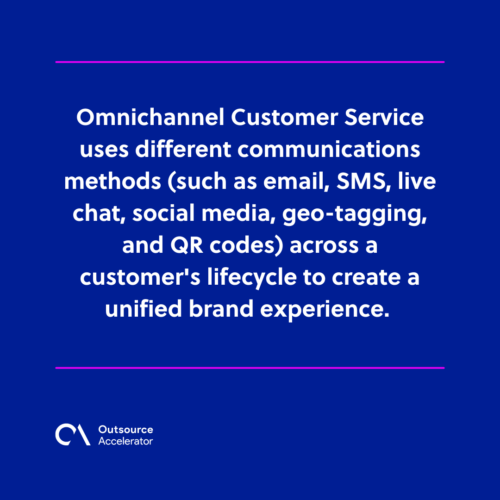 For example, Disney allows users to book tickets to Disneyland on mobile, and then further lets them plan out their trip itinerary.
Visitors can use the Disney app to review restaurants, locate ticket sellers, and map out amusement rides while also providing an estimate on the wait time at each ride. In addition, visitors receive a Magic band that acts as a combination room key, photo storage, ride ticket, and charge card.
Omnichannel customer service strategy
Creating a seamless customer experience is a task for experienced customer service companies, web developers, and programmers. Outsourcing is a popular business solution that enables companies to provide exceptional omnichannel customer service whilst saving on staffing cost.Outsource Accelerator provides you access to great customer service representatives that you can outsource from the Philippines starting from $6 per hour, where you can save up to 70% on staffing cost. We have over 3,000 articles, 200+ podcast episodes, and a comprehensive directory with 700+ BPOs… all designed to make it easier for clients to learn about, and engage with omnichannel customer service outsourcing.