Definition
What is a medical call center?
Also referred to as a healthcare call center, a medical call center serves as a gateway between patients and healthcare providers. Outsourced healthcare call centers help institutions handle patient calls.
With the emergence of new technologies, the healthcare industry is gradually switching its focus on providing diverse consultation. And medical call centers play an active role in providing seamless patient experiences.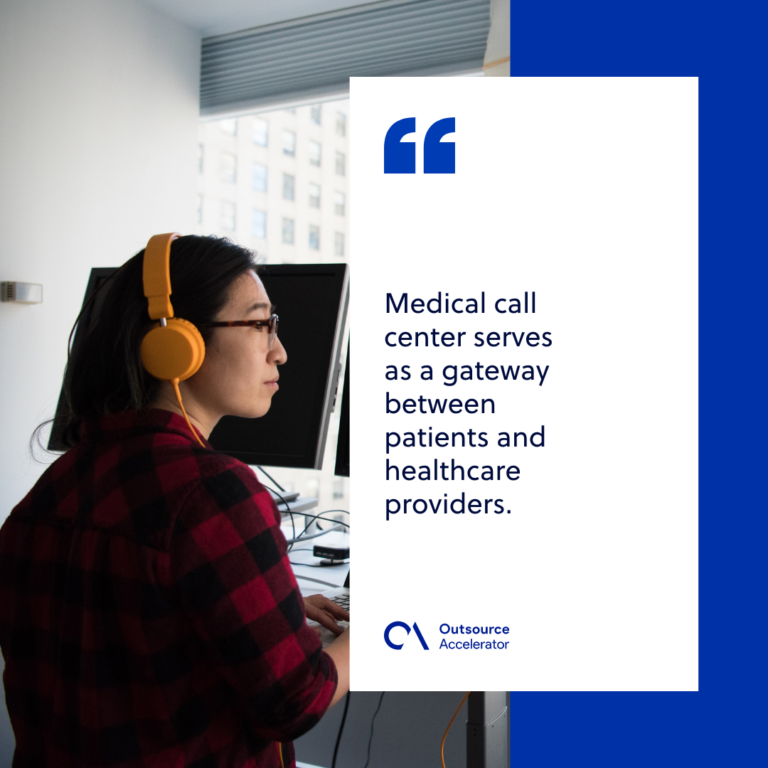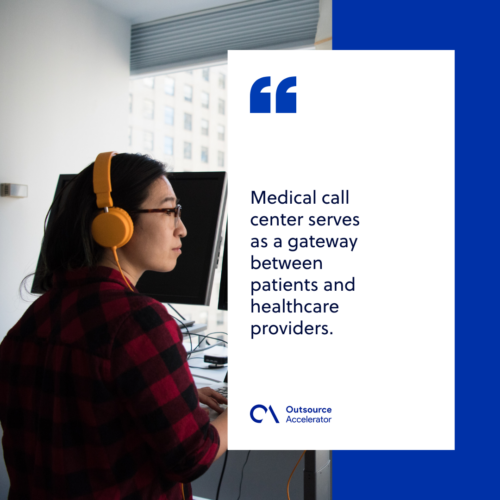 Benefits of hiring a medical call center
Call centers have advantages over in-house medical answering services:
Enhanced patient satisfaction
The level of patient satisfaction is important. People tend to refer to the same doctor because they offer quality medical care and overall positive service. In between, a competent call center service enhances the experience.
A call center maintains that connection with patients by performing post-consultation follow-ups and getting in touch for appointment reminders, among others.
Better patient engagement
Patients need to make several calls or be redirected from one department to another if there is no effective centralized call center. Their distress is worsened by inconsistencies in service and processes.
To address this, medical call centers have a system to enhance patient engagement. They make it easier for patients to schedule appointments and obtain relevant information about certain conditions.
Patient management and follow-up efficiency
It can be challenging to stay consistently organized in a huge medical center. That said, a healthcare call center can assist in streamlining processes, which avoids the need for patient follow-ups and unnecessary multiple appointments.
For appointment reminders and pre-visit instructions, medical call center agents can make outbound calls for follow-up.
Optimized operational efficiency
Coming to work the next day and responding to all of the after-hours inquiries or messages is a very stressful and time-consuming task.
The call center guarantees that there are representatives available 24/7. The workload is distributed evenly among teammates at call centers, taking into account the department's call volume.
Increased patient referrals
By building strong relationships with local employers and service providers, medical call centers can improve physician referrals. They encourage patients to visit regularly. Patients can contact and describe their needs for getting an appointment, such as availability, specialization, or gender.