Definition
What is IBPAP?
The Information Technology and Business Process Association of the Philippines (IBPAP) is the self-regulatory body for the Information Technology and Business Process Management Industry in the Philippines.  
The organization acts as a single point of contact and a portal for industry regulation in the region. It has approximately 300 members in the industry.
It features important industry and government leaders and colleagues as members, assists different investors as well as entrepreneurs who seek to establish their operations in the Philippine Archipelago. Further, IBPAP helps in promoting research, developing better human resource methods and techniques, building a vibrant economic infrastructure, and connecting shareholders. 
The organization works with the government to help the Philippines become the world's top destination for business process outsourcing companies.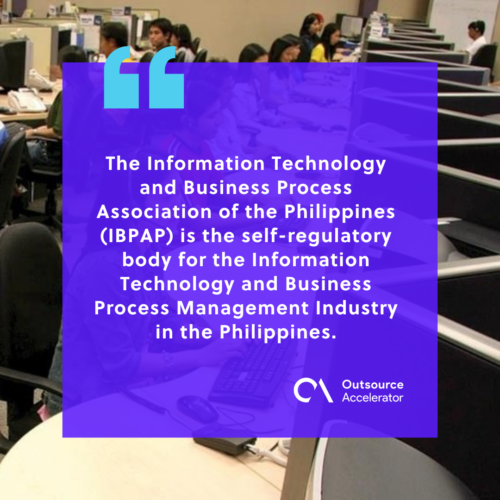 What does IBPAP do?
Policy shaping
Build long-term relationships with the government through developing and influencing government policies that enhance the country's relevance and competitiveness by building a healthy corporate environment.
Talent development
By recruiting, engaging, and keeping a competent and qualified workforce that encourages professional development, the sector will be able to transition to high-value products and services.
Country branding
In the global IT and business process management sector, establish the Philippines as a leading and preferred destination for digitalized solutions.
Innovation
Lead the industry in responding to evolving technology and generating cutting-edge ideas by being at the forefront of the digital transformation.
IBPAP projects and programs
IBPAP offers the following programs to help the country's IT-BPO business expand sustainably:
Service Management Program (SMP)
The SMP specialization track, which is funded by CHED, is an industry-designed curriculum that enhances students' competencies and abilities in business administration (BA) and information technology (IT) courses. 
This curriculum comprises 15 units of electives and 600 hours of internship to successfully develop capabilities and build skills essential for organizational success and business leadership.
It is anticipated that 2,000 students would be well-prepared for internships in Information Technology and Business Process Management (IT-BPM) businesses.
Faculty members will be trained to teach business communications, systems thinking, and service culture, among other courses, as part of the SMP, which will greatly increase a student's chances of pursuing a career in the IT-BPM industry. 
As of March 2016, approximately 600 BA and IT faculty members from 16 state universities and colleges around the country had completed the program.
In addition, 622 educators have completed either the Basic English Skills Training or the Advanced English Proficiency Training, both of which are designed to help educators enhance their teaching efficiency.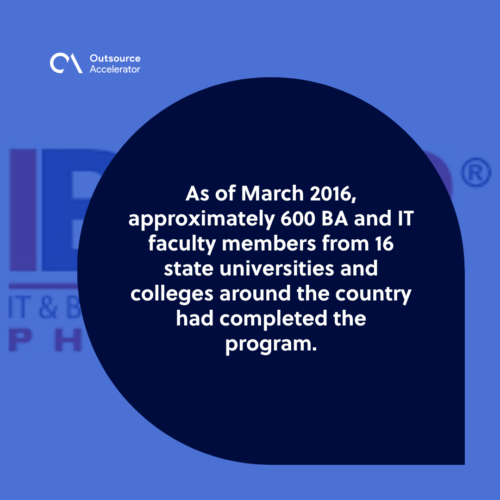 Lean Six Sigma scholarship program
The National Engineering Center at the University of the Philippines established and administers the Lean Six Sigma Scholarship Program.
The Lean Six Sigma training is designed to provide learners with the necessary tools for increasing organizational performance and completing long-term projects effectively.
The training seeks to establish a culture of operational excellence by increasing participants' knowledge, capabilities, and perspective through case studies, technological devices, and hands-on exercises.
Research initiatives
IBPAP engages in research initiatives that are needed to keep the IT-BMP sector expanding.
The expansion is generally in collaboration with government agencies like the Department of Science and Technology-Information and Communications Technology Office (DOST-ICTO).
The Next Wave Cities Report is a yearly review of the country's different towns, providing investors with data on talent availability, affordability, equipment, and other factors that affect their business.
The Talent Deep Dive Report, which is linked to the Next Wave Cities Report, monitors and offers detailed information on talent in potential IT-BPM-hosted services.
Programs for prospective members
The organization hosts a monthly open meeting for prospective members, in which all guests are given an overview of the organization's programs.
IBPAP conducts yearly surveys and weekly discussions to ensure that it is addressing themes and issues that its industry and non-industry members are interested in.
These are just a few of the initiatives that the organization is working on. 
IBPAP also collaborates with government authorities to enhance the industry's health and workplace standards, as well as to assure the worldwide competitiveness of individuals who want to work in the IT-BPM sector in the country.