Definition
What is game making software?
A game making software is a specialized software program that helps in the creation of a video game. The procedure includes creating the video game concept, characters, and setting, and to make these pieces into a functional video game, coding is necessary.
Several game creation tools are now available to help both beginner, and expert game creators turn their ideas into genuine video games without requiring excessive code.
These programs can serve various tasks automatically, saving developers from having to create code for various common functions.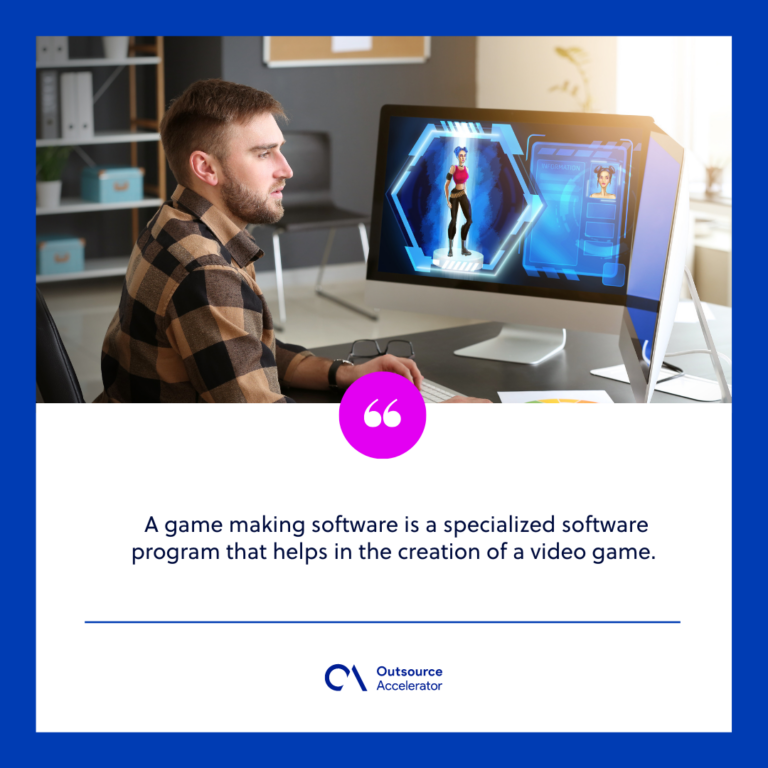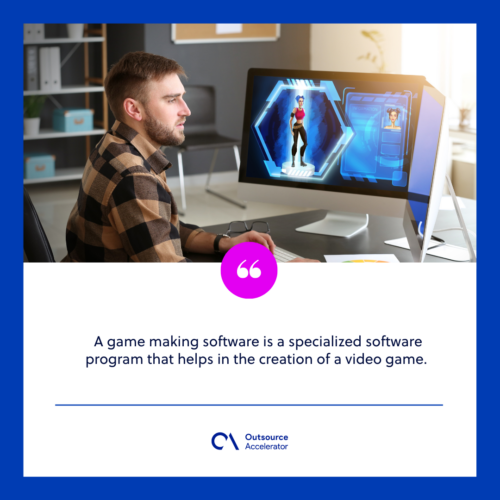 What is the most popular game-making software?
Free game-making software is a great way to start developing video games, so here are the 6 best game making programs to use:
Unity
Unity is one of the most effective and frequently used game-making software tools in the business, allowing you to build 2D and 3D games for almost any system, such as Windows, Mac, iOS, and Android.
It provides lessons for beginners and the products enable content creators to create new development and enhance processes in various sectors.
GameMaker Studio 2
GameMaker Studio 2 is another well-known and active free game development platform accessible today.
It lets you design complete games with just a drag-and-drop interface for variables and game logic. Its Game Maker Language, a C-like programming language with a lot of flexibility, gives it greater strength.
After you've finished your game, you can export it to any number of platforms and formats without having to change your code in Windows, Mac, Linux, HTML5, Android, iOS, or Nintendo Switch. 
Unreal Engine 4 
Unreal Engine 4 (UE4) is the most advanced game development software. One of UE4's guiding concepts is that you should be able to adapt in which is why you receive tools like live debugging, hot reloading, a simplified asset workflow, and immediate game previews.
It also includes assets and systems such as artificial intelligence, cinematic tools, and post-production effects. The blueprint framework on it is its distinguishing feature, allowing you to construct game logic without touching any code.
It's advanced enough that you can make whole games, even complex ones, without ever opening a source editor, but you can also write your blueprints.
GDevelop
GDevelop enables developers to create games without any programming knowledge. It lets you make game elements like sprites, text objects, video objects, and custom forms.
Object behavior may be controlled using various technologies, such as the physics engine, which allows objects to behave accurately.
Furthermore, the screen editor allows you to edit and build levels. You may use this free software's events feature to build reusable functions that can be used as expressions, conditions, and actions in games.
Construct 3
Construct 3 has a complete graphical game development toolset. It can export to various platforms and formats, and you don't have to change anything in your system to fit these various possibilities.
After you've finished making your game, you may export it to HTML5, Android, iOS, Windows, Mac, Linux, Xbox One, and the Microsoft Store.
Construct 3 offers some of the best and most extensive documentation available, with hundreds of tutorials to help you grasp topics ranging from basic to complex, and an active forum community if you ever need help.
Twine
A Twine is an open-source tool for creating non-linear, highly interactive text-based games. This easy-to-use, free game development software requires no coding knowledge and is one of the greatest platforms for creating interactive stories.
If you are skilled enough, you can incorporate JavaScript, CSS, pictures, conditional logic, and variables. Because of the extraordinary ease of this program, anybody who can write fiction may build a text game with many endings or a compelling mystery adventure.
Autodesk
Autodesk provides various tools for creating unique graphics, visual effects, and 3D models. Autodesk is at the foundation of several big AAA games.
With Parallel Rig Evaluation, the software enables rapid modification and quick playback of character rigs. 
A toolkit with a comprehensive range of capabilities for animation, software development, and editing is offered. This adaptable platform is simple to configure and integrate into the game production workflow.
Stencyl
Stencyl enables beginner developers to create visually attractive and 2D games without having to write code. It offers user-friendly and extensive toolsets to help you optimize your process and expedite development.
This application handles all technical aspects, enabling you to focus on what matters most, like developing and personalizing the game to your specifications.
The game design technique is based on the popular MIT Scratch project's drag-and-drop idea. You may utilize a variety of ready-made components, but you can also create your code, custom classes, and import libraries.
RPG Maker
RPG Maker is the most recent installment and the greatest version available. This version expands on the concept of creating games without programming knowledge.
To help projects run smoothly, the engine includes a plethora of sample data, character generators, sample maps, and other tools.
Characters, classes, skills, items, weapons, armor, animations, tilesets, events, and actions are all included in the most recent edition of RPG Maker.