Definition
What is the digital economy?
The digital economy is characterized as the economic activity generated by billions of daily online interactions between individuals, businesses, devices, data, and operations. 
The term "digital economy" boosts economic growth associated with digital technological innovations. The internet economy, new economy, or web economy are all terms used to describe the digital economy.
The digital economy is made up of three essential aspects:
E-business.

It covers supply chain management, computerized order processing, and customer relationship management are just a few of the many business operations.

E-business infrastructure.

The mix of hardware in a company, such as servers and client PCs.

E-commerce.

It is the purchasing and selling of goods and services over the internet.
Hyperconnectivity is the foundation of the digital economy. Hyperconnectivity includes the usage of several systems and devices to keep you linked to social media and other sources of information at all times.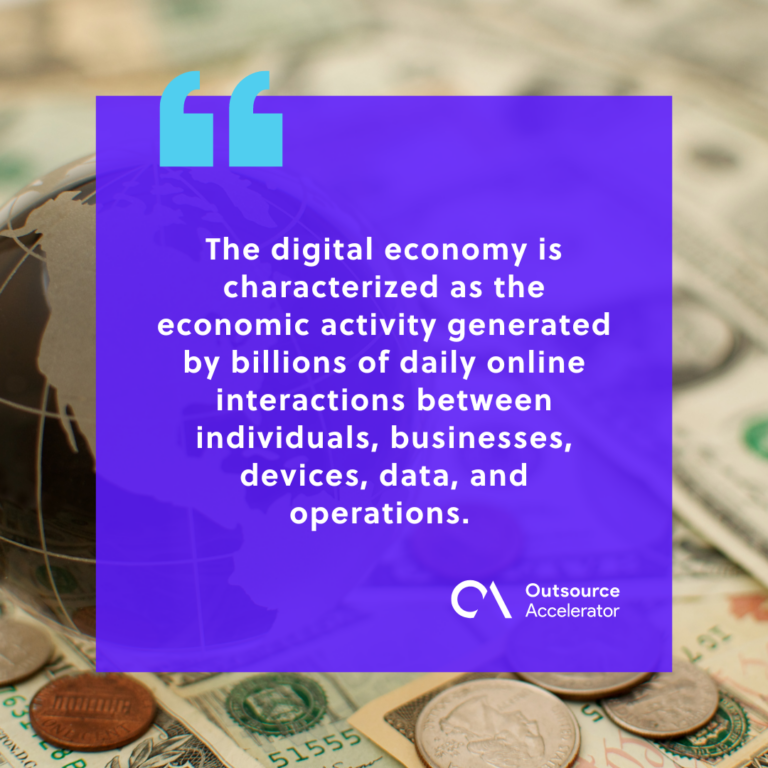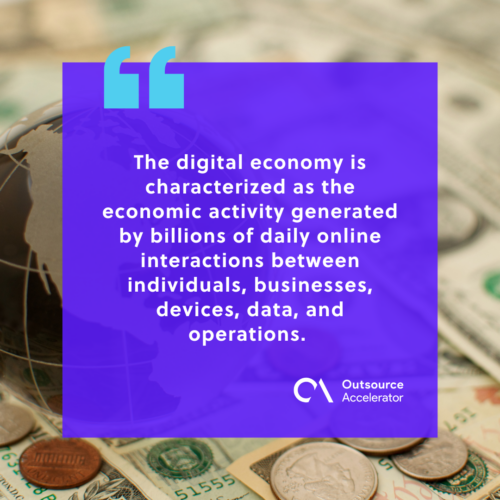 When did the digital economy start?
Information and communication technologies (ICT) support the digital economy. The digital economy is having access to a worldwide network of business transactions and business commitment.
Don Tapscott invented the term digital economy. His 1995 book "The Digital Economy (1994): Promise and Peril in the Age of Networked Intelligence," was one of the first books to address how the Internet would alter our commercial practices. Since then, the term digital economy has been widely used worldwide. 
Why is the digital economy important?
Many previously impossible services, such as online groceries home delivery and dating applications, have been made possible by the digital economy.
Produces considerable data that can provide new perspectives. The enormous generation of data can assist governments and nonprofits in understanding what is going on in the economy.
In fact, the digital economy has a significant impact on global GDP. At $11.5 trillion in value, the digital economy accounts for 15.5 % of the global GDP.
Since 2000, it has grown at a rate of about two-and-a-half times faster than world GDP.
Pros of having a digital economy
As the digital economy grew, some businesses abandoned their physical stores in favor of selling directly from an e-commerce site, which was then delivered to customers' homes. Physical items are no longer available for several digital services.
Rising e-commerce
Businesses that embraced online business and adapted to the internet in the previous decade have prospered. The e-commerce sector has been pushed into overdrive by the digital economy.
It also encourages direct selling, although the internet economy has made buying, distribution, marketing, creating, and selling much easier.
Cost savings
In a digital economy, businesses can bypass a portion of the retail chain. Businesses can send individualized goods directly from the factory or warehouse to people's homes, rather than going via stores.
This, in turn, lessens costs and prices. Firms can save money on rent by conducting much of their business over the internet.
Promoting trust and transparency
The risk of fraud and criminal behavior grows with the volume of cross-border transactions. The majority of transactions and payments take place online. The development of the digital economy promotes the transparency of the business. 
Creates opportunity
For developing countries, the digital economy is providing new opportunities. It expands its reach into every aspect of the traditional analog economy. More economic transactions are shifting online.
For businesses, this means new ways to reach out to existing customers as well as new ways to grow market share through a growing online offering. Consumers may expect greater access to products and services at their fingertips.
Allows people to work remotely
During the COVID shutdown, digitalization has been a major asset. The decline in economic activity might have been far worse if it hadn't been for digital technologies.
People working from home and having more flexibility in their hours have more options in the digital economy. Remote work can help to decrease virus contact and spread. 
Cons of having a digital economy
People's daily lives have been transformed in almost every way by digital technology. Despite all the advantages of the digital economy, here are some of the drawbacks:
Smaller sense of community
We have lost our feeling of connection and have grown overly dependent on technology.
For example, a conventional bookstore can serve as a gathering place for the local community. It may host events, such as book signings, and visitors may enjoy browsing tangible books.
Old-fashioned booksellers are being put out of business as the digital alternative undercuts conventional enterprises. Despite the fact that books are less expensive, we have lost the actual interaction between sellers and consumers that was formerly a vital part of the purchase process.
Complexity
Because of its complexity, comprehending the digital economy remains difficult. Big data and digital platforms are only one aspect of digital transformation.
It's also about how those sophisticated technologies may be used to optimize prospects for innovation, new business models and processes, and smart products and services.
Technology's addictive nature
The sheer amount of information available through technology can cause us to become overwhelmed and lose sight of what we really need.
More options do not always imply better results. When confronted with a perplexing array of options, we can take our time making a decision, making it simpler to postpone.