Definition
What is conversation analytics?
Conversation analytics is the process of analyzing speech data from phone calls to get insights to know more about consumer behavior. Call center agents better understand and target leads by collecting and transcribing call data.
Conversation analytics solutions typically include a transcription engine that converts speech to data. It also includes a query and search user interface that allows users to define requirements and conduct searches. 
Further, reporting applications that present the analytics are often in graphical form and business applications that manufacturers provide to help users with specific requirements.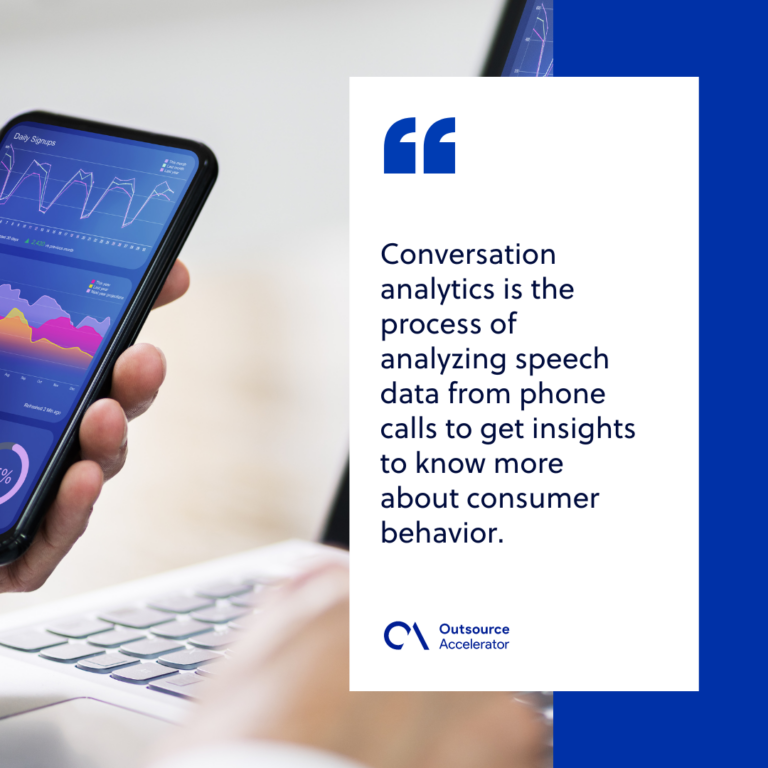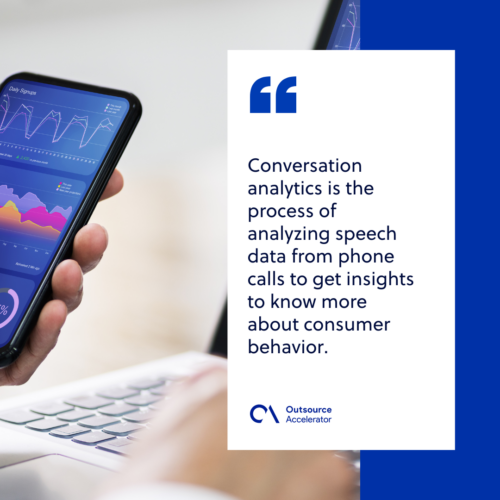 How does conversation analytics work?
To convert a conversation into data, companies can use conversation analytics software to record calls and transcribe them to text. 
The software's processing layers organize the data so that it can be searched, and a query tool allows users to search through it. The call reporting tool then displays search results, which are frequently in visual form, so that call center agents can take account of the call data.
While this may appear to be time-consuming, call transcription and scoring occur in real-time, allowing call center agents to determine if a call is a qualified lead in minutes. A quick response time with quality leads increases conversions.
Why use conversation analytics?
Companies may use conversation analytics to effectively evaluate prospects and detect patterns without having to listen to calls. These analytics reveal which leads are qualified, as well as when leads are converted and what was stated.
In addition, call center management may refine their messaging by understanding what works best for targeting a certain subset of their audience. This saves time and increases outreach accuracy, resulting in greater conversion rates.
When companies understand a customer's emotional experience, they may engage with a lead more effectively by talking.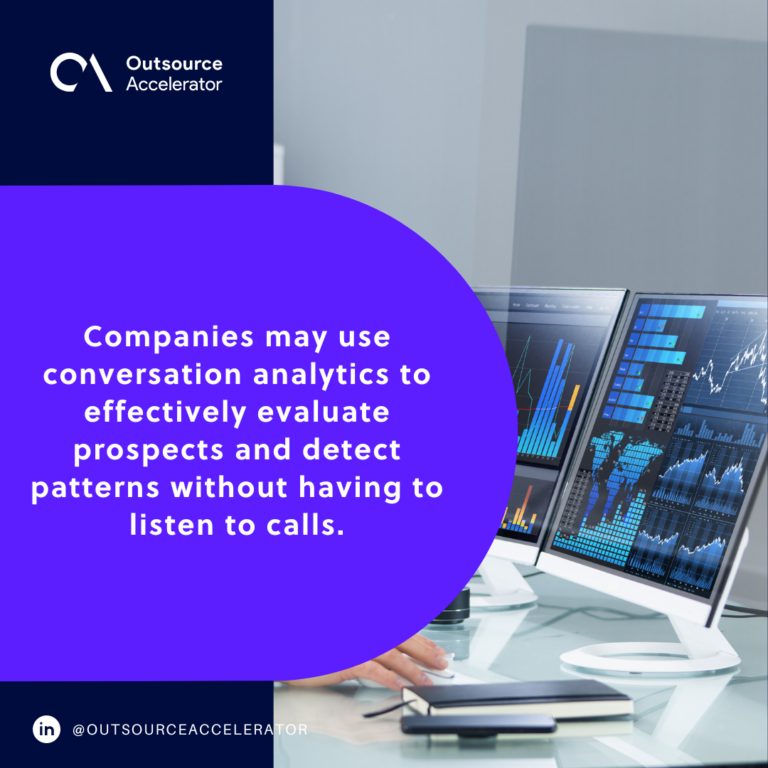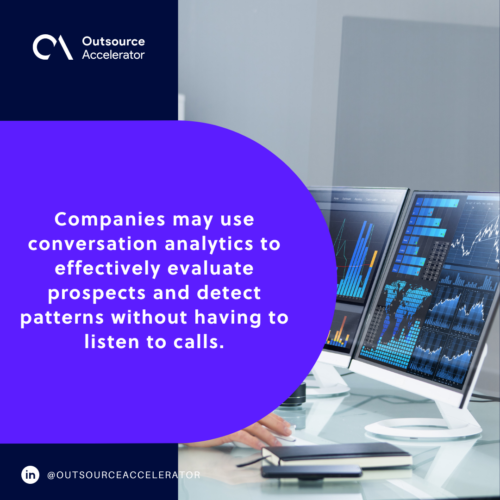 Benefits of using conversation analytics
Improving the customer experience is at the core of a successful company strategy.
Forward-thinking businesses throughout the world tailor their development goals to the demands of their consumers.
However, for this method to work, businesses must entirely understand their customers.
Here are some of the benefits of using conversation analytics:
Increase sales and conversion rates
Having insights into customer conversations is crucial for the sales team that works over the phone.
With conversation analytics, you don't manually record all calls and go through them one by one, listening from beginning to end to extract learning. 
There is conversation analytic software that can transcribe phone calls in real-time and could also tell your sales team which competitors keep coming up in conversations with prospects.
Learn more about the customer experience
By using conversation analytics techniques to collect real-time insights, businesses will be able to gain an advantage over their competitors. 
You're also assisting your company in thoroughly understanding each phase of the customer journey, with an emphasis on how consumer sentiment evolves throughout their journey. 
Conversation analytics allows you to learn from client interactions, providing you with useful insights about the customer experience.
Monitor agent performance in real-time
Being able to help support agents in real-time is powerful because it not only allows them to learn how to approach problems at the moment but also provides a better experience for your customers. 
A strong conversation analytics software should be able to identify issues and bring them to the attention of management. 
This allows them to immediately determine whether there are any wrong decisions and review the real-time transcript for further information. Then they can decide whether they need to join on the call to assist the call center agent.
Acquire additional information for product development
Conversation analytics may help your company succeed by reducing customer complaints.
For example, if you conduct call tracking or monitoring carefully, you may identify keyword subjects that come up more frequently. You can then exchange information with other departments that might benefit from knowing what consumers prefer about specific goods or services.
Reduce customer retention
The lower your retention rate, the better, and conversational analytics can be useful here. If you see an increase in the number of consumers calling to request refunds, you can track them using the various conversation analytic software offered by the company.
To understand the circumstances that led to the refund request, management can review the transcripts or call recordings for these discussions and the call before this one.
From there, you can use these insights to determine whether any common issues cause your customers to leave and develop strategies to address them.
Increase call center productivity
Conversation analytics makes it simple to recognize keywords and trouble areas. Another approach to be creative with this data is to use it to classify information.
As a manager, if you check recordings of your agents' conversations and notice that certain agents are appropriately skilled at handling specific issues, you can use that information to further customize the call routing approach of your agents.