Build-Operate-Transfer (BOT)
Definition
What is Build-Operate-Transfer?
Build-Operate-Transfer is an arrangement found in the outsourcing industry and across other sectors in a technical sense, is a type of concession arrangement wherein 'Entity A' delegates the right to build and operate a particular project 'Entity B' within a certain period. 
This timeframe allows Entity B to recuperate their investment and profits while Entity A gets a more established business after the turnover.
The BOT setup is typical for government projects such as infrastructure. A common example would be the construction of expressways where the government gives the right to build and operate the expressway in favor of a private business. 
In return, the private entity shall finance the project and enjoy the revenues they can derive within the contract frame. After the given period, the private entity shall be obliged to transfer the ownership back to the government.
How Build-Operate-Transfer contracts work?
A private business is granted a concession by a government to finance, develop, and run a project under a build-operate-transfer (BOT) contract. Once the corporation has recouped its investment, the government assumes management of the project and runs it for a set amount of time.
In general, BOT contractors are organizations founded for a specific project and only for that reason. A single offtake purchaser often provides all of a contractor's revenue during the project period, when the project is being operated.
This may be a state-run or government-owned business.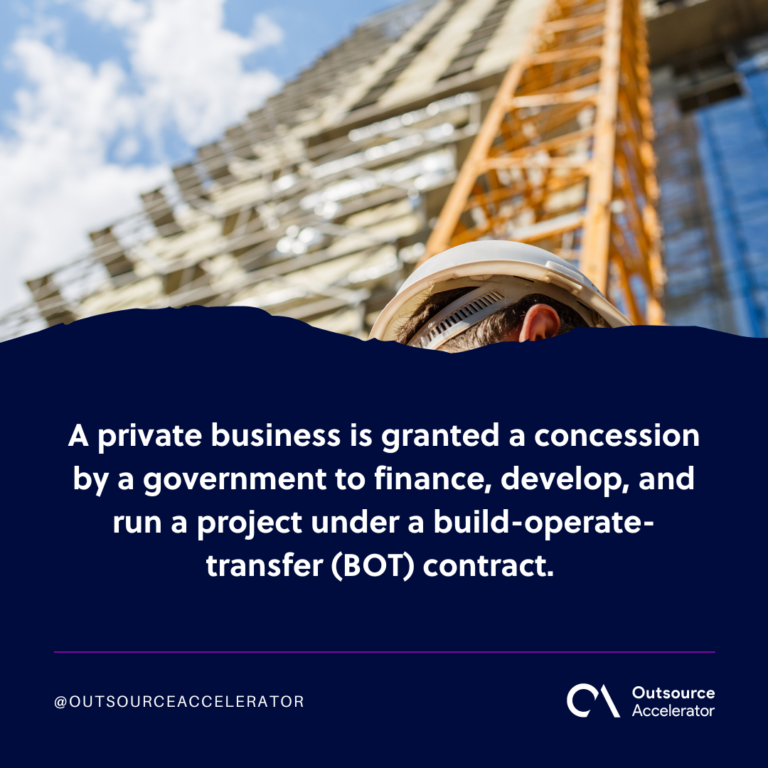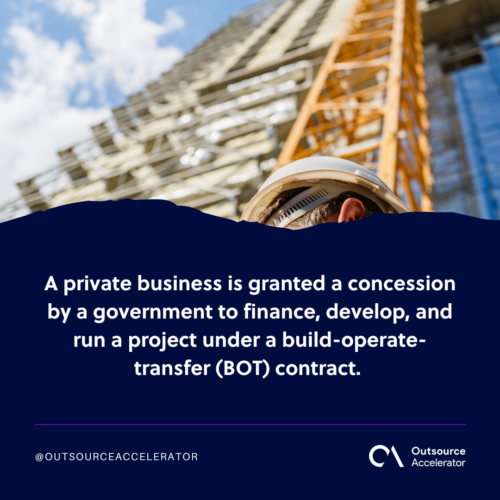 Build-Operate-Transfer in outsourcing
A Build-Operate-Transfer arrangement enables entities with limited capital and financing to implement their projects with the help of another entity who is willing to start the project.
This type of outsourcing gives way to a broader range of resources and talent, which could contribute to a better and well-thought-out project – read our full BOT article for more information.
A BOT arrangement can take on many forms, but in its simplest and most common form, it is the mutual understanding that a BPO will help build a team and operations for a client and that one day, the client might take that team out on their own and incorporate, or become a 'captive'.
Outsource Accelerator can help set up your BOT arrangement with the outsourcing supplier to ensure that the best terms and prices are provided for your business.