10 best startup accelerators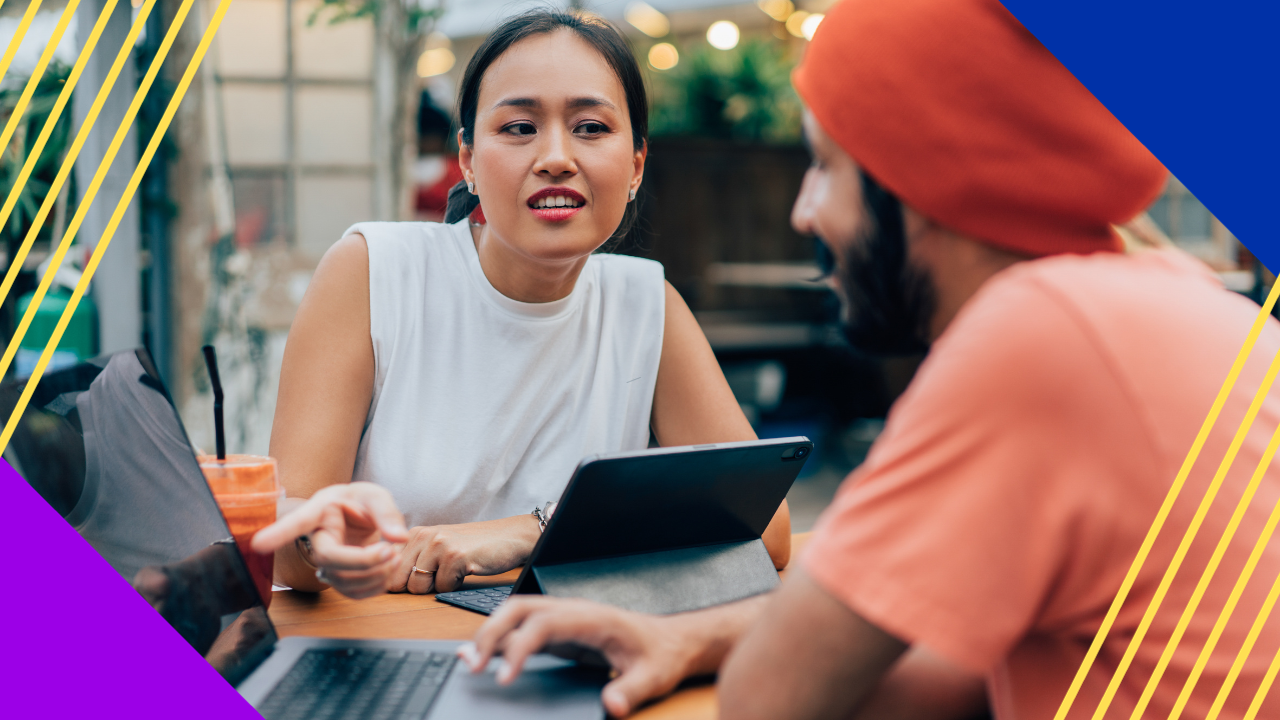 List of best startup accelerators
Starting a business can be exciting and overwhelming. You may have great ideas and enthusiasm, but at the same time, you may also need support, resources, and the right contacts.
This article will present the ten best startup accelerators in 2024, uncovering their significance and why partnering with them can be a game changer for your business.
What is a startup accelerator?
Picture this: You've got a brilliant concept for a new app that could revolutionize how people order coffee. You've even developed a prototype, but you're stuck in the development phase, unsure of what steps to take next. 
This is where a startup accelerator enters the scene as a knight in shining armor. The program is designed to launch young businesses toward success.
A startup accelerator provides a curated set of resources, mentorship, and access to funding, all wrapped up in a neat package.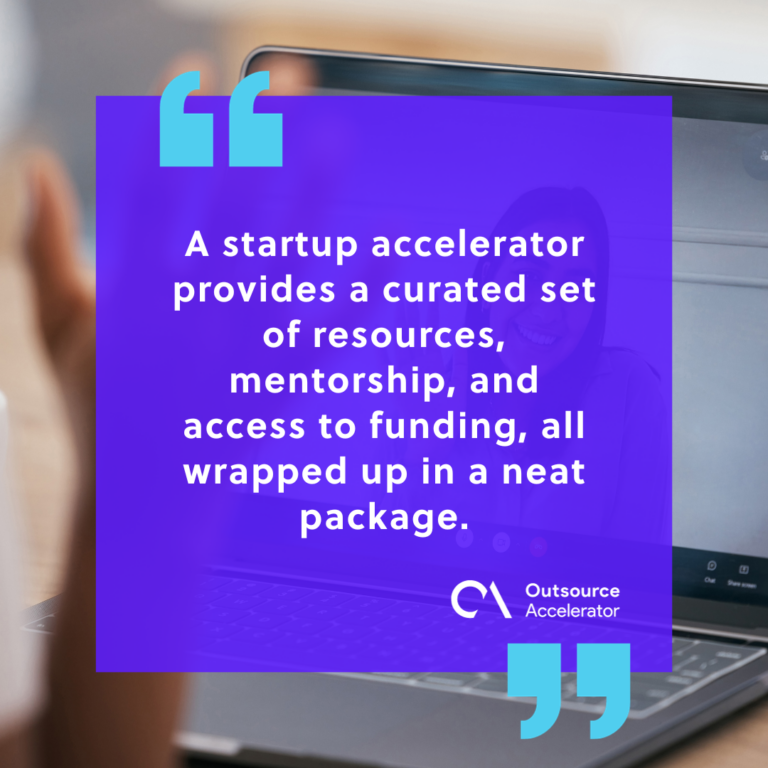 Importance of a startup accelerator
Startup accelerators are the secret sauce behind many thriving businesses. Here are why:
Access to capital
Startup accelerators can provide access to a wealth of investment opportunities. It often offers a cash injection in exchange for equity, giving you the financial fuel needed to propel your startup to greater heights.
Mentorship and guidance
A startup accelerator can offer valuable mentorship by pairing you with industry experts with ample experience and willingness to share their insights. 
It's like having your own team of advisors ready to help with everything, from developing products and marketing strategies to handling negotiations.
Education and resources
As a startup founder, you might have a brilliant idea but lack the knowledge to execute it effectively. Startup accelerators offer structured educational programs that cover everything from market analysis to pitch-perfecting.
Networking opportunities
In the world of startups, connections are the currency of success. 
Accelerators provide access to an extensive network of entrepreneurs, investors, and industry professionals. This network can be a game-changer for your business.
Rubbing shoulders with industry giants at events and workshops is invaluable.
It's not only about your knowledge; it's also about your connections.
Imagine sharing coffee with an influential investor who can fund your next big idea.
Validation and credibility
When you're a part of a prestigious startup accelerator, it's like receiving a golden stamp of approval. It signals to the world that your startup has potential. 
This stamp of approval can be a powerful marketing tool and help attract customers, partners, and investors. It's about credibility and creating a buzz around your startup. 
You become part of an elite club of businesses with the accelerator's endorsement and can open doors you never thought possible.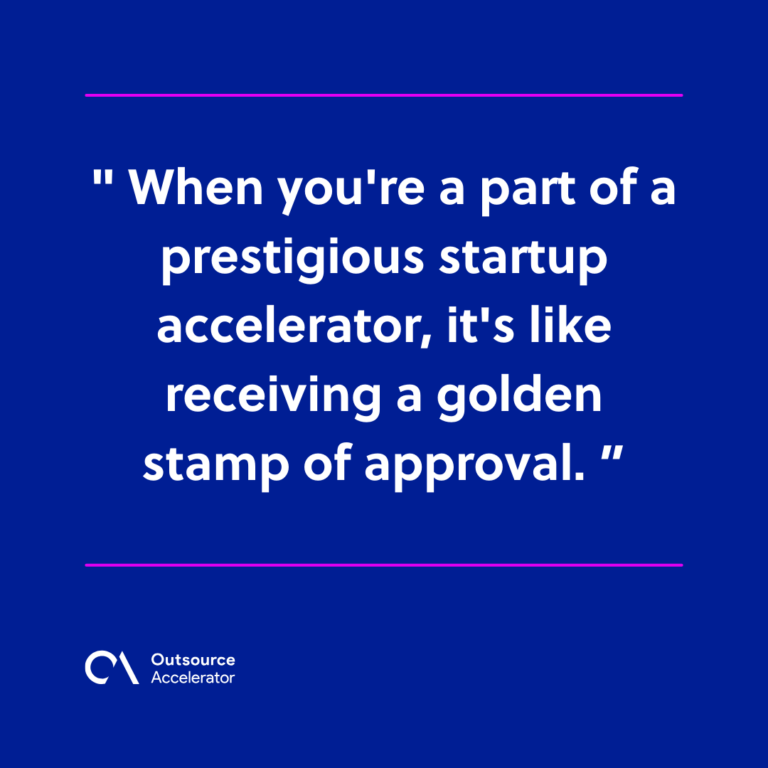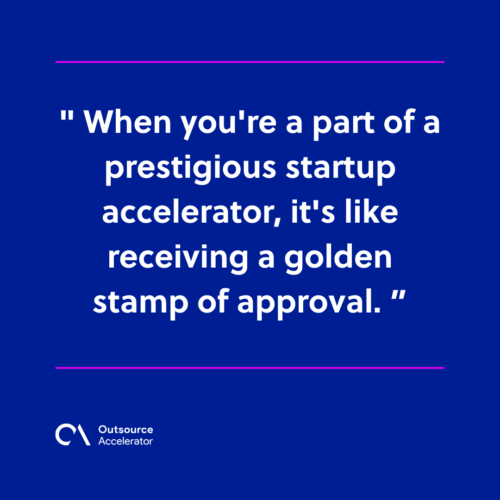 10 best startup accelerators in 2024
Here are ten of the leading startup accelerators to collaborate with in 2024:
Location: 814 Mission St, Fl 6, San Francisco, California 94103, US
500 Global is a venture capital company overseeing $2.4 billion in managed assets.

The firm has contributed to over 2800 startups worldwide, including Canva, Credit Karma, Bukalapak, Grab, and Talkdesk. 
It has team members on the ground in more than 30 countries, bringing experience as entrepreneurs, investors, and operators from leading technology companies. 
Location: 149 New Montgomery St, San Francisco, CA 94105, US
Alchemist Accelerator accelerates the development of early-stage ventures that monetize from enterprises. 
The firm has graduated over 500 startups and funded 52 startups after graduation. These firms have collectively raised a total funding amount of $2.1 billion.
Some notable startups that have graduated from Alchemist Accelerator include ZaiNar, Kyte, Billo, Switch Automation, Launch Darkly, Privacera, MoEngage, Rigetti Quantum Computing, and Foresight Mental Health. 
Location: D-57 Chattarpur Enclave, 100 Foot Road, New Delhi, 110074, India
Startup Tunnel works with startups applying emerging technologies to impact specific business verticals, including inclusive fintech, networked healthcare, digital governance, scalable cleantech, and B2B SaaS.
It provides investment and mentorship to passionate teams working on game-changing ideas in:
Blockchain-enabled cryptocurrency applications

Data analytics

Machine learning and artificial intelligence

Virtual reality

Internet of things

Robotics

Mobile and cloud computing platforms
Location: 79 Ayer Rajah Crescent #02-01, Singapore 139955
Antler is a program that supports founders and entrepreneurs from the earliest stages of their business ideas. It provides coaching, resources, and connections to help them build successful companies.
The company has supported over 600 founders and has a portfolio of 120 companies with a total value of US$1 billion.
Some successful companies backed by Antler include Airalo, Cove, Homebase, Qashier, Reebelo, and Volopay.
Location: 335 Pioneer Way, Mountain View, California 94041, US
Y Combinator is a prominent startup accelerator program. It has funded over 4,000 startups with a combined valuation of $600 billion. 
The firm provides a library of resources, including videos, podcasts, and essays from experienced mentors to help startups succeed.
When a company is accepted into the Y Combinator program, it receives a total investment of $500,000. 
Y Combinator helped founders at their earliest stages, regardless of their age. 54% of their billion-dollar company founders were under 28 years old, and some companies had no revenue when they applied.
Location: 10 Fan Pier Boulevard, 3rd floor, Boston, MA 02210, US
MassChallenge is a global network that connects startups, experts, corporations, and communities to drive growth and transformation in businesses and economies.
It operates as a nonprofit organization and follows an equity-free model. MassChallenge focuses on accelerating high-impact startups with bold and disruptive ideas from non-traditional backgrounds.
This startup accelerator offers programs and partnerships throughout the year to support transformative innovation.
Location: 501 Congress Ave. Ste. 150 Austin TX, US
Quake Capital Partners invests in early-stage companies and takes a founder-friendly approach. It has a competitive growth continuity program helps companies take their business to the next level. 
This startup accelerator boasts impressive numbers, with 274 investments, 200 advisors, and over 15,000 applications. It ranked in the top quartile for its investments and is recognized as one of the top ten seed investors and the second most active investor in female founders. 
Location: Georgia Institute of Technology, 75 5th St NW, Atlanta, GA 30308, USA
Advanced Technology Development Center (ATDC) is Georgia's technology business incubator, assisting entrepreneurs across the state from idea to commercial success. It is state-funded and does not take equity from its members. 
This startup accelerator offers a proven startup lifecycle-appropriate curriculum and one-on-one coaching by a world-class staff of seasoned entrepreneurs and subject matter experts. 
ATDC also provides support and expertise from graduate companies, corporate sponsors, and community partners.
Location: 2nd Floor, TVH Beliciaa Towers, Block 94, MRC Nagar, Chennai, Tamil Nadu 600028, India
The Chennai Angels (TCA) is an angel investment group based in India. It consists of over 150 experienced investors who have successfully built, run, and, in many cases, exited enterprises across various domains and industries.
TCA focuses on funding scalable startups that have gained market traction and are in the early revenue stage. 
This startup accelerator provides capital and offers entrepreneurs a vast network of business opportunities. Additionally, TCA members act as mentors for the investee companies and guide them throughout their fundraising journey.
Location: Japan, 〒150-0043 Tokyo, Shibuya City, Dōgenzaka, 1-chōme−16−3, Shibuya Center Place, 3F
Plug and Play Japan is part of Plug and Play Tech Center, an innovation platform that bridges Japan and the global innovation ecosystem. Its main operations are based in Tokyo to establish the city as a world-class startup ecosystem.
This startup accelerator emphasizes its global reach, operating in 26 locations and having a strong network within each ecosystem. 
Through its network, Plug and Play Japan supports local and overseas startups to globalize Japanese innovation.
Choose the best startup accelerator for your business this 2024
Choosing the best startup accelerator for your business is a significant decision that requires careful consideration. 
The right accelerator can provide the resources, mentorship, and support needed to propel your startup to new heights. 
By defining your goals, conducting thorough research, and evaluating all the relevant factors, you'll be well-equipped to make the best choice for your entrepreneurial journey. 
Remember that each accelerator has unique strengths and can offer different advantages, so choose wisely and embark on your path to success.