AI tools for your business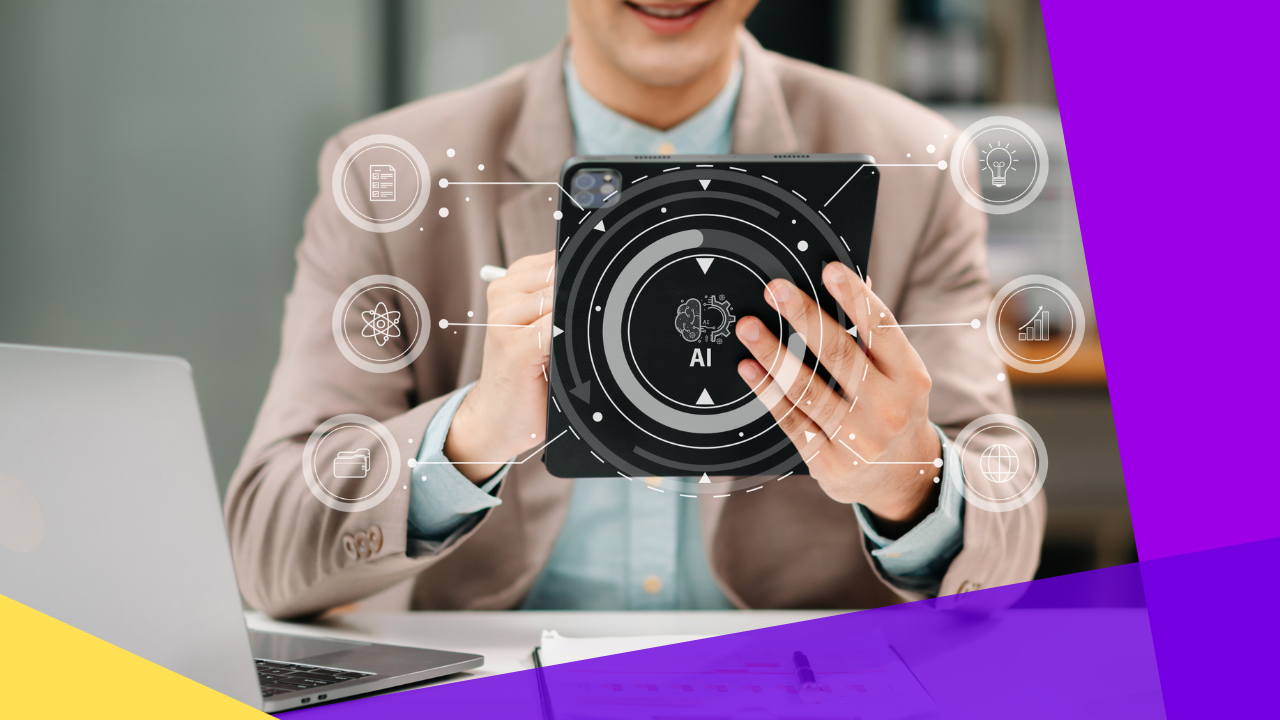 In modern business, staying competitive and efficient is crucial for long-term success. 
One of the game-changing developments in recent years is the adoption of Artificial Intelligence (AI) tools. 
In the 464th episode of the Outsource Accelerator Podcast, Wing Assistant's Marketing Vice President Piash Alam discussed the company's unique approach, which involved creating solutions to assist clients in building their businesses rather than just offering staffing solutions.
What are AI tools?
Artificial Intelligence (AI) tools are software applications and systems that leverage machine learning, natural language processing, and other AI technologies to perform tasks that typically require human intelligence. 
These tools can analyze vast amounts of data, make predictions, automate routine tasks, and provide valuable insights to enhance decision-making.
Benefits of AI tools for businesses
The integration of AI tools into your business operations can lead to a multitude of benefits, transforming the way you work and interact with your customers.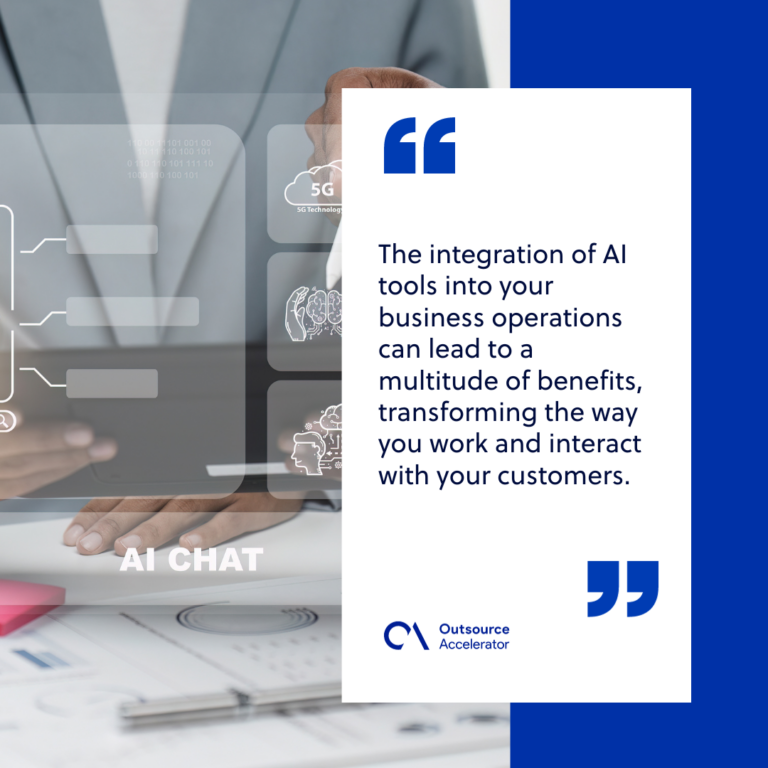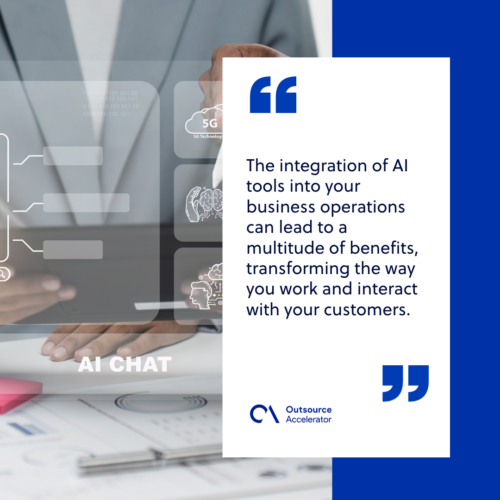 Cost reduction
One of the primary advantages of using AI tools is the potential for significant cost reduction. AI can automate repetitive tasks, reducing the need for manual labor and minimizing the margin of error. 
As a result, your business can allocate resources more efficiently, ultimately leading to substantial savings.
Competitive advantage
AI tools can help you stay ahead of the curve by providing valuable insights, predictive analytics, and real-time data analysis. 
With this advantage, your business can make informed decisions, spot trends early, and adapt swiftly to changing market conditions.
Piash says, "With changing times, there's naturally a lot of new opportunities that are being introduced by people trying to innovate and find unique solutions to existing problems." 
Workforce augmentation
AI tools are not here to replace your workforce; they are here to enhance it. By automating routine tasks, your employees can focus on higher-value, strategic activities. 
This results in a more motivated and productive workforce, which is crucial for your business's success.
In the Outsource Accelerator podcast, Piash noted, "We're looking at a balance because, at the end of the day, we want to get as many people employed across the globe as possible." 
He clarified that when it came to their focus on AI, they were not aiming to replace human workers. 
Exploring Wing Assistant's AI tools
Wing Assistant offers AI tools designed to streamline and enhance various aspects of your business operations.
Wing AI writer
Wing Assistant now offers a new writing tool called Wing AI Writer. 
The firm's Marketing VP elaborated, "When discussing writing, we have a standalone writing tool called Wing AI Writer. We haven't started selling it standalone, but it could be bought standalone." 
The tool was created to assist the wing content marketing assistant in regular tasks, such as content writing, editing, and handling content management systems.
Piash pointed out the shift in how the tool could now be used by external clients, saying, 
"Because we did all of this work, and we feel like the tool could possibly be used by external clients."
 He emphasized that the Wing AI Writer could be a valuable resource for both internal and external users to improve their writing tasks in addition to their regular responsibilities.
Wing Workspace app
Piash discussed a valuable platform called the Wing Workspace App that was developed to enhance the remote and online work experience for clients. 
He explained, "What we have also done at our end is built a very useful platform, the Wing Workspace App, which includes many basic tools to improve remote work." 
This platform offered various features, such as a built-in chat system for communication with assistants, a task board, password storage, file storage, and a screen recording app for creating tutorials or training videos.
Piash highlighted the significance of these features by stating.
"All of these features or tools, when they come together, could potentially replace or augment your remote work experience significantly." 
The platform aimed to streamline remote work processes and provide immediate benefits without extensive input from virtual assistants.
Further, Piash emphasized the challenges clients face with widely used tools like Slack and Trello, which aren't always readily accessible or effectively utilized. 
He noted that providing a ready-made setup like the Wing Workspace App could help clients better use technology and existing software capabilities – ultimately offering a more seamless and enhanced remote work experience that closely resembled an in-house employee's real-time experience.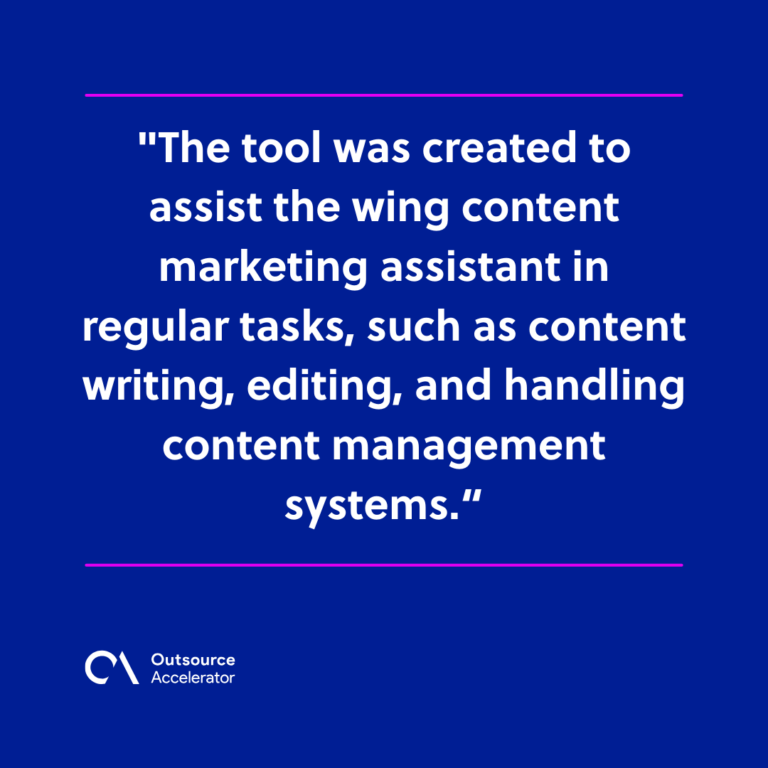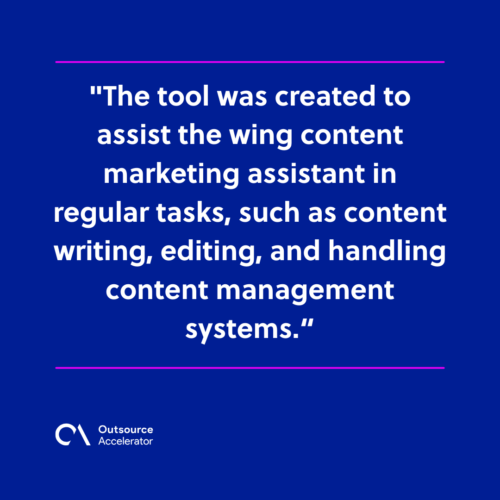 Steps in implementing AI tools for your business
Below are the steps to implement AI tools effectively in your business.
Define objectives and use cases
Start by defining clear objectives for integrating AI tools into your business. What specific tasks or processes do you want to improve? 
Identify the use cases where AI can make the most significant impact. 
Whether automating customer support inquiries, optimizing your supply chain, or enhancing your marketing efforts, having a clear vision is essential.
Choose AI tools and platforms
Once you've identified your objectives and use cases, research and choose the AI tools and platforms that align with your goals. 
Ensure the tools you select are user-friendly and scalable, and provide the necessary support and training. 
Wing Assistant's AI tools, for instance, offer a user-friendly experience and excellent customer support.
Data preparation and integration
Data is the lifeblood of AI. To make the most of AI tools, ensure your data is well-structured, clean, and easily accessible. 
Implement data integration strategies to enable seamless communication between different systems and tools. 
Effective data preparation and integration are vital for AI to perform at its best.
Embrace the power of AI tools
AI tools are not a futuristic dream but a present-day reality. 
It offers significant benefits such as cost reduction, competitive advantage, and workforce augmentation. 
Wing Assistant's AI tools, like the Wing AI Writer and Wing Workspace App, can revolutionize your business operations. 
To implement AI tools successfully, define your objectives, choose the right tools, and ensure data preparation and integration are on point. 
Embrace the power of AI tools, and watch your business thrive in the digital age.