Definition
What is Call Recording?
Call recording, also known as phone recording or voice logging, is the operation of recording the incoming and outbound calls to a call center. It can involve functionality like manual pause and recovery of live call files by an agent from the call center's software interface.  
In general, call recording is your business' ability to record a voice conversation over an audio source. Whether it is an active call or conference call, it can be recorded and then stored as a digital file to be transcripted or listened to at a later time. Call recording is also known as phone recording or voice logging.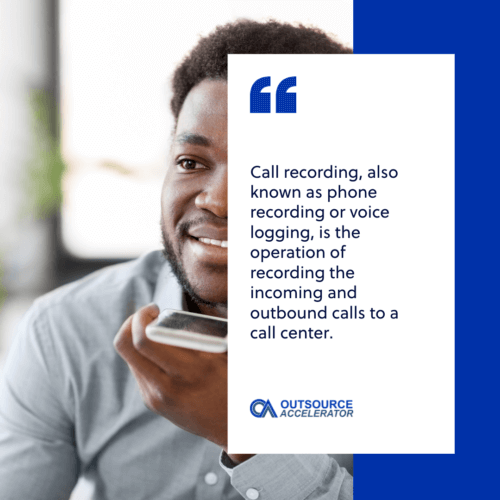 Why is Call Recording important?
Call recording directly affects the monitoring of expenditures, call center productivity and company activities. For example, call logging guarantees enforcement in call centers, the avoidance of liability problems, and future lawsuits. Call tracking will also have a beneficial impact on the preparation of agents and minimize expensive mistakes.
Interaction between the employee of the call center and the client is essential. The agent must follow the call center's standard procedures, speak appropriately, handle the client with dignity, maintain a friendly tone in the interaction, and have responses to all customer questions.