Definition
What is an Automatic Dialer?
An automatic dialer or autodialer is software for outbound contact center solutions that lets agents instantly dial phone numbers from a lead database. Automatic dialers may either be programmed to play a pre-recorded message or connect a call to a live agent.
Autodialers can help a caller to reach an agent instead of a voice mail. It can also dial new numbers when the caller predicts that an agent will be present based on call analytics. Autodialers can determine if a person or machine answered the call, and they can either play a message or connect a call to an agent to handle it.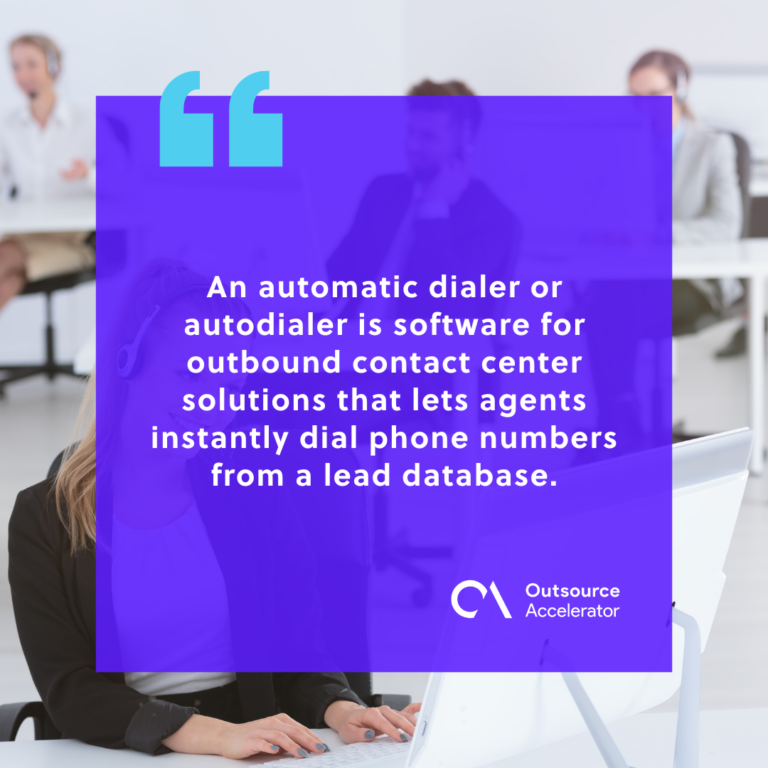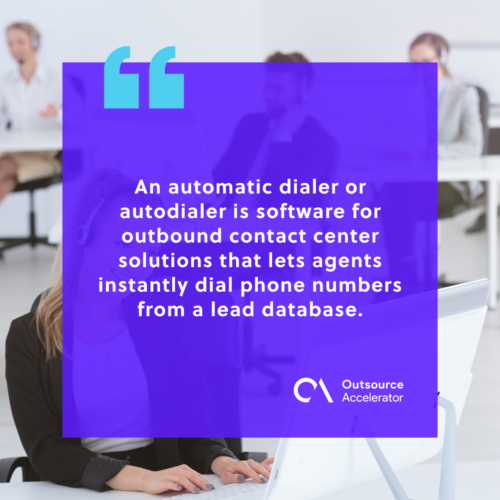 Importance of automatic dialer
An autodialer software makes it more effective to execute outbound campaigns. It helps call center companies to carry out constructive consumer interactions efficiently. Customers can also reliably anticipate when agents will become available and screen out unproductive calls.
Autodialers can maximize the efficiency of an agent, increase contact with customers, enable consistency and quality assurance, improve the efficiency of the contact center, and decrease the running costs.
Types of automatic dialers
Predictive Dialer. Predictive dialers are advanced outbound call processing and monitoring technologies that use predictive data to help determine how many numbers need to be dialed at any given time.
Preview Dialer. Preview dialers often encourage agents to review all prospects' details so that they can plan for a discussion before a call. It is also the safest choice for critical calls, including sets, in-house sales calls, etc.
Progressive Dialer. Progressive Dialers help agents prevent dialing the client's mobile number manually for outbound calls. 
Smart Predictive Dialer. The predictive dialer is an automated dialing system. It allows call center agents to increase their number of live connections.
Voice Broadcasting. A pre-created message is sent to voicemails or individuals based on addresses that are pre-set.