---
---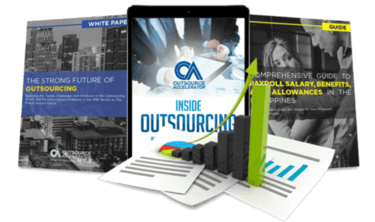 Outsource the right way, the first time
Get up to speed in outsourcing with this all-in-one tool kit
GET YOUR FREE TOOLKIT

PARTNER

PRO
About hammerjack
Hammerjack has been building businesses in the Philippines for more than 10 years. With state-of-the-art facilities in Manila's CBD and an extensive network of high-quality, local talent, we help you do better business.
Gain access to a highly trained, engaged and affordable workforce across a range of specialist capabilities to achieve measurable improvements and cost savings.
What hammerjack offers its clients
Savings, growth and transformation. Outsourcing isn't one size fits all, that's why hammerjack provides a consultative approach in ensuring business outcomes are met through real experience.
How hammerjack outshines the competition
Establishing capability offshore takes experience. hammerjack solutions remove the risk of moving offshore and deliver results. Your dedicated people, moving to the beat of your drum, with hammerjack's years of experience managing performance and quality whilst you maintain control. Transactional, hourly, subscription and performance billing. Up to 75% reduction in costs and major uplifts in productivity with quality and outcome-based service models that place you in the driving seat.
hammerjack company structure
Owned and operated by over 100 years of experience, hammerjack runs a unique hybrid model that places ONshore account managers SME's and full time executive management on the ground in the Philippines to help drive your business outcomes. This investment means more consistent performance and higher quality outcomes. hammerjack is also a major business of the Future Now fund, encompassing 20 companies used to drive omni channel solutions and value for clients.
Sample highlight service offering of hammerjack
LITE SOLUTIONS, If wearing all the hats is slowing you down we can lighten the load, whilst helping you to get ahead, reduce costs and drive new revenue. Make WHY you started your business your core focus by removing highly repeatable, low value tasks - starting from $10 per hour, all in.
YOUR DEDICATED TEAM, Your business is growing, you can't scale, need to introduce new products and services, or you just need to lower the costs of your non-core operational functions? Establish your capability offshore and remain competitive - Fully Managed dedicated teams from $7 per hour, all in.
Outsource Accelerator's site tour and expert interview of hammerjack
A few metrics about hammerjack
Services offered by hammerjack
hammerjack news, podcast and articles
The Source
Hiring a social media marketing virtual assistant is one of the best decisions you can…
hammerjack videos & images