---
---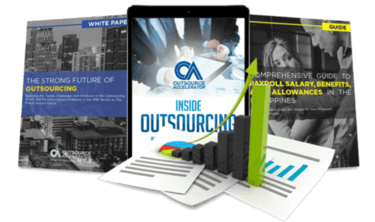 Outsource the right way, the first time
Get up to speed in outsourcing with this all-in-one tool kit
GET YOUR FREE TOOLKIT

PARTNER

PRO
About Teledirect Group
Our Story:
TDCX was founded in 1995 to provide outsourcing services to diverse industries. It was a bold step as being early to the market meant more walls to tear down but challenges taught us about perseverance and keeping our eyes on the vision. Our drive and team dynamism has led to growth in 11 strategic locations, with more than 10,000 talents, attributed to the trust high-growth brands place in us. TDCX is recognised as an enabler of the digital economy and we remain curious, inventive, and resourceful to continuously create value through customer experience.
Our Culture:
We put our people first to ensure an excellent customer experience. At TDCX, we are guided by core values of courage, initiative, teamwork, trust and innovation. In that spirit, we built a positive culture for everyone to expand their potential. We want our people to experience life through work thus our campuses are designed to accommodate 'play' while regular employee engagement programmes bring 'work-life balance' to reality.
What Teledirect Group offers its clients
360° Customer Experience Solutions
Customer experience lifecycle is our speciality. We make hay while the sun shines at our 24/7 customer engagement hubs, working with some of the world's most valuable and exciting brands.
How Teledirect Group outshines the competition
Strategies to Drive Business Excellence
We've developed programmes that are inter-linked yet functions independently, giving clients the freedom of customisation to gain more returns.
Scale Faster: Set up teams efficiently to meet business demands. We innovate the hiring system by going digital to engage talents on a global scale while AI mechanisms work to refine best match talents.
Perform Better: Consistent performance is key to business sustainability. We combine digital tools for productivity and encourage employees' career trajectory through learning and coaching for better outcomes.
Go Further: New market opportunities are waiting. We set up TDCX campuses in strategic locations to meet business' demand and work with clients to set up offices on-site or work-from-home.s in Strategic Locations To Meet Business Demands.
Teledirect Group company structure
TDCX is a 100% privately-owned BPO company headquartered in Singapore. Apart from the Philippines, we also have a presence in Malaysia, Thailand, Hong Kong, China, Japan, Spain, Colombia, India and Romania.
Sample highlight service offering of Teledirect Group
TDCX has been serving large companies in the financial, IT, technology, e-commerce, airline, luxury, and hospitality sectors. We specialize in generating high sales growth, improving call center performance and profit generating customer service.