---
---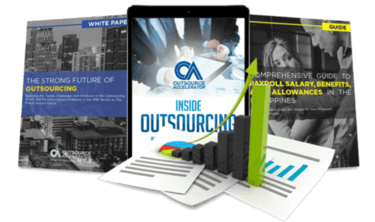 Outsource the right way, the first time
Get up to speed in outsourcing with this all-in-one tool kit
GET YOUR FREE TOOLKIT

PARTNER

PRO
About Peak Support Outsourcing
Peak Support is a rapidly growing services provider dedicated to providing exceptional support to high-growth companies. We offer a wide array of services including customer support, sales operations, and business process outsourcing. Our global delivery model enables us to provide services from the Philippines, the U.S., Latin America, and more. We hire the best agents in the business and we are relentlessly dedicated to helping our clients succeed.
What Peak Support Outsourcing offers its clients
We tailor our offerings to your business and are here to help you scale as you grow. We have consistently kept our clients with us for 5 years and continue to grow with them.
How Peak Support Outsourcing outshines the competition
We outshine our competitors by having agents with 8+ years of experience and by having a fully remote model of work. By being fully remote we are able to have employees who are very fulfilled with their jobs and that have ample experience.
Peak Support Outsourcing company structure
We take customer service, technical support, and back-office tasks off your plate—and make them better. From day one, you'll get a dedicated team who'll help you manage quality at high volumes, quickly train new team members, and make powerful process improvements. With Peak Support as your partner, you can focus on building your business, while your customers get the exceptional service they deserve.
Sample highlight service offering of Peak Support Outsourcing
Premium Customer Service at an Affordable Price. When you're struggling to keep up with a growing number of customer service or technical support tickets, we'll help you build a new team or supplement your existing one with the right kind of talent. With Peak Support as your partner, you'll get a dedicated team of customer service experts who'll help you design the right systems, hire the right people, and constantly optimize your support processes.