---
---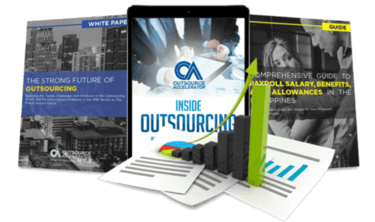 Outsource the right way, the first time
Get up to speed in outsourcing with this all-in-one tool kit
GET YOUR FREE TOOLKIT

PARTNER

PRO
About Acquire BPO
Acquire BPO is an award-winning, global business outsourcer with 7,000+ staff and 14-years' experience in delivering deliver intelligent contact center and back-office functions for global businesses across many industries including telecommunications, banking and financial services, insurance, media, education and retail.
They have delivery capability in Melbourne, Manila and Santa Domingo and are the largest Australian owned outsourcer to the Philippines. Their offices in Melbourne, Sydney, Dallas and Manila have onshore Project and Client Relationship Managers that work closely with clients to ensure a successful outsourcing transition.  They collaborate closely with clients to understand their business enough to ensure the ongoing success of the program.
Acquire is an entrepreneurial business that is highly experienced in working with their partners to solve real-life problems quickly. A genuine partnership approach is at the heart of what they do. Their  teams are highly proficient in exceeding expectations, especially in situations where in-house teams may be typically challenged with the business processes of "big business".
They are Safe – They are Flexible – They Innovate
In addition to their Class A physical delivery locations, a comprehensive Work-from-Home environment operates across various countries. Their capability also includes back office processing automation and AI services.
Acquire BPO is a consistent leader in IAOP's Global Outsourcing 100 list, winner for Best People Strategy & Culture at the Contact Centre Week Excellence Awards and Silver Stevie Winner for Company of the Year at the International Business Awards.
What Acquire BPO offers its clients
Their solution offering spans the entire customer lifecycle, helping clients find, acquire and grow their customer base, developing loyal relationships by delivering superior customer service and subsequent up-selling and cross-selling activities. They have an impressive track record of providing best-practice solutions across a wide range of industry verticals. Their global expertise, well-defined processes and continuous improvement approach is complemented by locally based Project and Client Services Management teams. Acquire has a proven record of building programs focusing on results with a flexible approach to commercial models so clients can select their level of involvement—from options such as setting up their business to full outsourced management of some or all project components; from Class A locations or Work-from-Home environments.
How Acquire BPO outshines the competition
- Values-driven employer of choice—developing and retaining talent to build high-performing teams.
- Proven operational performance from experienced onshore and offshore management teams also directed by a global executive team.
- Risk-free transition and hands-on focus through onshore-based Client Relationship Managers (CRMs) and PRINCE2-certified Project Managers.
- Fully redundant infrastructure, onshore data storage in highly secure and stable locations, industry-leading integrated web applications
- Globally PCI-certified, SOC and HIPAA-attestated and compliant to standards including ISO/IEC 27001:2013.
- In-house Automation and Intelligence team providing holistic automation solutions from design, to implementation, to ongoing continuous improvements—ensuring companies leverage the latest technologies available to advance their business goals.
- Powered by world-leading technology, including Genesys' omni-channel platform and Segue, their proprietary, easy-to-use, low-cost, cloud-based contact center platform, to deliver seamless customer interactions.
Acquire BPO company structure
Privately owned by two Australian entrepreneurs with a background in running contact centers. Experienced executive leadership team with senior management in Manila, Melbourne, Santo Domingo and Dallas. The only Australian BPO in the IAOP Global Outsourcing 100.
Sample highlight service offering of Acquire BPO
Full-scale outsourced contact centre, back office, automation and AI services, enabling businesses to leverage the best global resources at at the right price. Flexible commercial models, Class A delivery locations, Work-from-Home capabilities available.