---
---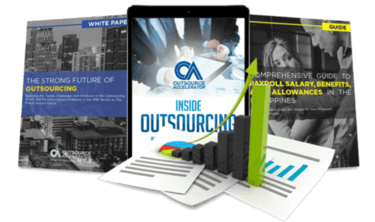 Outsource the right way, the first time
Get up to speed in outsourcing with this all-in-one tool kit
GET YOUR FREE TOOLKIT

PARTNER

PRO
About Dimension All HVE
Dimension All HVE Group provides high-value engineering services to companies specializing in oil and gas, energy, and petrochemical markets. The company aims to establish a long-term relationship with its clients by providing manpower and resources for offshore work.
DAG allows you to set-up an engineering back office of your own, with as many or few engineers as you need, in whichever disciplines, for however long you require them.
Dimension All HVE Group office
Insular Life Corporate Center is a class-A office building along Insular Drive in Filinvest City, Alabang. It is composed of two buildings, its first one housing Dimension All Group in the 19th floor. Forming a semi-circle around Festival Mall, its location is one of the south's center for leisure and businesses, with the building surrounded by restaurants, spas, and banks.
Dimension All HVE Group address
19th Floor Tower I, Insular Life Corporate Centre, Insular Drive Filinvest City, Alabang Muntinlupa City, Philippines 1781
What Dimension All HVE offers its clients
DAG is primarily Energy focused with experienced teams who have worked together on O&G, Mining and Civil Construction projects.
How Dimension All HVE outshines the competition
Tier 1 EPC's establish their own dedicated HVE centers. As an independent HVE center, we give this opportunity to all sizes of EPC companies.
Dimension All HVE company structure
DAG is a Philippine-based Human Capital company. We export skilled technical labor to Africa and the Middle East. In 2016, we acquired the engineering team from Ventech Philippines, a dedicated HVE set up by the Pasadena, Houston mother company. They formed the core of our DAG HVE center.
Sample highlight service offering of Dimension All HVE
Experienced engineers for as low was $780 a month for set-up costs less than the cost of a flight to Manila.