---
---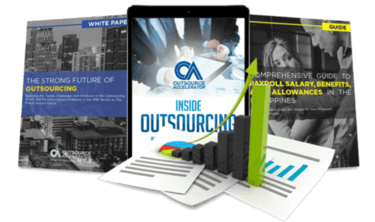 Outsource the right way, the first time
Get up to speed in outsourcing with this all-in-one tool kit
GET YOUR FREE TOOLKIT

PARTNER

PRO
About OutForce
OutForce connects human and digital assets in this modern age with the right approach, advanced technologies and global teams to empower the next generation of businesses through modern Outsourcing model.
The company provides IT, telemarketing, telesales, customer service, and finance services to a wide range of industries including telecommunications, media, transport, and construction.
OutForce office
Their Manila office is located at The 30th Corporate Center, a 19-storey class A building along Meralco Avenue in Ortigas Center. It is inside the compound of Ayala Malls the 30th, a premier mall in the block. Built and operated by Ayala Land, it is specifically equipped to handle BPOs and traditional offices.
OutForce address
The 30th Corporate Center Ortigas, 30 Meralco Ave, Pasig, Philippines
Level 12/65 York St, Sydney NSW 2000, Australia
What OutForce offers its clients
We operate out of premium facilities and service customers across a diverse range of industries including accounting and financial services, transport, construction, media, nonprofit, telecommunications, IT, legal, advertising, medical, retail and industrial.
How OutForce outshines the competition
We are committed to creating new and exciting careers for our staff, building great tools and services for our global client base and the development of innovative technologies that will shape the future of the outsourcing industry.
OutForce company structure
The owners of OutForce are a group of Australian business people who have been clients of offshore and outsourced services since 2006. During this period there were some frustrations with a number of the providers and a plan was hatched to build a Technology focussed BPO.
Sample highlight service offering of OutForce
Staff Salary & Benefits + OutForce Management Fee = Total Monthly Operating Cost
NO Recruitment Fees :: NO Setup Fees :: NO Lock-in Contracts
We don't lock you into contracts. We give you the freedom of choice. We understand that your needs may change over time. We offer flexible solutions that enable you to scale your team as required.
A few metrics about OutForce
Services offered by OutForce
OutForce news, podcast and articles
The Source
Meetings often happen spontaneously when you're in an office. There is a physical presence that…
The Source
Time management can become a real challenge when you have the freedom to work at…
The Source
Regardless of where your team works, training is still an essential part of their career…
The Source
Meetings often happen spontaneously when you're in an office. There is a physical presence that…