Definition
What is the next available agent?
In a contact center, the next available agent is the person who is free to take a call. This person can be in any number of departments and can answer any question for the caller. 
For example, if the caller is waiting on hold and needs to know when the issue will be resolved but doesn't want to stay on hold, they can speak to the next available agent who has access to that information. 
Call centers to employ agents to manage incoming and outgoing calls. Call center software help to ensure that callers are not left on hold for too long by automatically assigning them to the next available agent.
While there is no limit, a company should only use an active routing program if the organization can guarantee it will provide proper customer support,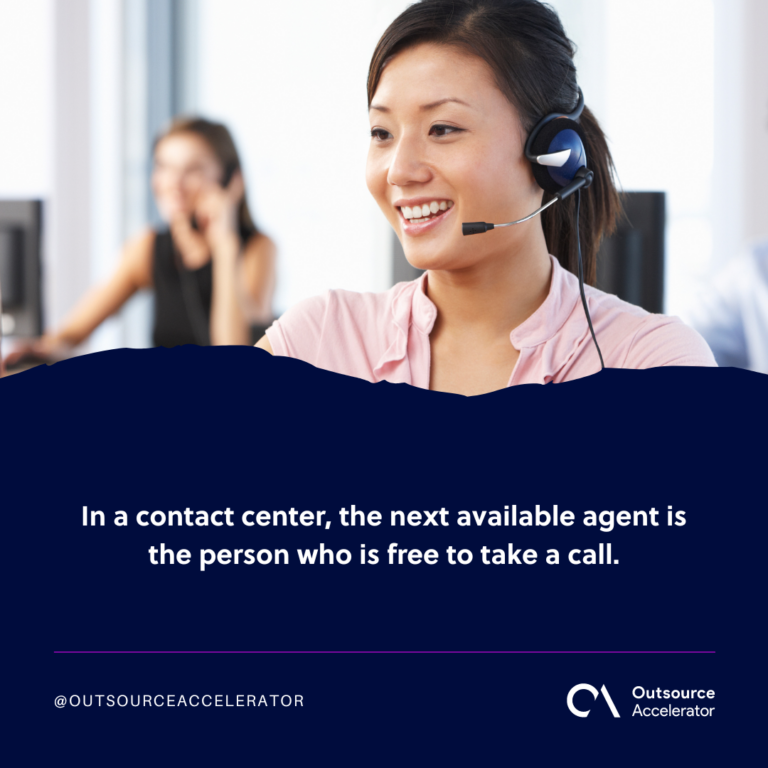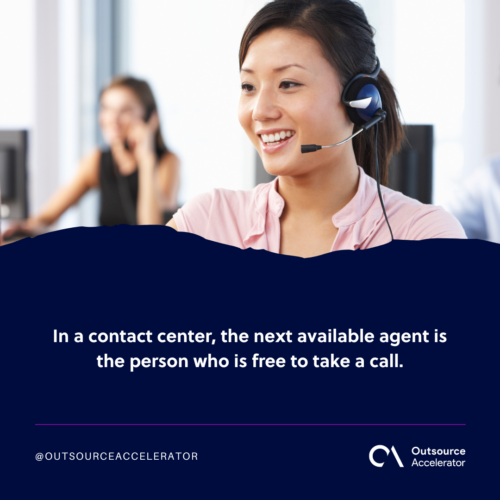 like automated response times. 
The role of agents and call center systems
The next available agent plays an important role in call centers because it eliminates the need for a queue line. Oftentimes, call centers equip call metering as a precautionary measure in case the demand overflows the system and a long queue forms.
Call centers have systems in place that play a very important role in ensuring that employees can provide top-notch service to their customers and clients.
On a regular day, the production floor of a call center is filled with agents that are either in-house or outsourced. Either way, their job is to provide support to customers and clients alike. 
A call center is a customer service department that handles incoming phone calls. They can be operated by the company itself or outsourced to a third party. In either case, there are both advantages and disadvantages. 
Advantages of outsourced customer service:
Cost-effectivity

Scalability and flexibility

Access to world-class talent pool

24/7 support coverage
Disadvantages of outsourcing customer service:
Language barrier

Possible security risks

Workplace culture shock