Definition
What is a concierge?
A concierge provides personal services to visitors in a hotel, apartment, or office building. They maintain a business culture while making guests feel welcome and appreciated.
They serve as the initial point of contact for visitors and businesses. They handle answering guest queries, managing phone calls, and monitoring guest requests for maintenance and assistance.
Successful concierges enjoy dealing with people and multitasking. They typically work in hospitality businesses such as hotels and resorts. They are also found in hospitals and real estate agencies.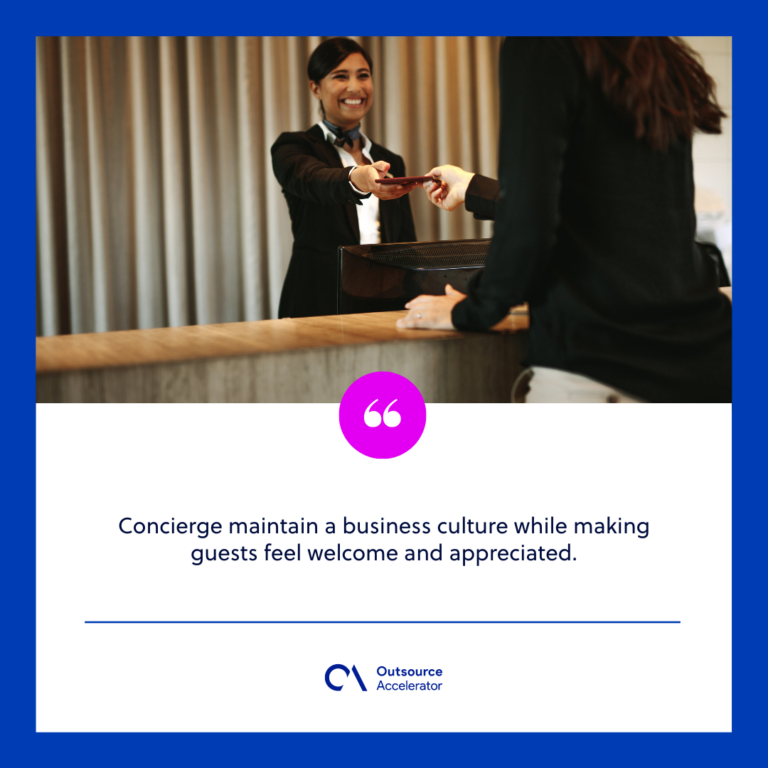 How concierge works
There is a common misconception that only the wealthy and privileged can afford concierge services, but this is far from the case.
While concierge services are part of the luxury industry, technology has transformed this into an accessible, dynamic function.
Traditionally, the function of the concierge was restricted to hotel and restaurant reservations, but the concierge service business has expanded.
Concierge professionals cater to a variety of people who want to enjoy the limited time they have away from work. 
Their responsibilities include a range of services like shopping support, vacation and holiday planning, hotel selection and booking, email support, and scheduling appointments.
A concierge service's business strategy is unique due to the services they offer clients.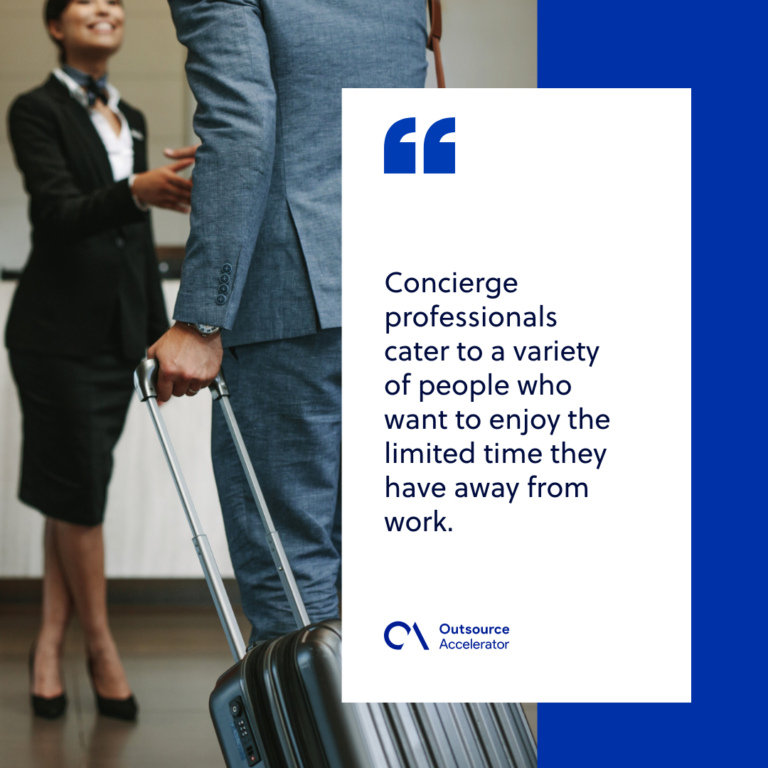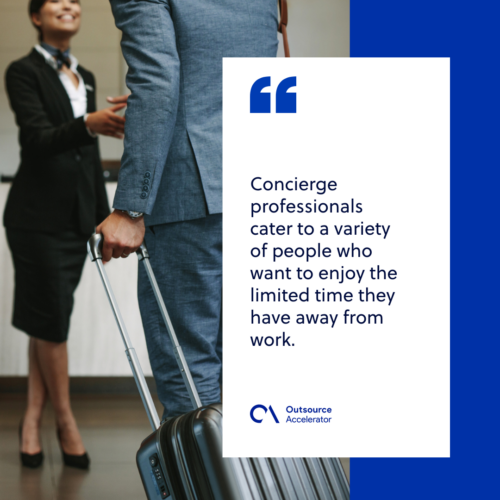 Types of concierge services
The following are some types of concierge services with examples:
Hotel concierge
A hotel concierge serves hotel guests and visitors. It is one of the first and most traditional concierge services.
A hotel concierge's job involves bookings, organizing transportation, purchasing tickets, keeping you safe, resolving travel issues, and assisting hotel guests and visitors with requests.
Travel concierge
When visitors travel to foreign places, they require a guide to help them navigate the area and interact with the locals. This is where the travel concierge comes in.
Also classified as personal concierge, a travel concierge provides travel assistance to customers. They are uniquely familiar with the local culture and are the best to assist guests during a trip. 
They help customers make the most of their journey. They make sure tourists and guests are comfortable and take care of activities for their trip.
Corporate Concierge
A corporate concierge assists customers with their business needs. Their responsibilities range from organizing and attending conferences to outsourcing a company's computer technician. 
They also provide personal assistance for social gatherings, booking dinner reservations, and sealing deals with clients.
Corporate concierges may also be in charge of hiring freelancers and arranging translators for an organization.