---
---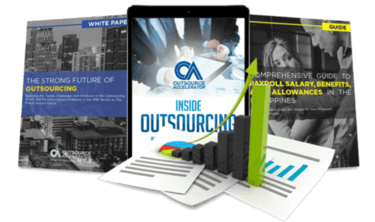 Outsource the right way, the first time
Get up to speed in outsourcing with this all-in-one tool kit
GET YOUR FREE TOOLKIT

PARTNER

PRO
About Opus
OPUS is composed of a team of experts with a unified vision to drive outstanding employee, client and user experiences – without compromising quality. We are your total outsourcing partner throughout your business lifecycle—from Mobilization, Transition, Operation, Optimization and Expansion.
What Opus offers its clients
Whether you're a small or medium-sized business looking to outsource your processes or hire consultants for simple or complex projects, or a Philippine-based company exploring your expansion or contingency options, OPUS can lend a hand.
Our thrust is always anchored on the primary objective to save cost but maintain exemplary customer experience and interactions—and the OPUS Expertise is what you need to flex and scale.
How Opus outshines the competition
OPUS is lead by a team of executives with extensive experience in the implementation and fulfillment of large scale contact center operations for Fortune 500 clients. The same expertise will be applied to our outsource clients regardless of size and complexity, at a very cost effective price point.
Opus company structure
We are a startup outsource operator that's self funded by 5 Filipinos based in Cebu City. The primary objective of the company is to provide world class talent and services for businesses that require 5 FTE or less.
Sample highlight service offering of Opus
$9 per hour for outsourced customer service and virtual assistant support. $10 to $12 per hour for specialist roles like web development, accountants and designers