---
---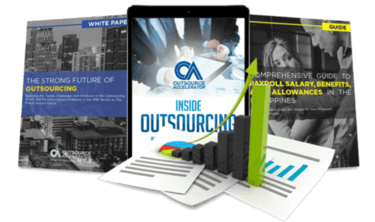 Outsource the right way, the first time
Get up to speed in outsourcing with this all-in-one tool kit
GET YOUR FREE TOOLKIT

PARTNER

PRO
About Offshore Intelligence
"Deal with the disruptor! Since inception Offshore Intelligence has rapidly grown to become a leading offshoring, outsourcing and lead generation institution." 
We solve problems for our clients! Whether it be reduced overheads, rapid growth, increased efficiency, nimble scalability or solving skill shortages; we are renowned for an efficient, seamless and cost efficient integration with your on-shore teams.
Our clients' enjoy an exceptional customer journey. Starting with an unique, industry first candidate search and selection method that ensures the right talent with the required skillset and experience is secured in the first instance. Our recruitment process ensures your staff "hit the ground running" on their first day! Our operations team work with you, ensuring seamless IT, communications, telephonic / dialler technology and contact software is integrated with your on-shore team; together with ensuring optimum engagement around workflow, training and on-boarding.
Our process delivers a maximum return on investment in a time frame that leads the industry.
Our clients include Fintech and Financial Institutions, Professional Service Providers, Builders and Developers, Tech Start-Ups and SME's.
What Offshore Intelligence offers its clients
We have clients hiring staff on a full time basis, much the same as if the staff member was working from a regional office. Our major disciplines include administration, customer service, telemarketing, in-bound / out-bound calling, accounting, drafting, estimating and marketing capacities. Our business also operates an outsourced labour and special campaign model. This involves a fully outsourced staffing solution with flexible engagement and is based on achieving set client outcomes. Well suited to calling campaigns, special offers, charities and event engagement. Finally, OI can also deploy an outsourced end to end marketing and lead generation process. Designed in collaboration with our clients, our offering includes the development of all marketing collateral, websites, graphics, EDM's, landing pages, targeted social media campaigns, videos, live web chat, telephonic qualification, appointment setting and after sales engagement.  
How Offshore Intelligence outshines the competition
We exceed industry expectations! Many of our clients' have relocated from other providers and enjoy an improved customer experience, greater efficiencies and productivity.
Our Tech, IT support and Contact Software is cutting edge, unique to the Philippines and ensures that our clients' achieve a maximum return on investment in a heavily compliant environment.
Our company directors remain active and hands-on in the business and engage with you regularly throughout the life cycle of your engagement with our brand. We personally ensure a quality customer experience.
The recruitment process will attract the right talent quickly. No unnecessary delays in finding the right skillset or experience. Whether you deploying one staff member or fifty, our recruitment infrastructure is world class and the first of its kind in the Philippines!
Offshore Intelligence company structure
We are an exclusive BPO owned by Two Australian entrepreneurs. We service businesses in Australia, New Zealand and the US. One director has owned and operated businesses in the Philippines for more than 10 years, building a staffing body of 600 staff from the ground up. The other has built a leading Australian full service executive search, human resources and labour hire firm, operating in one of the most competitive and candidate short markets globally.
Sample highlight service offering of Offshore Intelligence
Offshore Intelligence partnered with a leading Australian Fintech and grew the staffing body from five to eighty-five in a three month period, allowing the client to reduce their Australian staffing requirement by the same number. Our engagement has saved the client more than $250,000 per month in staffing costs. For another client, we successfully migrated a large workforce from another BPO service provider. In a period of 3 months, we were able to decrease our client's staffing level by more than 30% whilst achieving the same output through our premier efficiency and human resources overlay, saving our client more than $10,000 per month in overhead. Early in 2019, in collaboration with a tech start-up we developed and executed on an entire end to end marketing and lead generation campaign, successfully launching a health care application into the Australasian market place. Our client's sights are now set on a global marketplace with an appetite for expansion!
A few metrics about Offshore Intelligence
Services offered by Offshore Intelligence
This BPO doesn't have any services yet.
This BPO doesn't have any services yet.
Offshore Intelligence news, podcast and articles
Podcast
Michelle Bubke Second-time guest, Michelle Bubke, Chief Operating Officer of Offshoring Intelligence, to share best…
Podcast
Michelle Bubke, Chief Operating Officer for Offshore Intelligence operation in the Philippines, joins Derek and…
Podcast
Michelle Bubke, Chief Operating Officer for Offshore Intelligence operation in the Philippines, joins Derek and…
Offshore Intelligence videos & images
This BPO doesn't have any images yet.