---
---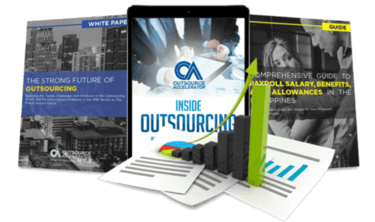 Outsource the right way, the first time
Get up to speed in outsourcing with this all-in-one tool kit
GET YOUR FREE TOOLKIT

PARTNER

PRO
About iSupport Worldwide
Hire Your Offshore Staff From The Philippines Today!
iSupport Worldwide is One of the Leading Offshoring, Staffing, and Outsourcing Companies in the Philippines. Providing Dedicated and Trusted Offshoring Solutions for Fast-Growth Companies, Small and Medium-Sized Businesses (SMB) in Any Industry, Vertical, and Language.
Founded in 2006, iSupport Worldwide is a US-Owned BPO Company with Offices in Central Business District of Ortigas, Philippines.
iSupport Worldwide Gives You Full Control of a High-Performance Team While Reducing Your Labor Costs By Up to 75% and Have the Ability to Operate 24/7/365 in Your Company-Owned Branded Suites.
To Learn More, Visit Our Website: https://hubs.ly/H0mqwgg0 or Submit Your Requirements Here: https://hubs.ly/H0mqwhV0
Updated: 01/02/2020
What iSupport Worldwide offers its clients
iSupport Worldwide provides businesses with a scalable platform to set up low-cost, high-value operations in the Philippines without the need to incorporate, directly employ staff, or manage your own office, all while maintaining full control. We take on the entire administrative burden, allowing you to focus on your team.
How iSupport Worldwide outshines the competition
At iSupport Worldwide, the core of our business is our clients. We help companies like yours to optimize business performance by building you a dedicated Philippine-based team.
We ensure that each talent that we will hire for you will contribute to operational excellence, provide impactful & consistent client experience, build trust, and help you to reach long term success!
The high-performance team that you will hire through iSupport Worldwide will embrace your brand DNA, your core values, mission, vision, and culture together with your strategy, goals, value proposition, and USP.
iSupport Worldwide's client-centric methodology allows YOU to strategically manage your operations directly - in a quicker, better, and cost-effective approach!
Sample highlight service offering of iSupport Worldwide
US-based Fast Growth Company Uses iSupport Worldwide Offshoring & Outsourcing Service to Transform High Volume Call & Sales Organization:
What was the challenge? The client was in the early stages of launching their well-funded startup and ready to skyrocket. They had one issue, the nature of their business and their clientele meant that they would receive a high number of inbound customer service calls starting from day one, yet they had no customer service team. Additionally, they were best served by focusing on their product and not building out the infrastructure required to run a large customer service team. They needed to provide efficient, high-quality support to their customers from early morning until midnight, seven days a week. To complicate matters further, they needed to provide multilingual support to their customer base, namely English and Spanish.
What was the solution? iSupport Worldwide worked closely with the US-based team to build a highly-skilled customer service department that would attend to its customers with the highest level of quality required by the client. Fully staffed, seven days a week, iSupport Worldwide team grew to match the growth of the client, which soon began to have inbound call volumes as high as 5,000 per day. In addition to the team located in Manila, a highly functional team in our San Salvador office was built to both fulfill the need for Spanish only speaking calls as well as provide redundancy and load balancing for the Manila team.
What was the result? Fast forward to now, two years later, and the iSupport Worldwide team is better than ever. With a headcount of around 50, the client has built multiple teams handing everything from customer questions, to product support, to renewals, to escalation for more complex issues. The customer feedback regarding their experiment is resoundingly positive. iSupport Worldwide was geared up for the fast lighting growth the customer experienced. We were able to continuously provide top quality support while saving the customer roughly 65% per year when compared to building a similar size team stateside.
iSupport Worldwide is dedicated to providing a highly scalable solution to our clients. All aspects of our business model are designed to provide this ability while never giving up quality. We know the experience your customers receive when doing business with you is a direct reflection on iSupport Worldwide.