Definition
What is verbal communication?
The use of words to deliver a message, whether written or oral, is known as verbal communication. It includes how words are delivered and how they are received.
Face-to-face communication is frequently involved in the verbal portion. The key benefit is that it is straightforward and easy to comprehend. On the other hand, radio, television, and mobile phones are also forms of verbal communication. 
Language is one of the top factors that affect verbal communication. If two or more persons are conversant in a common language, they can rapidly understand each other. Otherwise, it can be challenging to communicate.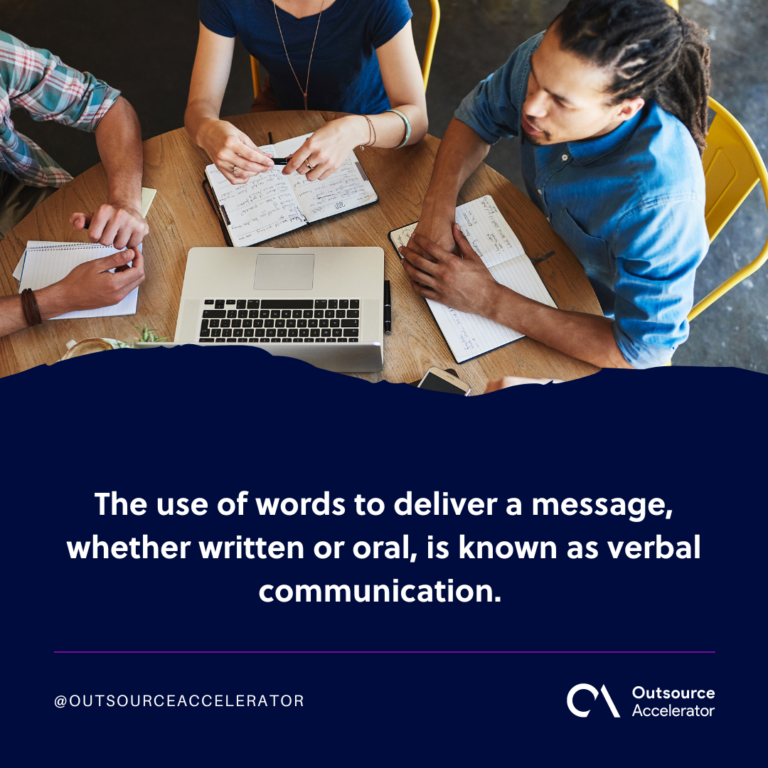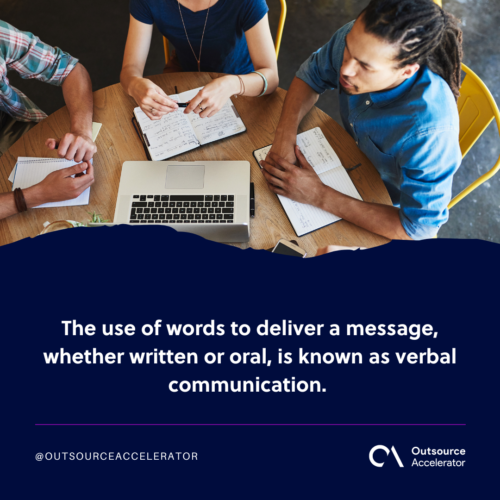 Types of verbal communication
There are two main types of verbal communication:
Oral communication
This type of verbal communication is delivered through speaking. It provides faster feedback and a chance to clear doubts immediately.
Generally, oral communication takes place in face-to-face conversations, meetings, interviews, and telephonic conversations. Speech clarity, voice modulation, pitch, loudness, and speed play a role in efficient oral communication.
Written communication
Exchanging information in written words, as in handwritten letters or typed emails, is called written communication. This type of verbal communication is commonly seen in official business transactions and formal instructions. 
Written communication necessitates the use of significant grammar and writing skills.
Effective tips to enhance verbal communication skills
Let's look at some simple ways to improve verbal communication skills. These tips are essential in both everyday and business situations.
Control your voice tone
Your tone of voice should reflect your emotion or the feeling you're trying to convey. Are you trying to sound friendly or assertive? It helps to keep the audience in mind as you adjust your voice tone.
Consider the audience's perspective
As a speaker, you should think of yourself as the audience. The information you deliver should be precise and easy to understand.
Think before you speak
Effective verbal communication involves a conscious choice of words in a way that avoids offending other people. This is especially crucial when speaking to a large, diverse group of people. 
Organize your thoughts in advance to filter your words and make the communication process smoother.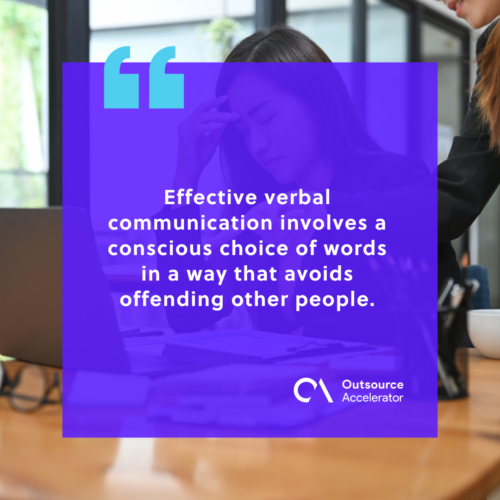 Have patience when talking to people
In order to facilitate effective verbal communication, being a good listener is also important. This ensures that you understand the other person's message, helping you respond more effectively. 
This is important when you have remote employees in different time zones. It helps to avoid becoming upset or making selfish decisions at any stage during the communication process.
Complement verbal communication with non-verbal cues
There are different ways to respond to the other party in verbal communication and in many cases, non-verbal clues help reinforce the message. 
For example, nodding or smiling helps establish rapport and shows that you value the thoughts of the other speaker.