Podcast Virtual Assistant
Definition
What is a podcast virtual assistant?
Podcasts are great tools for learning and disseminating valuable or entertaining content. They have gained popularity over the past few years, and is steadily becoming a strong medium all on its own. Podcast producers and hosts create regular podcast episodes, and without any extra help, it could get overwhelming.
This is where the help of a podcast virtual assistant is needed. Podcast VAs provide a remote helping hand in podcast production. From appointment setting to post-production, VAs play a significant role in producing and airing a successful podcast episode.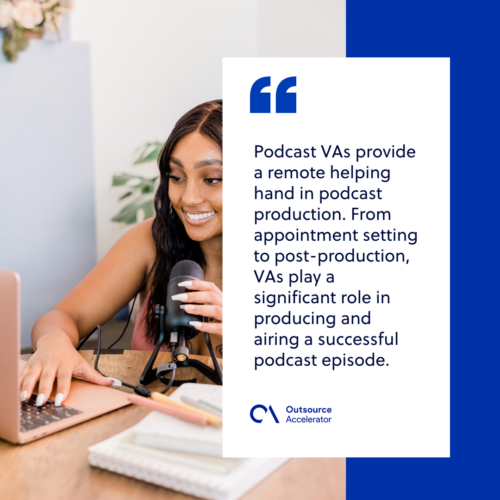 Tasks delegated to a podcast virtual assistant
Listening to podcasts seem so easy and seamless, but listeners do not realize the hard work that goes behind the scenes of producing a podcast. Podcasts virtual assistants take the following responsibilities to produce an entertaining episode:
Scheduling appointments, collecting headshots, and overall communication with guests.

Creating transcripts for the episodes.

Editing and finalizing the audio (clearing background noises, adding advertisements, adding intro/outro music, etc.)

Writing necessary content

Promoting the episode in social media

Other tasks as assigned