Definition
What is network inter-flow? 
Network inter-flow refers to the technology that allows call centers to route and reroute incoming calls to other locations. This is especially helpful when resources in one department are limited. It could also happen if the contact hub has to escalate a call to a more specific unit.
Contact centers that have multiple sites (e.g., local and international branches) use network inter-flow to cater to the demands of their customers from different locations. 
For example, if a US-based customer calls a line dedicated to Mexico, the contact center has to reroute the call without the customer having to hang up and call again.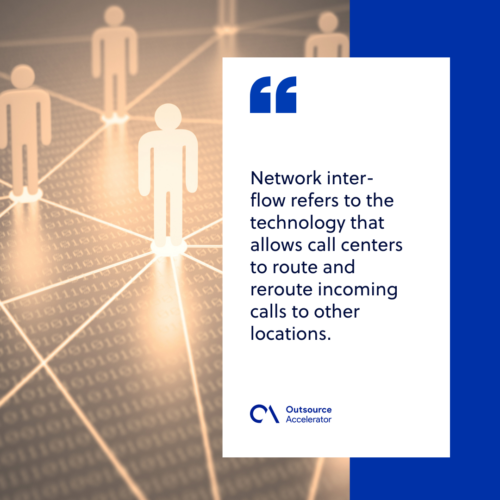 How to network inter-flow helps maintain productivity
This technology helps call centers maintain the productivity rate of agents on the production floor. With it, no agents are stuck with an open ticket that is too hard to resolve and without backup from other departments.
More often than not, calls are routed to other agents, departments, and even other sites to ensure that they will be resolved within the call.
Routing calls efficiently
A prime example of network inter-flow is when a caller gets in touch with a customer service consultant for an issue that is highly technical. In turn, the agent will reroute the call to a different site specializing in tech support to resolve the issue.
Network inter-flow allows this connection to happen—all without the customer having to disconnect and dial another number.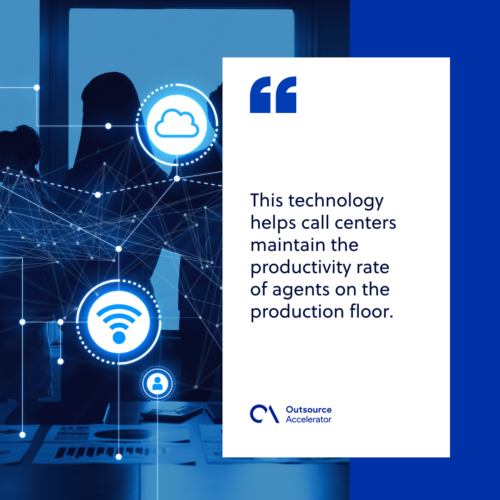 Equal distribution of calls
In a call center production floor, there will be agents that try to manipulate the system to avoid calls. With an inter-flow connection, all agents have the chance to take a rerouted call on top of their queue.
Improved waiting times
With an interactive voice response (IVR) that customers use to disclose the nature of their issue, using an interflow connection may improve waiting times. This means that callers no longer have to wait for available agents to pick up their call. 
If the agents see what the customers tagged their call nature, they can reroute the call to the concerning department at once.
Customer satisfaction
With improved waiting times and a higher rate of issues resolved, there's no doubt that call centers are going to have higher customer satisfaction scores. 
By implementing a system that allows agents to perform their jobs over and beyond, it will reflect just how the company takes care of its customers.