Definition
Fast clear down definition
Fast clear down is an instance in a call center where a caller disconnects right as they hear a delay announcement through the interactive voice response (IVR).
It gives a negative impact on the call center metrics, and the only way to avoid fast clear-down is to reduce the average waiting time.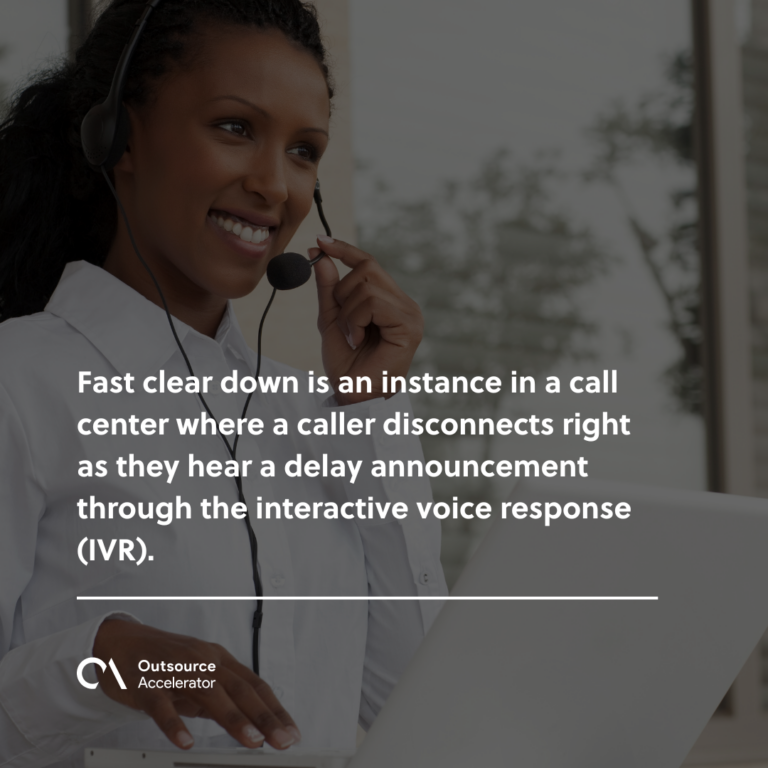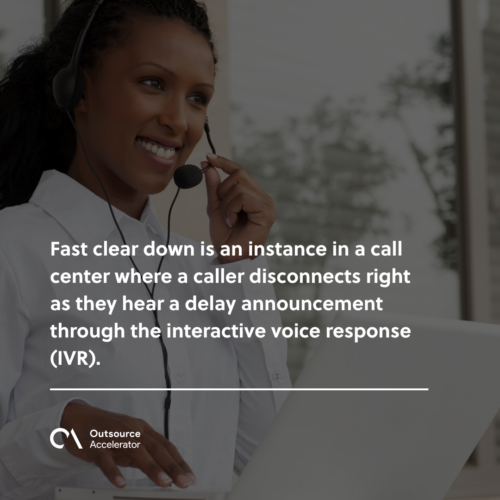 How to reduce fast clear down in a call center?
There are various ways to reduce fast clear down in a call center.
Manage agent scheduling
Planning for your workforce is the key to optimizing your staffing and reducing fast clear down. Change your team size based on expected call volumes, particularly during peak hours. 
You can accomplish this by effectively integrating call center software and historical data. Workforce management can assist you in refining your call center manpower strategy. 
You can also analyze previous data to have a better understanding of peak periods and staff accordingly. Prepare backup plans for when employees call in sick.
Utilize proper software
There are various complex call center system options available on the market that can cover all of your call center objectives. They may be expensive, but they will help you accomplish the same level of productivity in the long run.
Your employees will be able to give excellent customer service and address the client's issue in a very short period with the assistance of software. For instance, a knowledge base tool can make information easily available the moment they begin communicating with the consumer.
Additionally, call center software can improve the efficiency of an agent's after-call duties.
Optimize the call queue settings
Today's call center system has various tools for optimizing call queues and reducing wait time. The queue to voicemail function allows consumers to leave a voicemail without waiting in line, and the agents can get back to them with a response.
Furthermore, queue callback contributes to successfully reducing fast clear down. Customers are given the option of leaving the queue, after which the agents will call them immediately.
Implement self-service options
Most clients prefer to assist themselves. They will seek assistance if they have the option of doing so by visiting the company website or through social media. This minimizes fast clear down by reducing call flow to your support department.
Train your agents
An inexperienced agent may be unable to troubleshoot an issue and need to seek assistance from supervisors, which may lengthen the entire call time. Customers can also become irritated with the agent's inefficiency and demand a manager. 
This can be avoided if the management can train the agents on the procedure assigned to them and the call center system implemented in the team.