Definition
What is a digital nomad?
Digital nomads are people who live a modern nomadic lifestyle. They mainly rely on technology and internet infrastructure to do their jobs while being location-independent.
Instead of being physically present at a company's office or office, digital nomads work remotely through telecommuting.
By nature, most digital nomads are remote employees. However, the latter can also refer to those who work from their permanent residence rather than an office. While laws vary, entering a country as a tourist often prohibits the traveler from working while residing there.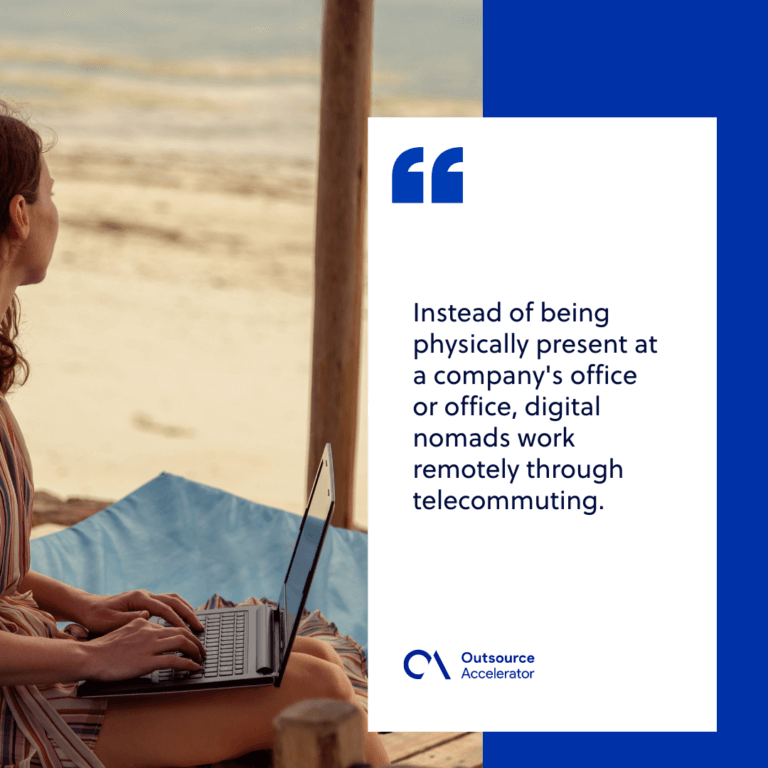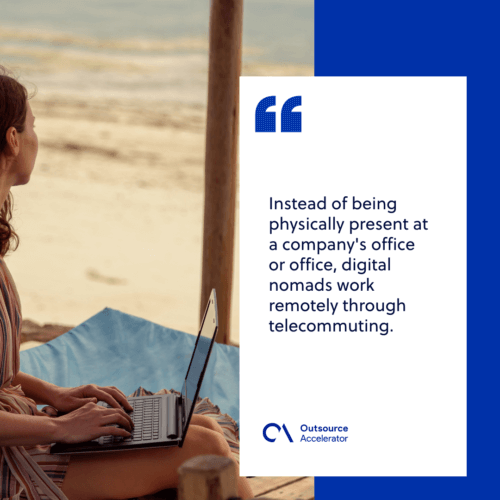 Common digital nomad jobs
Digital nomads are those who travel the world while doing all of their work online. Contrary to popular belief, they are not limited to teaching English or leading tours in foreign countries. They usually take their PC or laptop and move forward.
Here's a rundown of the most lucrative digital nomad jobs:
Copywriting
The act of writing for marketing and promotional purposes is known as copywriting. As long as you have an internet connection, a freelance copywriter can connect with clients and work from virtually anywhere.
Virtual assistant
A virtual assistant performs various functions for a corporation or another individual. The specific roles of a virtual assistant differ based on the needs of the clients and the contract's terms.
Several virtual assistants do clerical and administrative responsibilities, while others take on social media and blog management functions.
Web development and design
There are different types of web developers, from front-end to back-end and full-stack, and it is possible to bring the job anywhere as a digital nomad. This is as long as you have a laptop and access to a reliable connection, as well as means to communicate efficiently with your clients.
Social media marketing
A social media marketer contributes to the creation and maintenance of a brand's public face. They play an essential role in generating interest in and engagement with a business through social media.
These digital professionals plan social media posts, organize social media contests, and 
respond to comments, issues, and questions on a brand's social networks.
Video editing
There are some technical considerations when it comes to venturing into the digital nomad lifestyle as a video editor. Aside from video editing software, you also need good computer hardware to keep up with the tasks. 
You may also need reliable cloud storage, especially when exchanging and backing up video files for your client.
Affiliate marketing
Affiliate marketing works best for digital nomads who have a website or social media page with substantial following. In this advertising scheme, the affiliate marketer earns a commission for every successful sale referred from their website. 
It works through a unique affiliate code that the marketer can use to link on their content.