Definition
What is an automatic callback?
An automatic callback allows a caller to be called back by an agent rather than waiting in a queue. This feature is usually integrated into call centers' interactive voice response (IVR) systems.
The IVR provides the caller the option to schedule a callback at a time that is convenient for them. To cater to callers when the hold duration hits a specified limit, call centers can set this function.
When an agent becomes available, the system will re-dial the customer's phone number. When the customer answers, they will be directed to the appropriate agent.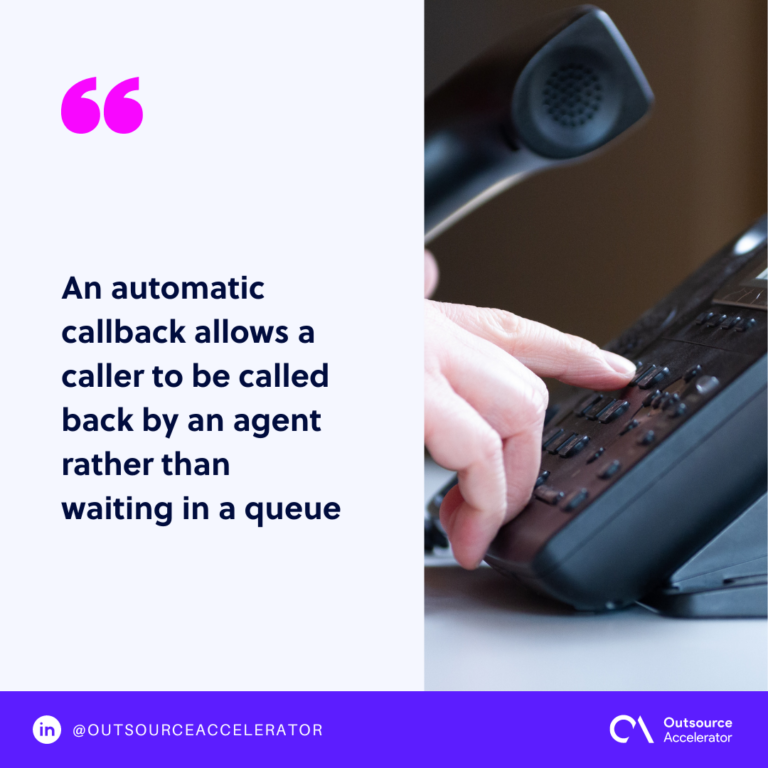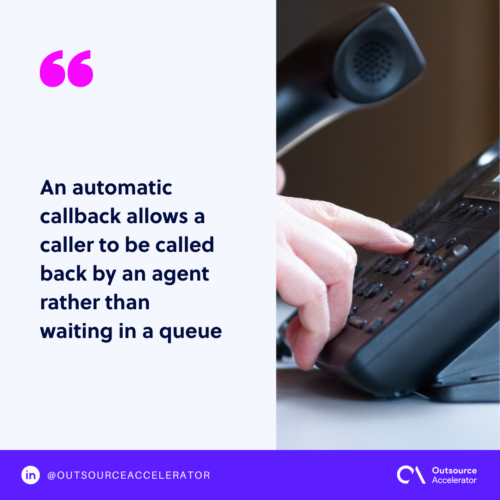 What are the benefits of automatic callbacks?
By easing the wait time of callers on the phone, automatic callbacks help improve the customer experience.
Here are some benefits of having an automatic callback system in call centers:
Reduce business costs and improve efficiency
An automatic callback lowers call center costs by balancing call volumes. This prevents understaffing, which results in high hold times in the call center. 
Further, performance and effectiveness can be enhanced since the system does the job of dialing clients in the queue. 
Automatic callback directs calls to the most appropriate agent with the necessary knowledge and resources to effectively respond to a specific customer's inquiry.
Meanwhile, it provides the agent with immediate access to all the information they need to understand why the customer requested a callback and how to efficiently address their issue.
Minimize agent and customer effort
Customers would prefer that, when they call a company, the appropriate agent is immediately available for them, but it is impossible most of the time because of the queues.  
The automatic callback option provides consumers with alternatives and informs them of how long they will have to wait to accommodate their queries. This lessens the chance of them becoming frustrated or irate toward the agents.
It also enables agents to assist more clients within their shift since they don't have to hear complaints over again from one client.
Improve customer experience and satisfaction
Implementing an automatic callback in the IVR system can improve customer experience since they don't have to wait in line for their queries to be addressed. This may, in turn, enhance customer loyalty. 
This can also minimize the call center agents' work, allowing them to communicate with consumers effectively. Overall, an automatic callback allows the contact center to manage hold and wait times more effectively.