Definition
What is answer supervision?
Answer supervision refers to the process of overseeing and monitoring the active calls that call center agents take while on their shift. Each answered call counts toward the agent's key performance indicators (KPIs). 
It is somewhat close to call monitoring, but in actuality, it's more specific to how agents talk to the party on the other side of the phone. Developed to monitor call logs, the system also helps agents to track how many calls they have taken during their shift.
These conversations are confidential as they can be, especially if a credit card or PIN is entered into the system. In which case, the agency does not have knowledge about what information has been given and for what reason.
This system helps out call center managers and team leaders determine if their agents are adhering to call center best practices. Otherwise, customers and clients are subject to subpar customer service at the very least.
While wholly beneficial to customers, the system is also helpful to quality assurance specialists. With it, they can pinpoint areas of improvement and come up with a development plan to tackle the issue head-on.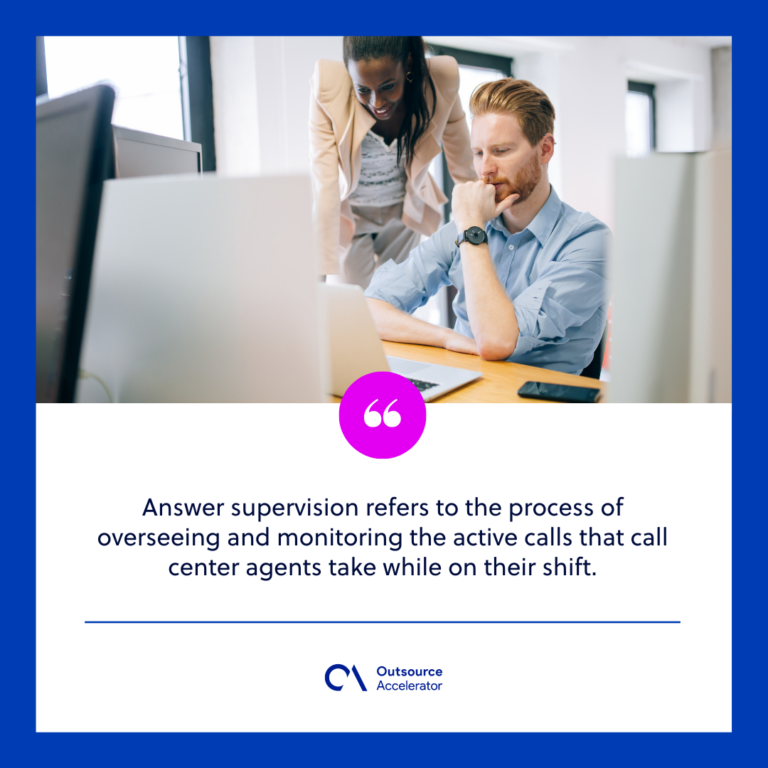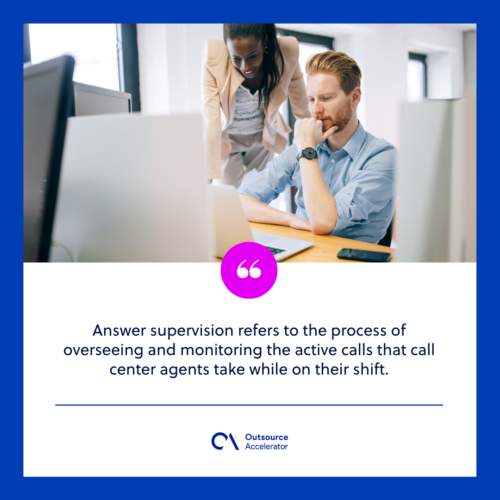 How does answer supervision ensure an agent's productivity?
The software logs all the active calls that the agent answers, even if they get disconnected halfway through. Simply put, if the agent is active throughout their shift, the calls they are taking will be shown on the log. With this, call center managers can ensure that their agents are available and online. 
Maintaining productivity and integrity has been a challenge for managers with distributed and remote teams. Nevertheless, remote companies have their own equipment to monitor the KPIs of their employees no matter where they are.